It's been a road well-travelled for one local gin distiller who has enjoyed a remarkable career; one which once had him at the forefront of the battle against the HIV pandemic.
Nowadays, you can find Ric Dyer distilling his beautifully crafted gin in a lab in Benburb.
It's been an unconventional route for Ric, but his Symphonia Gin is fast becoming a household name in a saturated gin market; his story, like his liqueur, is a unique one.
A life of chemistry was instilled in an impressionable Ric, by an inspiring teacher, from an early age.
"That was a long time ago now, before health and safety gone mad," said Ric. "We were able to do experiments at the bench, blow things up, set fire to things and generally get inspired by chemistry and science in general.
"I wanted to continue and have a career in chemistry. And I looked at the pharmaceutical industry as a way of using my chemistry for the greater good as such."
Ric went on to study his craft at the world-renowned Harvard University – after completing a degree and PhD – alongside some of the brightest minds in the industry – Ric, too, was one of those luminaries.
Ric was beckon – or rather, headhunted – and returned to the UK to work for some of the biggest and best pharmaceutical companies in the world; from GSK (GlaxoSmithKline) to our very own Almac, in Craigavon, but such was his career progression, he found himself "solving more people problems than chemistry problems".
Away from the lab bench, Ric wasn't satisfied.
He quench his thirst for chemistry at home, using his creative side in his cooking and baking, which for Ric "is basically just chemistry at home".
When it came to a career change, Ric knew he wanted to do something in food and drink.
"This is a great area around here for food and drink. It's a real food and drink heartland. So this, this was a great area to do it and basically came the inspiration to go into gin making".
He added: "My wife and I were just enjoying a local gin and tonic one evening, and she said to me, you were looking for something in food and drink. What about that? And I was like, yeah, absolutely. Yeah, I could do that."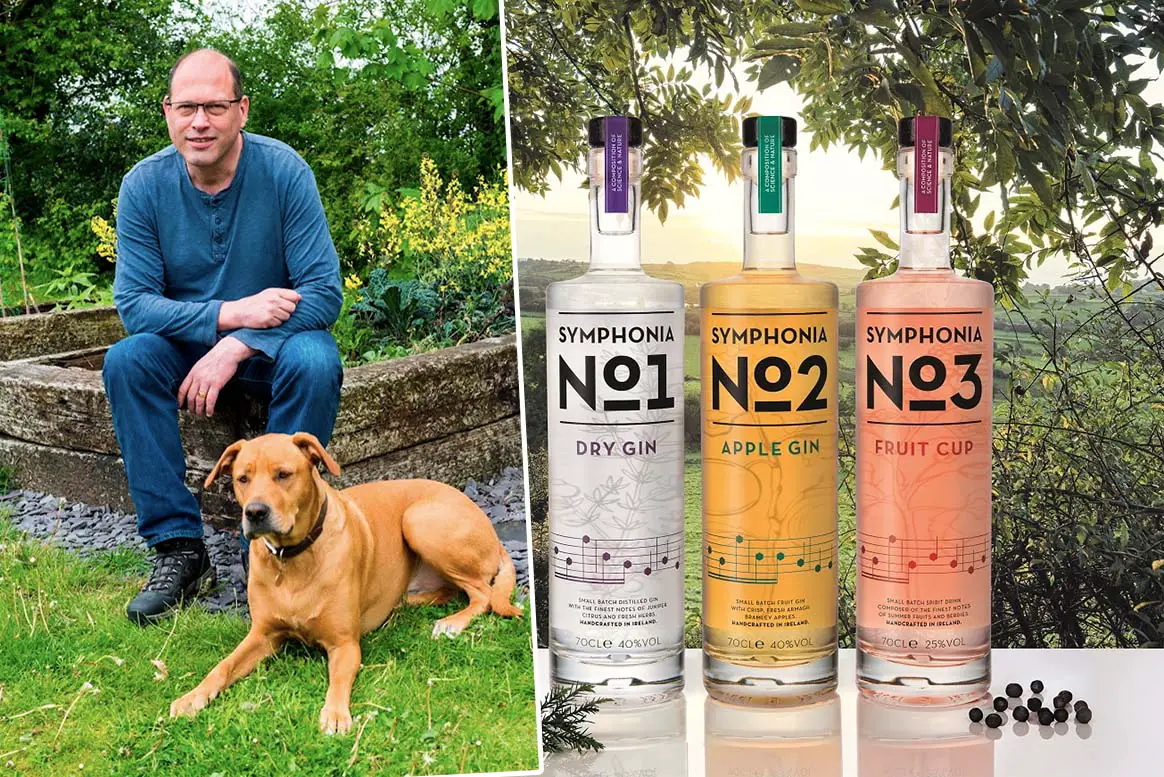 Symphonia was born….kind of! The name took a bit of work.
As for leaving a highly-paid and secure full-time position, Ric admits to the leap into self-employment as a "very scary experience".
"It hits me every day, every single day. Working in the pharmaceutical industry, working in senior positions, it's a very well, well paid job, fantastic company, lots of security, and then all of a sudden, the next day, you're out there, you're writing your own cheques, and you see that your bank balance go down and down and down. You do ask yourself that question every day at some stage in in the day. And, and it's, it's one of those things, it's a very scary experience."
But, without risk, there is no reward.
Said Ric: "The flip side to that is, I've now created four products that didn't exist ever before to man, and people love them as well, so you've, you've created something that people are willing to pay for and enjoy. And if I hadn't have done that I would still be in a very stable job and not have that creative side."
Check out our full interview with Ric below.
Sign Up To Our Newsletter