Following a tense week of competitions, Southern Regional College has been named as the best performing College in the UK for the second consecutive year at the WorldSkills UK competition.
The College topped the leaderboard in both points awarded and for the highest number of medals won.
SRC students competed across multiple venues in the Greater Manchester area, with results being announced on Friday evening in a glittering awards ceremony held at Manchester's Bridgewater Hall, hosted by presenter Edith Bowman.
In a livestreamed ceremony, competitors from the College were revealed as winning the most medals, bringing home twelve medals in total; five gold, three silver and four bronze. Following these outstanding results, the College is able to lead with the title "Best in the UK" for the second consecutive year.
Local Armagh students picking up the medals include:
Mykenzie Cartmill from Armagh
Mykenzie currently works at Belle Beauty Armagh and studies at the College's Armagh campus. MyKenzie topped her category 'Beauty Therapy Practitioner' with a gold medal! Mykenzie has always enjoyed beauty therapy and has a real 'passion' for the subject area.
On preparing for the competition, Mykenzie commented: "I am training everyday in the Armagh campus. From this I've learned to stay cool, calm, and collective through obstacles."
Annabelle Hughes, from Loughall
Annabelle competed within the category Culinary Arts and took home a bronze medal from the competition. Annabelle is currently completing the FDQ Professional Cookery Level 3 Diploma at SRC's Newry campus and works at Ghan house, Carlingford honing her skills to perfection. Speaking prior to the competition, Annabelle commented that the competition series has taught her how to control her nerves, stay organised and multitask.
Annabelle said: "I believe the competition has improved my skills and organisation. It has helped me appreciate and master the classical French cuisine dishes much more. I am very grateful that I get to practice many of these dishes at my workplace. I believe the competition helps me become more skilled and experienced, which is definitely of benefit to my employer."
Fellow Armagh student Conor McDonnell who is an electrical apprentice working with W. Nesbit Electrical, also came home with a bronze medal in the very challenging Electrical Installation category.
Winning students and their employers include: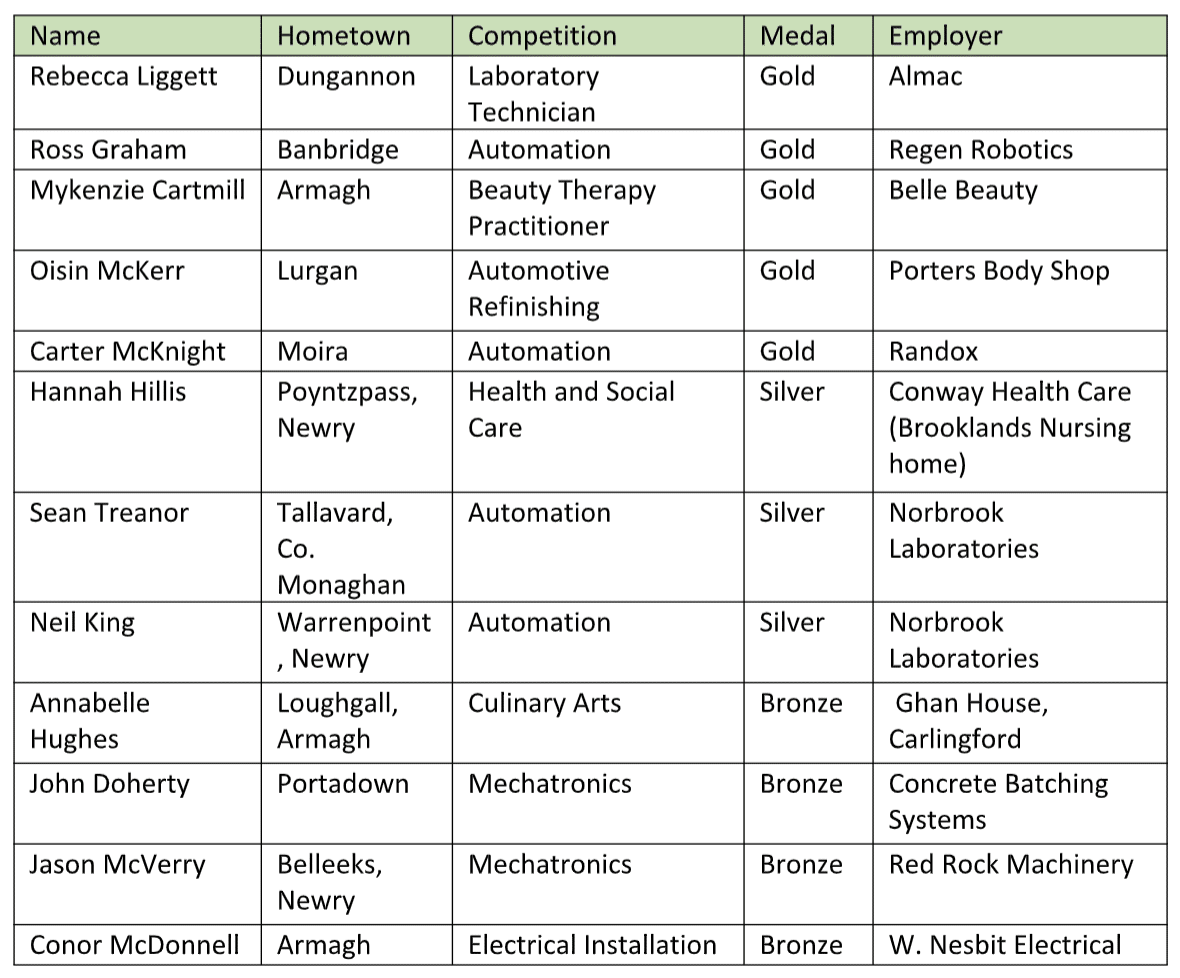 Lindsay Bronte, Organisation Manager at Southern Regional College commented: "What an unbelievable performance by team SRC that follows months of hard work and dedication by the students and staff alike. I applaud students and staff for their commitment to excellence.  Competing is a fantastic achievement for the students, but to see our team return home with 12 medals and be recognised at UK level for their skills and dedication is incredible. Well done to all involved."
Raymond Sloan, Principal & CEO of Southern Regional College commented: "I am thrilled to announce that Southern Regional College, for the second year running, has soared to the top of the WorldSkills UK leader board, both for the number of points achieved and for the number of medals achieved.
"This is a testament to the unparalleled dedication and exceptional talents of our students and staff. Through their relentless pursuit of excellence, Team SRC has not only secured the top spot but also earned the highest number of medals. This outstanding achievement reflects the transformative learning environment at Southern Regional College, where innovation, skills development, and teaching excellence converge to shape the employees, leaders and entrepreneurs of tomorrow.
"As an entire college community, we take pride in this momentous accomplishment, celebrating the hard work and commitment of everyone who studies and works at Southern Regional College."
Following this tremendous success at WorldSkills, the College is eagerly awaiting results from the SkillBuild competition running from Tuesday 21st to Thursday 22nd November in Milton Keynes. 
Sign Up To Our Newsletter