Northern Ireland's largest family owned new and used vehicle retailer, Donnelly Group, has announced the dates for its Jaguar Roadshow to celebrate becoming an official Jaguar dealer.
Donnelly Group, which has a total of eight locations across Northern Ireland, will see the Roadshow kick off at Rushmere Shopping Centre, Craigavon, on Monday 17 and Tuesday, September 18, ahead of the opening of a new £6m Jaguar Land Rover showroom in Dungannon later this year.
Not only that, but on Monday, September 17, Donnelly Group Brand Ambassador, Rory Best will be in attendance for a few hours for meet and greet opportunities.
Dave Sheeran, Managing Director at Donnelly Group, said: "Having become official partners of Jaguar at the beginning of August, we are excited to showcase the range of luxurious vehicles that we have on offer.
"The Donnelly Jaguar team will be on hand throughout each day of the Roadshow to offer guidance and answer any
questions that people may have.
"With stops in Craigavon, Enniskillen, Derry/Londonderry and Antrim over the two week event, there is an opportunity for potential customers from across Northern Ireland and beyond to enjoy an informal introduction to the latest addition in our portfolio."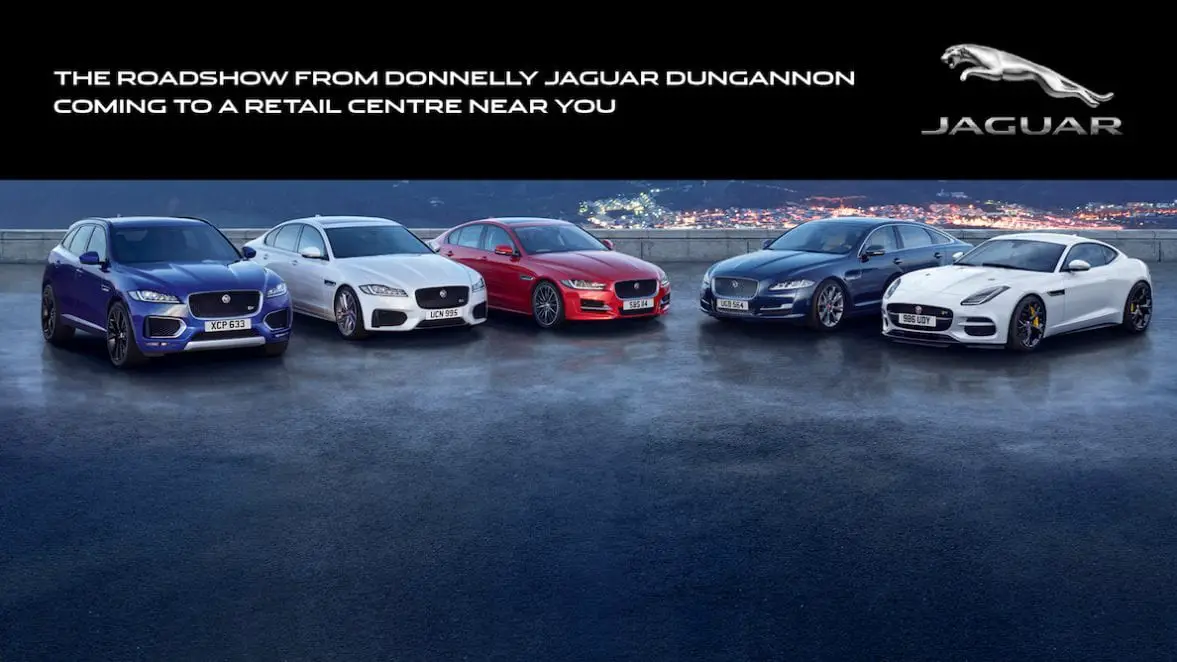 Those who attend will have the chance to test drive a car of their choice from the Jaguar range including the XE, XF and XJ, as well as the E-Pace, F-Pace, I-Pace and F-Type, accompanied by a member of the Donnelly Group team from 10am to 7pm each day.
Dave continued: "We have been providing our services for over 71 years now, and we continue to strive to further expand our offering to customers, so it is great to have Jaguar on board as our latest manufacturing partner.
"Customers can rely on the expertise and knowledge of our Jaguar sales team to find them a vehicle that suits their needs, wants, requirements and importantly, their budget. It's important to us that each and every customer receives an easy, enjoyable experience from which they drive away happy no matter which showroom they visit.
"The completion of the new showroom will see a comprehensive range of Jaguar and Land Rover vehicles sit together under one roof, and the upcoming Roadshow is a great way for customers to experience the vehicles up close before this opens."
The construction of the 50,000 sq. ft. Jaguar Land Rover showroom is due to reach completion by the end of the year.
Until then; showroom vehicles, demonstrator and used Jaguar models are available at the existing Donnelly Jaguar Land Rover showroom in Dungannon.
The Roadshow from Donnelly Jaguar Dungannon will be situated outside Next and Menarys at Rushmere Shopping Centre on Monday 17, and Tuesday, September 18 from 10am – 7pm each day.
Anyone interested in arranging a test drive must bring both the paper and photographic parts of their driving licence and for insurance purposes, be aged 25 or over.
Roadshow Dates:
* Monday 17th & Tuesday 18th September – Rushmere Shopping Centre, Craigavon
* Thursday 20th, Friday 21st Saturday 22nd September – Erneside Shopping Centre, Enniskillen
* Monday 24th & Tuesday 25th September – Crescent Link Retail Park, L/Derry
* Thursday 27th & Friday 28th September – The Junction, Antrim
For more information on the Roadshow from Donnelly Jaguar Dungannon, please visit www.donnlleygroup.co.uk, or to find out further information about the range of Jaguar vehicles now available, contact the team on 028 8772 2887 or call in to Donnelly Jaguar Land Rover at 59 Moy Road, Dungannon, BT71 7DT.
Sign Up To Our Newsletter