Halloween is coming and the geese are getting fat, please put a penny in the organ grinder's hat. If you haven't got a penny a ha'penny will do and if you haven't got a ha'penny, there are FREE events for you!
From creepy castles to spooky space dome shows, Frankenstein to low-impact, low-sound sound fireworks, there is something for everyone across the county and beyond this Halloween and we have compiled a concise, user-friendly list of the top events below to help you plan the holiday:
Monster Making Mayhem
Join us for an afternoon of Halloween family fun at the Museum. This will be a fun packed afternoon for all the family.
Discover Halloween traditions from the past, have a go at making some seasonal crafts.
All activities are free and as this is a drop in event no booking is necessary. All children must be accompanied by an adult.
This year Talking Reptiles will make an appearance bringing with them snakes, spiders, minibeasts and much more. This is a reptile experience not to be missed!
Halloween at Armagh County Museum
October 29 | 12 – 4pm
Tel: (0) 28 3752 3070 
---
Rushfear Spooky Shenanigans and Fireworks at the Lakes
Spooktacular fireworks are set to return to Craigavon Lakes this autumn as Halloween descends once again. It's a monster mash of ghostly goings-on and fantastically frightening fun as the annual Craigavon Halloween Extravaganza takes place on Thursday October 27.
Embrace this year's theme 'Creatures of the Night', and dress to impress, no matter how big or small you are! The spooky spectacular gets underway at 'Rushfear' Shopping Centre with entertainment and themed activities from 4pm. The magical Halloween Family Carnival Parade will leave Rushmere Shopping Centre at 7.30 pm, giving all those creative kids, mums and dads an opportunity to dress up with a sparkler of a costume.
Cross the beastly bridge and head to Spooky South Lake for a breath- taking firework display set to music, lighting up the night sky from 8pm. A beastly time is promised!
This is a non-ticketed event and pre-booking is not required. For further information in relation to safety procedures, parking and other event details please visit the website.
South Lakes Leisure Centre and Rushmere Shopping Complex, Craigavon
October 27 | 4pm onwards
---
Fireworks VIP Competition (Very Important Pumpkin)
Calling all you mummies (and maybe devilish daddies) who deserve a frighteningly fabulous pamper session at South Lake Health and Wellbeing Suite from 7.00pm on Thursday October 27. Enjoy a glass of bubbly (non-alcoholic), delicious nibbles and free use
of the Sauna, Steam room, Vitality Pool and Relaxation Room, all whilst watching the breath-taking fireworks.
The competition opens on Thursday October 13 and closes Sunday October 23 at 5pm. To enter simply visit the website. Randomly chosen winners will be selected and announced on the Getactiveabc Facebook page on Sunday at 8pm.
South Lakes Health and Wellbeing Suite, Craigavon
Competition opens October 13
---
Spooky Space Dome Show
Looking for cosmic fun this Halloween Half-term?
If the answer is yes, then come and see our brand-new Halloween dome show and meet monsters, zombies, and ghosts. Oh yes, space has its monsters: Black holes, zombie stars, and spectacular ghostly nebulae!
Suitable for a family audience but please note that this show is themed to Halloween and features images of zombies, vampires, witches and ghosts so is rated PG.
You can arrive before your dome show time to do exhibitions. Book more than one dome show and receive 20% discount.
Children Under 16 should be accompanied by an adult.
Armagh Observatory and Planetarium
October 22 – 31 | various times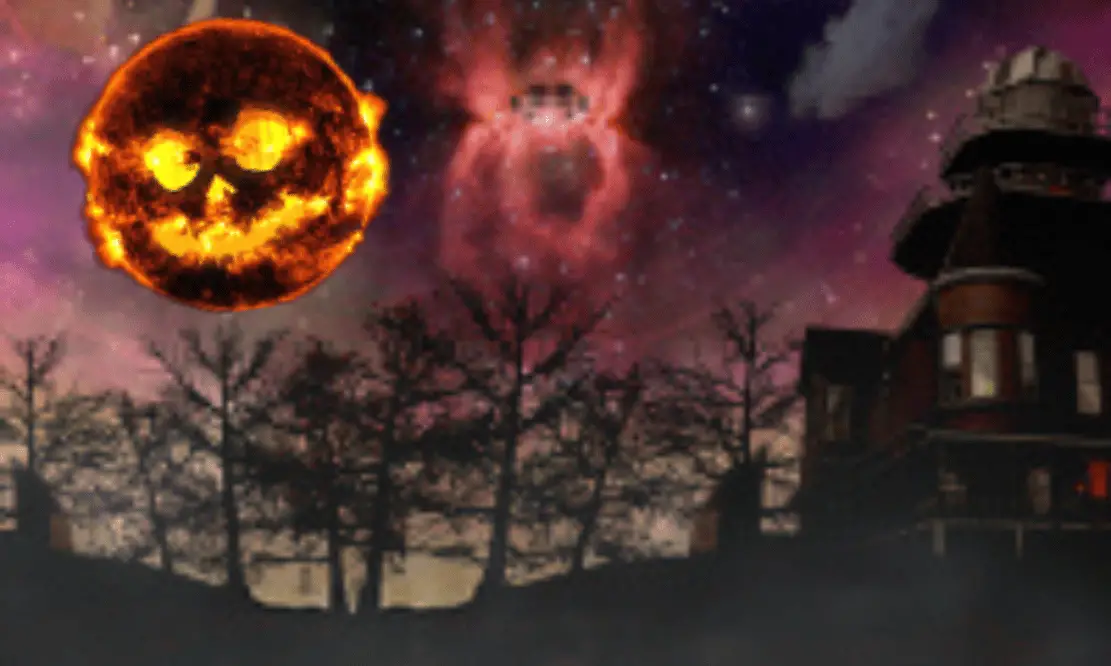 ---
Potions and Explosions
Join Scientific Sue for a special Halloween themed "Potions and Explosions" live science show at the Armagh Planetscarium on Saturday and Sunday October 29 – 30.
Prepare yourself for lots of explosions, mess, fun but more importantly learning! Lots of audience participation will be needed in this show.
Each show lasts approx. 60mins where fun is guaranteed for all the family.
Armagh Observatory and Planetarium
October 29 – 30 | various times available
---
Tall Tales and Terror
Join us for a very special tour of our Observatory this Halloween. Meet your terrifying tour guide and listen to stories that will chill you to the bone! The Armagh Observatory was founded in 1790, and so there are plenty of stories to tell.
Please be aware that there will be stories which will include adult themes not suitable for young children.
We make every effort to accommodate wheelchair users and others with mobility issues. If you would like to ask further questions about the tour in regards to access, please contact: reception@armagh.ac.uk
This tour includes general admission to the Planetarium.
Please meet at the Planetarium reception for the start of the tour.
Armagh Observatory and Planetarium
October 29 – 30 | various times available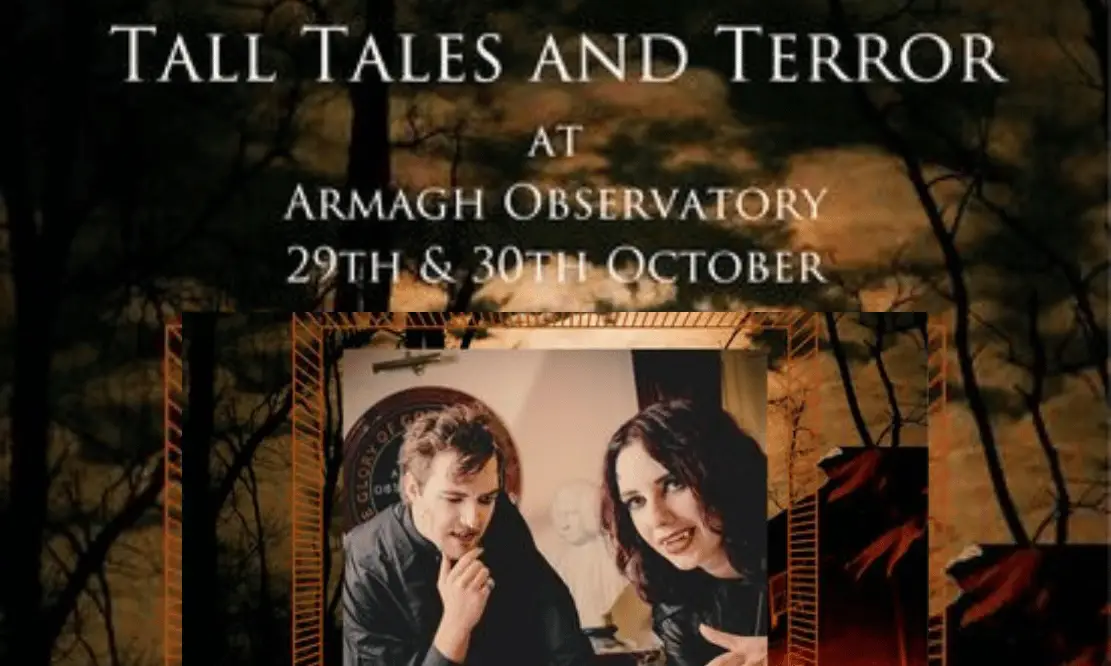 ---
The Ghost of a Smile
Nicholas Collett and Gavin Robertson Present The Ghost of a Smile.
Two of Charles Dickens' creepy tales – with a comic twist. Tales with a tingle, but also a giggle! Two yarns to chill and charm! Stories with a shiver and a smile!
'The Queer Chair' from 'The Pickwick Papers' tells the story of Tom Smart, who, sheltering from a storm for the night, gets more than he bargained for… from a wizened and debauched piece of furniture!
'The Ghosts of the Mail' tells of Jack Martin, who after a well-lubricated supper in the Old Town of Edinburgh, climbs into a compound containing the derelict skeletons of old coaches and falls asleep, whereupon he wakes as a passenger on an eighteenth -century mail coach, with three creepy companions.
Recommended for age 11+
Market Place Theatre, Armagh
Saturday October 22 | 8.00pm | £15.00 | £13.00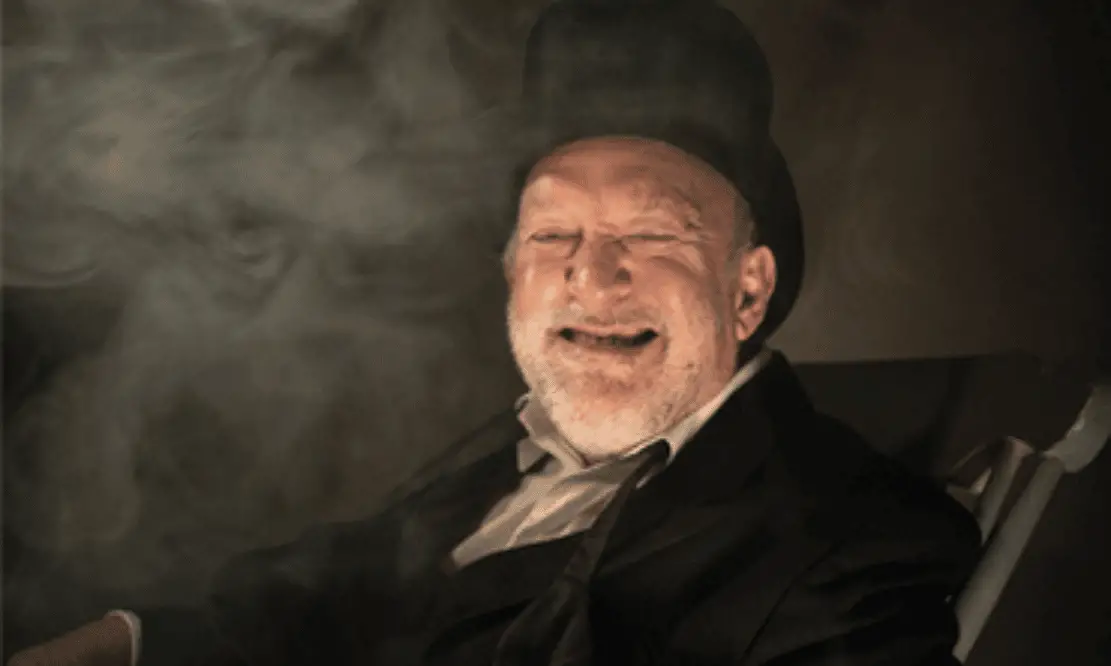 ---
More Power to Your Elbow
Bringing their blend of traditional tunes with a modern-rock twist, this eight-piece band from the Mid-Ulster area are set to light up Basil Sheils, Tassagh for a night live music and entertainment as part of the venue's Halloween weekend celebrations.
Whilst More Power to Your Elbow are the headline act of the evening, Basil Sheils have also laid on a live music support act prior to the band's appearance at 10.30pm.
The venue have provided two ticket options; General Admission which includes entry on the evening to the ground floor function room where the band will be playing and a VIP Access ticket option which provides the purchaser with a wristband to gain access the VIP Area on the first floor, with a balcony overview and private bar.
Saturday October 29, 2022
Tickets: General Admission £15.00 + £1.50 booking fee | VIP Access: £23.00 + £1.50 booking fee
Time: 8pm
---
1st Annual Halloween Ball with the Bonneville's
Join Lurgan's The Woodville Arms for their 1st annual Halloween Ball.
They will have a support band and a top comedian to compére the event for you on the night as well as a Halloween parade with great prizes for the best costumes.
By now, Ireland's legendary Garage Punk Blues duo, The Bonnevilles can surely claim legendary status. After 14 years, 4 studio albums, 1 live album and various EPs/single releases and 1000's of gigs.
Having earned a reputation as one of the best live bands in the world, literally blowing audiences away with their combination of energy and amazing song-writing this band is not in away usual.
The Woodville Arms
Saturday October 29 | 8.00pm
---
Fright Night Haunted House at Brownlow House Castle
Brownlow House Castle Haunted House Tour offers an opportunity not to be missed! Visit the Haunted house dating back to the 19th Century which has survived largely unchanged. Nestled in beautiful woodland and gardens, with a rich colourful past, this stunning venue steeped in history and situated in historical Lurgan is a beautiful undiscovered gem.
Tours leave every 15 Minutes starting at 7pm sharp and every 15 mins thereafter. The tour will last approximately 50 minutes followed by tea/coffee and dessert in the Ball Room.
Please arrive five minutes before your designated time. You can choose your time when booking your ticket.
Please note the last tour will be at 10 pm, finishing for 11pm.
Brownlow House, Lurgan
Friday October 28 | 7.00pm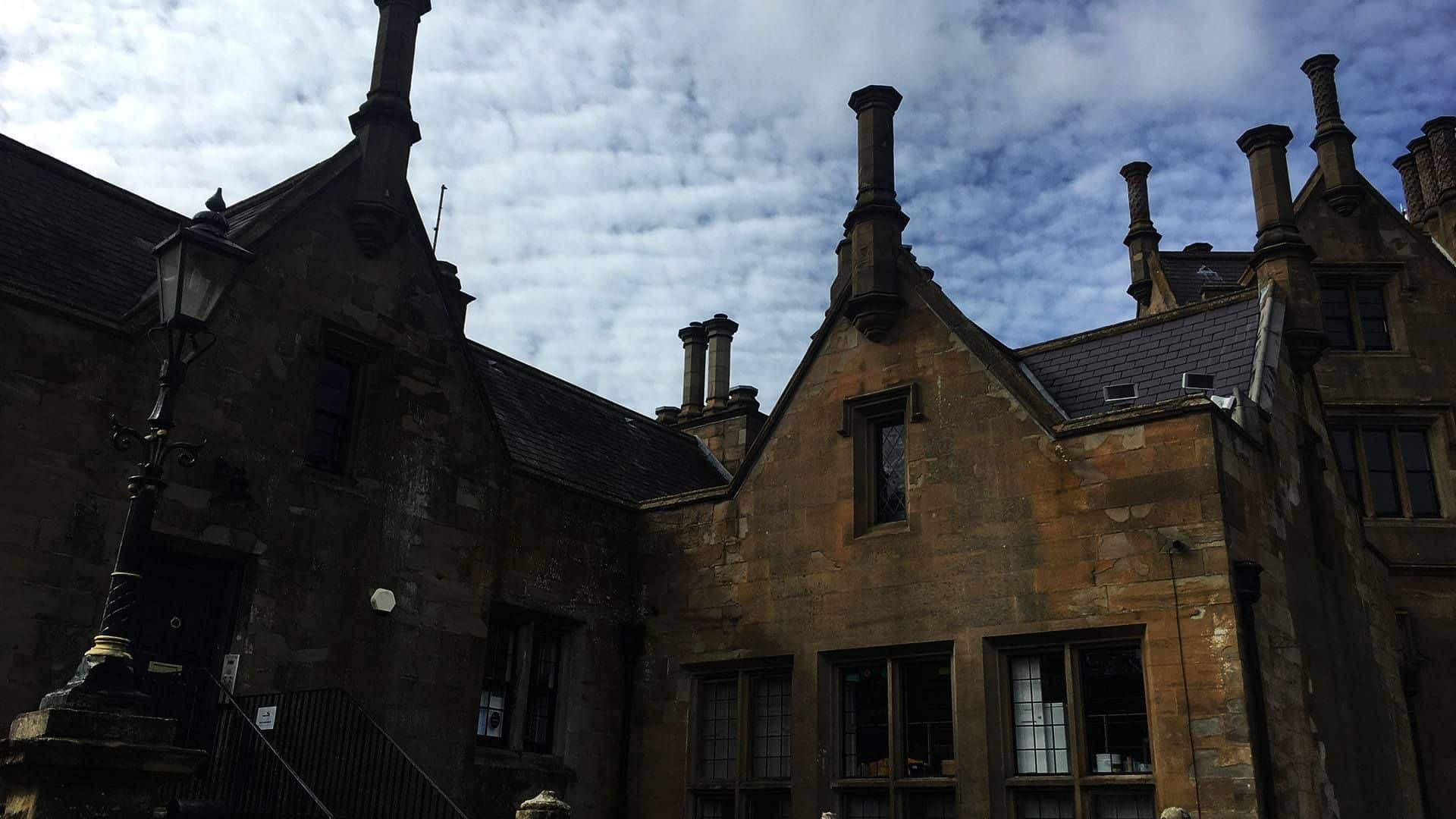 ---
S'alloween Party
Sally McNally's are asking you to bring the fun because they are bringing the booooos!
They will be hosting a children's fancy dress competition during their Saturday lunch service, 12.30 – 5pm, with plenty of prizes to be had.
This will then be followed with an evening of creepy cocktails, live music in the bay window from 10pm and an adult's fancy-dress competition with a take home cash prize of £100.
Reservations for lunch and a la carte service are essential to avoid disappointment.
Sally McNally's, Portadown
Saturday October 29 | 12.30pm onwards
---
Halloween Activities and Fireworks Display
Activities include:
6pm – 7.45pm at Market Square: Face painting, Balloon modelling, Character walkabouts, Fire/LED performers, Halloween themed workshops (arts & crafts activities), On stage entertainment with DJ, Competitions and giveaways, and Halloween themed photo opportunity props.
Fireworks firing at 7.50pm from Hill of The O'Neill.
This year's fireworks will be low debris and low noise making them more environmentally friendly than ever before while still providing the same high-quality display.
Market Square and Hill of the O'Neill, Dungannon
Friday October 28 | 6.00pm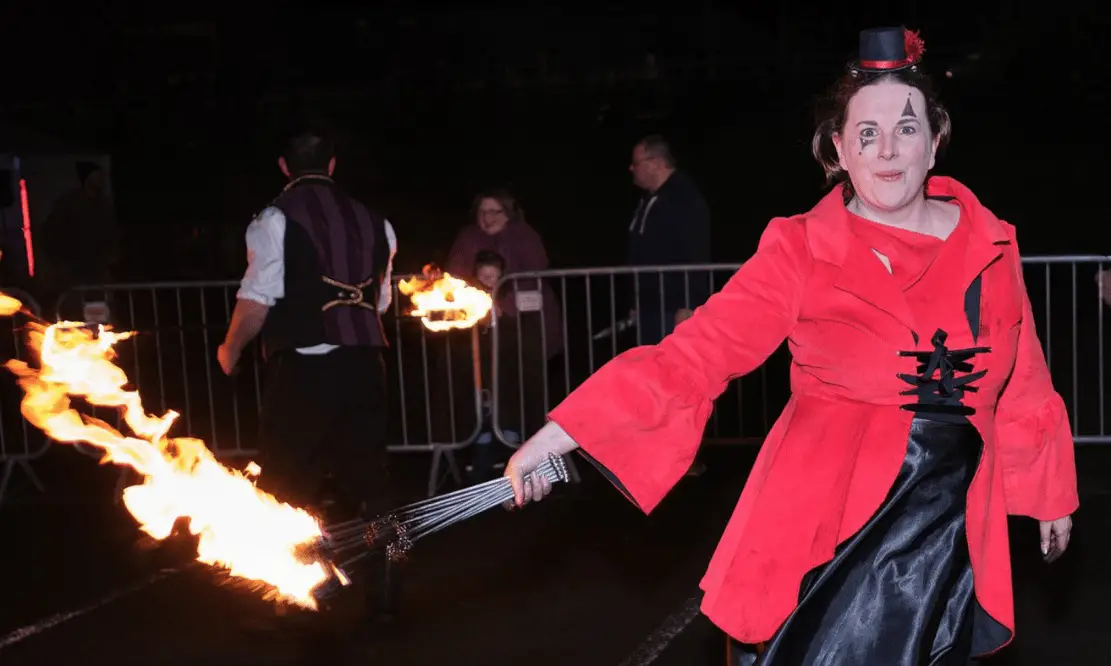 ---
South Armagh Halloween Festival
This hugely popular annual event is back for its 14th year!
Revellers can expect a fun packed day with plenty to see and do including live music, arts and crafts, bouncy castles, haunted mansions, magic shows, street entertainers in costume and much, much more!
The event, based in Crossmaglen, typically concludes with a phenomenal fireworks display.
To register your interest in attending, for further details, schedule of activities and contact details for organisers please see their Facebook page.
Cardinal O'Fiaich Square, Crossmaglen
Monday October 31 | 12.00pm onwards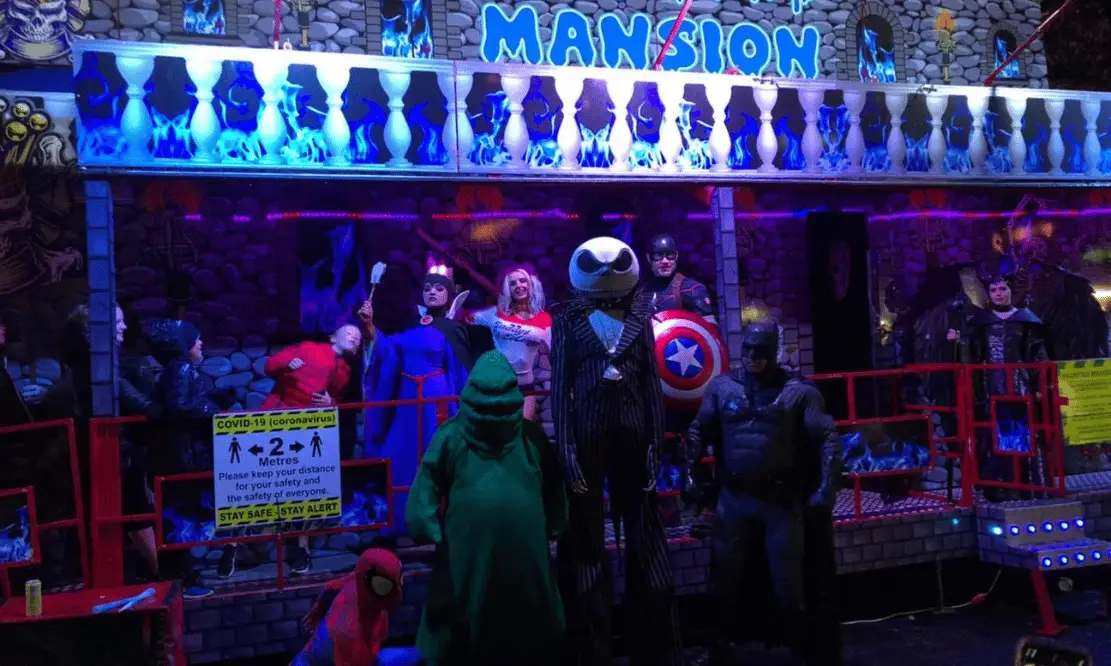 Sign Up To Our Newsletter