City of Armagh 37 Cashel 19
With three inches of snow on the Palace Grounds pitch, the prospects of a rugby match on Saturday afternoon looked slim to many observers but thanks to a huge effort from a team of volunteers, the snow was cleared to allow the match to proceed as the pitch was not frozen.
Looking to avenge their narrow defeat down in Cashel, the home started brightly and pinned Cashel back in their 22. On 7 minutes Cashel coughed up possession from a ruck and scrum half Harry Doyle quickly fed centre Chris Colvin who sent winger Robbie Faloon in at the corner for the game's opening try.
The visitors still hadn't settled into the match when 3 minutes later Cashel  kicked ahead and Armagh counter attacked. Number 8 Neil Faloon collected a pass from Chris Colvin on the 10 metre line and sprinted 40 metres for Armagh's second try.
Both conversions were missed but Armagh now had a promising 10 nil lead. As the first quarter drew to a close, Cashel got on the scoreboard with a successful penalty by outhalf, Daragh Lyons.
Armagh continued to dictate play with Chris Cousins and Tim McNeice combining for Neil Faloon to threaten the Cashel line again but the home team were penalised and Cashel cleared the danger.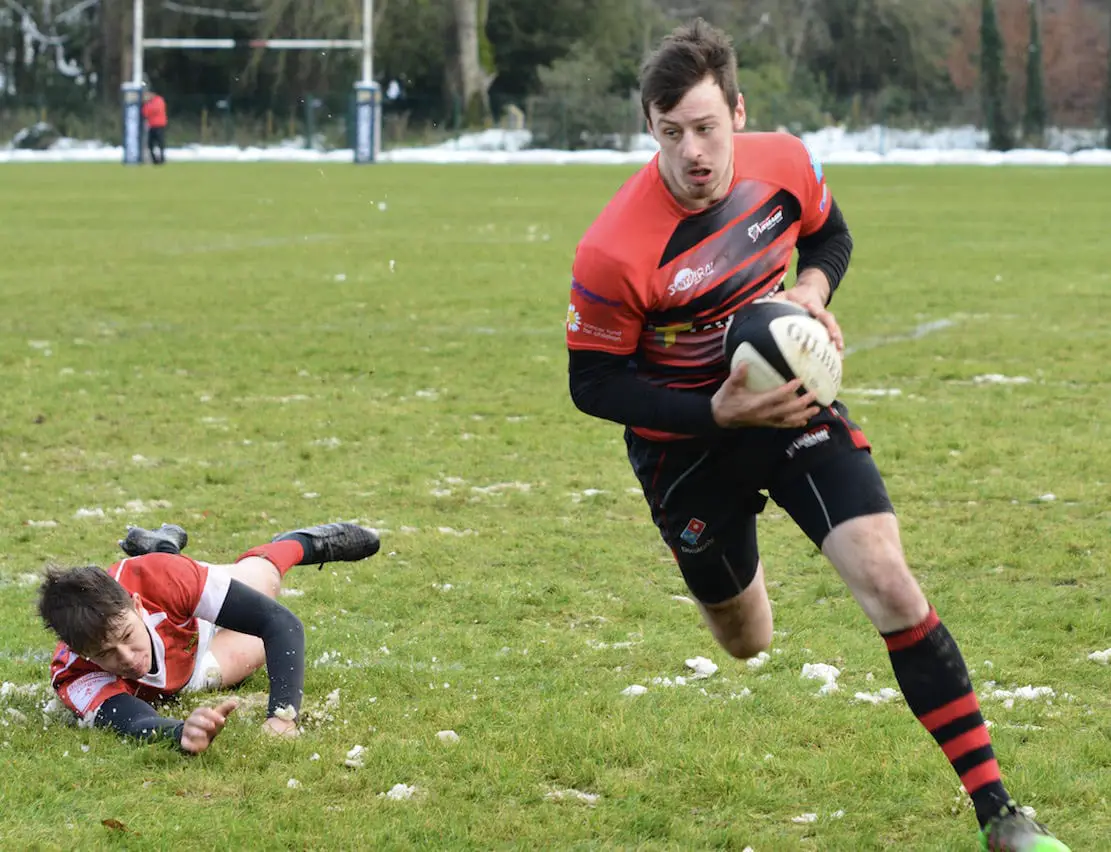 Try number three for Armagh came on 23 minutes when a mix-up in the Cashel backline on half way saw Chris Colvin scoop up the loose ball and he stretched his legs to score under the posts. Winger Ryan Purvis took over kicking duties and slotted the conversion for a 17-3 lead to the home team.
On 25 minutes Cashel were awarded a scrum penalty and kicked into Armagh territory. A series of forward drives brought them up to the Armagh line and their pressure paid off when hooker Niall Fitzgerald crossed for a try, converted by Lyons. With the score 17-10, Armagh were keen to get the next score and they secured their bonus point try on 30 minutes.
From a scrum 30 metres out, McNeice burst through the centre and gave the scoring pass to Robbie Faloon for his second of the day. Purvis converted from far out and Armagh had a comfortable 24-10 lead as halftime approached.
Cashel finished the first half strongly and their experienced pack drove hard at the Armagh line through several phases but the home defence was resilient in holding firm. A penalty from Daragh Lyons was the only reward for Cashel and the scoreline at halftime was Armagh 24, Cashel 10.
The second half began with a period of scrappy play with Cashel having the upper hand in terms of possession and territory. The Armagh centres were penalised for crossing and Daragh Lyons kicked the 3 points to reduce Armagh's lead to 24-16. A scrum penalty followed and the boot of Lyons brought Cashel right back into contention at 24-19.
Cormac Fox and Jonny Pollock came on from the bench to try and spark Armagh as Cashel had starved the men in red and black of possession the entire third quarter. Cashel missed a kick at goal on 65 minutes and the home supporters breathed a sigh of relief.
Remarkably on 68 minutes Armagh received their first penalty in the match and a successful kick from Purvis eased the pressure on the home team, 27-19.
The turning point in the match came on 70 minutes when Armagh scored one of their best tries of the season. Starting with a lineout 30 metres from their own line, the Armagh backs moved the ball up to halfway and full-back McNeice fed Purvis to run in from the 10 metre line beating two defenders, his second try in two weeks against Cashel. The winger converted his own try and Armagh looked home and dry at 34-19.
On 74 minutes Cashel gave away a soft penalty on their own 22 and Purvis stepped up again to add three points to stretch Armagh's lead to 37-19.
With three minutes remaining on the clock, Neil Faloon received a yellow card for a late tackle on Lyons and Cashel looked for a consolation score. The Armagh defensive line which had been impressive all day, held firm and the final whistle went with the home team securing a valuable bonus point win that propelled them two places up the league table to fourth place.
The Armagh coaching team of Willie Faloon and Chris Parker were delighted with the comprehensive win however it was not until the fourth quarter that the points were sealed.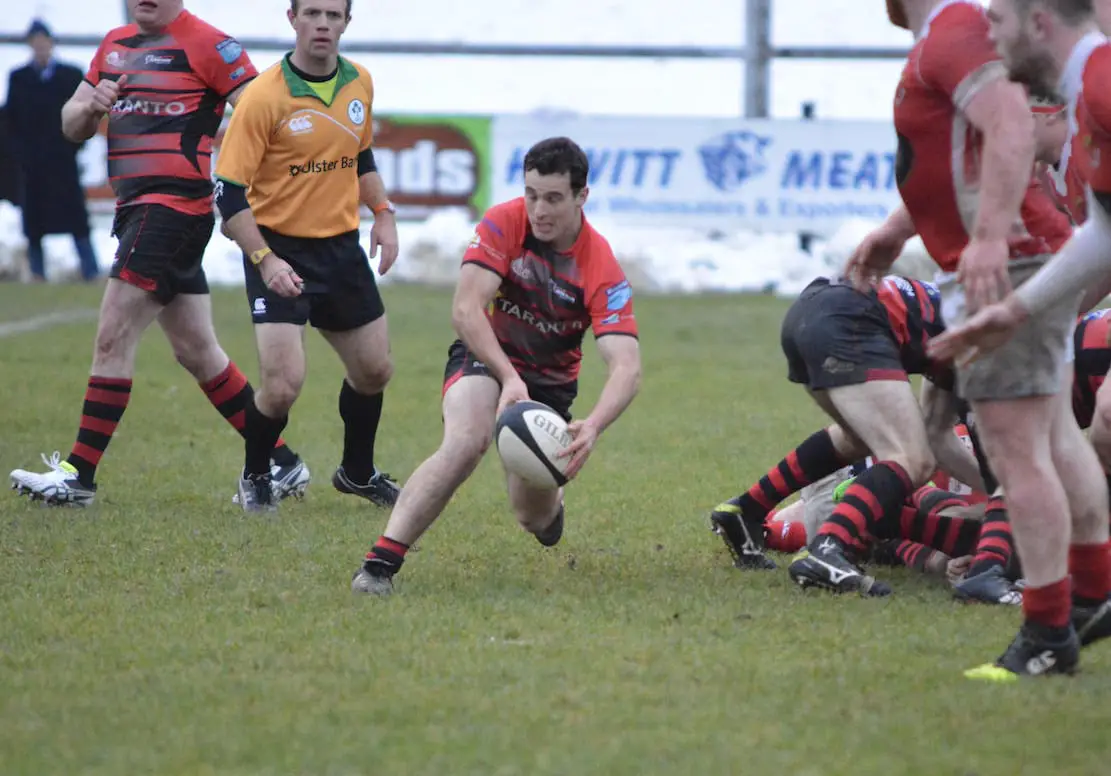 "We have a fantastic club spirit here in Armagh where we saw players and volunteers working together with tractors and shovels to clear the pitch to make it playable" stated Faloon.
"We were disappointed Ali Birch was not cleared to start the match but Stuart Hooks made his first start for the Firsts and had a great game as did the rest of the guys on the bench today".
The focus is now the two cup finals next week and it will be an exciting time for our Firsts and Seconds to play at the Kingspan Stadium.
This Saturday, the attention will be on the Thirds and Fourths with home games in the league and cup respectively. Both teams are having fantastic seasons and supporters are encouraged to come down to see some great rugby on the field.
Become a member...
Have you considered becoming an Independent member, where not only you support local independent businesses, but you help Armagh I champion a wider, more independent, and impartial range of journalism that matters to your local community – from videos and photos to features and events.
Not only do members get the Independent Card, which gives you exclusive access to fantastic discounts from local businesses but you can get an exclusive members-only newsletter packed with the best deals locally, as well as unique first-look content. Not to mention, our competitions, discounts and giveaways will be made exclusively to our members only. Sign up to become a member or find out more here.
Become a member