A Lurgan club has called for Armagh supporters to remember their underage player, Caoimhín Mallon, during Sunday's Ulster final in Clones.
The 15-year-old St Paul's GAC player died in tragic circumstances last Sunday.
He was a huge Liverpool fan and a massive Armagh fan who would have been cheering on the men in orange this weekend.
Earlier today the the Club posted: "In memory of our player Caoimhín Mallon, who passed away so suddenly on Sunday., we are asking all Armagh supporters attending tomorrow's game for a minute of applause at the 15th minute."
During his funeral Mass on Thursday, older brother Dáire, spoke of Caoimhín's love of gaelic football and how he was a huge fan of Armagh and his home club, St Paul's. He supported his teams everywhere, from the playing fields of Taghnevan to the Athletic Grounds and the whole way down to Croke Park.
"Caoimhín himself was a proud defender for St Paul's and we always got a great sense of pride watching him play on the pitch.
"Sadly Caoimhín's life was cut short far too soon but we can take great comfort in the fact that in his 15 years with us he experienced such immense love from his family and friends. His passing has had a profound impact upon our community."
Armagh fans paid a similar tribute to Natalie McNally – the murdered Lurgan mum-to-be – when Mayo visited the Athletic Grounds during the National League earlier this year. Natalie and her family following Armagh home and away.
The game in Clones against Derry is a sell-out with 30,000 fans set to descend on St Tiernach's Park for what will be Armagh's first Ulster final since 2008, a game they won against Fermanagh following a replay.
While the scramble for tickets has proven a distracting sideshow for Armagh supports ahead of this Sunday's showpiece, the controversial stepping aside of Derry manager Rory Gallagher, following allegations of domestic abuse, has thrown the Oak Leafers into disarray.
Armagh's league season may have faltered, with relegation to Division Two, but defeats by the narrowest of margins against the country's top sides may have tempered disappointment slightly.
Derry's rise as a formidable force over the last 18 months has been impressive and – regardless of any off-the-field issues – will be going into Sunday's game as favourites, with the aim of claiming back-to-back Anglo Celt titles for only the second time in their history.
Despite the extra fixture of the preliminary round, Armagh's run to the final has been relatively straightforward with victories over three Division 3 sides in Antrim, Cavan and Down. Derry saw off Fermanagh and Monaghan with ease.
Armagh team to face Derry…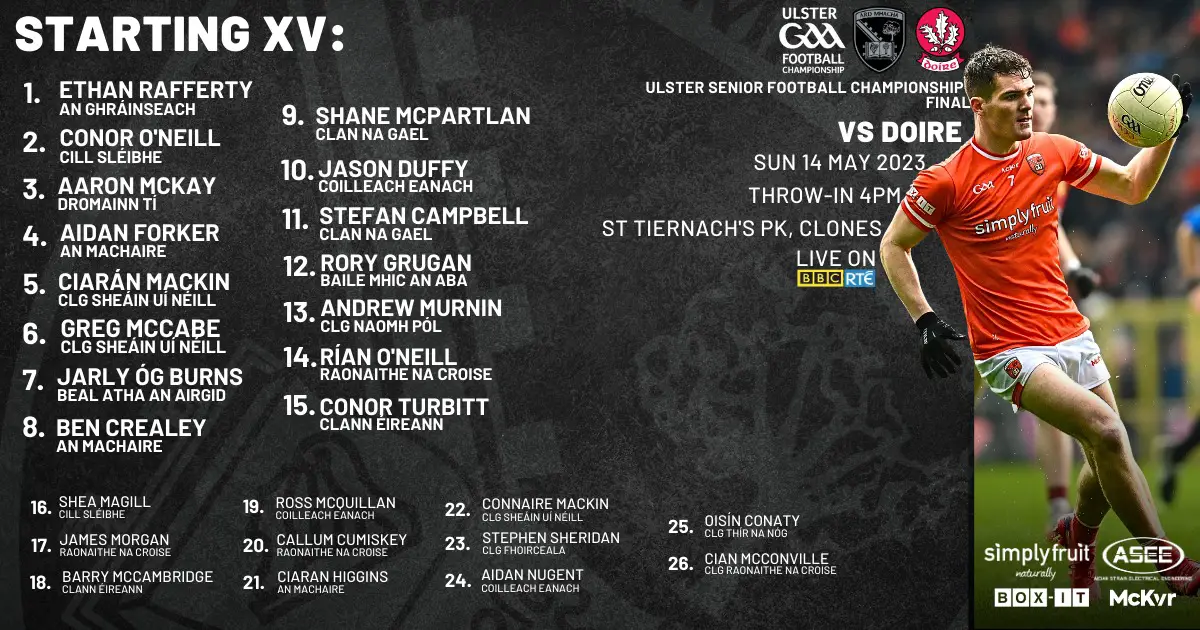 Sign Up To Our Newsletter