Eighties pin-up Kelly Le Brock will need to pack a few more clothes than we were used to seeing her in if she plans to fulfil her wish!
The 55-year-old – considered one of the sexiest women in Hollywood during the decade that fashion forgot – has set her heart on coming to County Armagh and her family's native Keady.
The actress and model's grandmother was Mary Helen Kelly who came from the South Armagh town  – hence the 'Kelly' Le Brock. She married John Traynor and Le Brock is convinced she has relatives living in the area.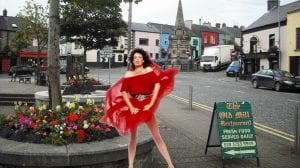 Her mother was Maria Traynor – who was also a model – and her father, Henry Le Brock, a successful New York businessman.
While she has been to the emerald isle before – and is immensely proud of her Irish roots – Le Brock has never travelled north.
But now she has set her sights on coming to Northern Ireland and, in particular, County Armagh!
"I want to come back and find my roots in Armagh this time," she told the Sunday Life newspaper.
"I want to bring my children and show them were they came from. My mother, who died six years ago, had a wicked Irish sense of humour that I think I have inherited too.
"My Irish roots have kept me alive all these years, of that I have no doubt.
"When I have been at my lowest point that Irish blood has given me courage. There is a strength in the Irish people, a resilience within us that keeps us going, no matter what life throws at us.
"I know the name Kelly means warrior, I try to live up to that name every day."
Le Brock was born in New York City but brought up in London.
She hit the big time in Hollywood after making her debut alongside Gene Wilder in the classic 1984 smash hit 'The Woman in Red' – wearing THAT dress!
She was seen as the 'perfect' woman and when the movie exceeded all expectations she starred the following year in John Hughes' classic Weird Science, as the fantasy creation of two nerdy teenage boys.
Le Brock had returned to the United States at age 16 to pursue her modelling career before appearing on film, and was considered one of the original supermodels, undertaking extensive publicity for such famous names as Christian Dior.
She married Hollywood action man Steven Seagal in 1987 – her second marriage – and the couple starred together in 1990's 'Hard To Kill'. They parted in 1996.
A string of movies followed, including 'Wrongfully Accused' and 'The Sorcerer's Apprentice', none of which enjoyed the commercial success of her 1980s' outings, and she also took part in the third series of Hell's Kitchen.
She will be seen this year alongside Christopher Lambert in the autobiographical '10 Days in a Madhouse'.
Le Brock, who has three children with Seagal, now wants to 'come home'!
And she might consider settling down here…
"I want to come to live in Ireland, write my book and find a publisher," she told the Sunday Life.
"It is my story. A very traumatic one of my life in Hollywood.
"I feel very Irish, I always have. I have such an affinity with Ireland.
"I love a bit of a drink – I drank Guinness religiously when I was nursing my children as it is full of B12 – and I love the rain, which is great because it tends to rain quite a bit in Ireland.
"I definitely have Irish hands. I love to make things, I grow my own vegetables and I slaughter my own animals for meat here on my ranch. I am an advocate for healthier eating and living. My favourite meal to cook is Irish stew.Irish trait.
"I raise everything from pigs to chickens here on 700 acres. I pluck my own chickens and milk my goats, all for the sake of organic living.
"Probably a mirror image of my grandmother's life in Armagh."
Read more news:
Man treated for burns after ferocious fire rages at Markethill farm
Permanent axe falls as Trust scraps Armagh's minor injuries unit
Markethill store robbed by pair who made off with cigarettes and alcohol
Car struck by brick thrown from bridge on M1 on Wednesday night
Tanishea got VIP tickets for Christmas; last night she cried like never before
Sign Up To Our Newsletter