From performing in front of thousands of country music fans in venues across the world to serving up coffee in south Armagh.
The pandemic has seen many undertake a career pivot and one such example is Camlough's latest coffee provider.
With virtually all live music cancelled since last March, Niall Murphy, who would normally be accompanying Nathan Carter on stage, traded the tour bus for a trailer
Back in October, the 29-year-old fiddle player set up shop with his very own coffee cart, called Dr Brew, near the Camlough lakes.
Speaking to Armagh I Niall joked: "I never thought I would see the day that I would be speaking to someone for an article on a coffee cart but desperate times call for desperate measures."
Explaining the origins of the venture, the Camlough man said he had toyed with the idea around 18 months ago but with the demands of his music career it was put on the back burner.
He said: "Nathan, he was one of the ones saying it was gonna be tough. Setting up in the morning, doing your coffees and then packing up in the afternoon, time to head for a sound check in Cork or Limerick.
"He thought I would be wrecked and right enough he probably did hit the nail on the head. It would have been a lot of work."
But with the pandemic hitting in March and with all future tour plans on hold, Niall saw this as the "best opportunity" to give it a try.
"I ordered everything around the end of the summer, the trailer arrived and it was just right so I jumped in with two feet and hoped for the best," he said.
"Thankfully it is going good, it is picking up, getting busier every week, and with other places closed there isn't many options for coffee."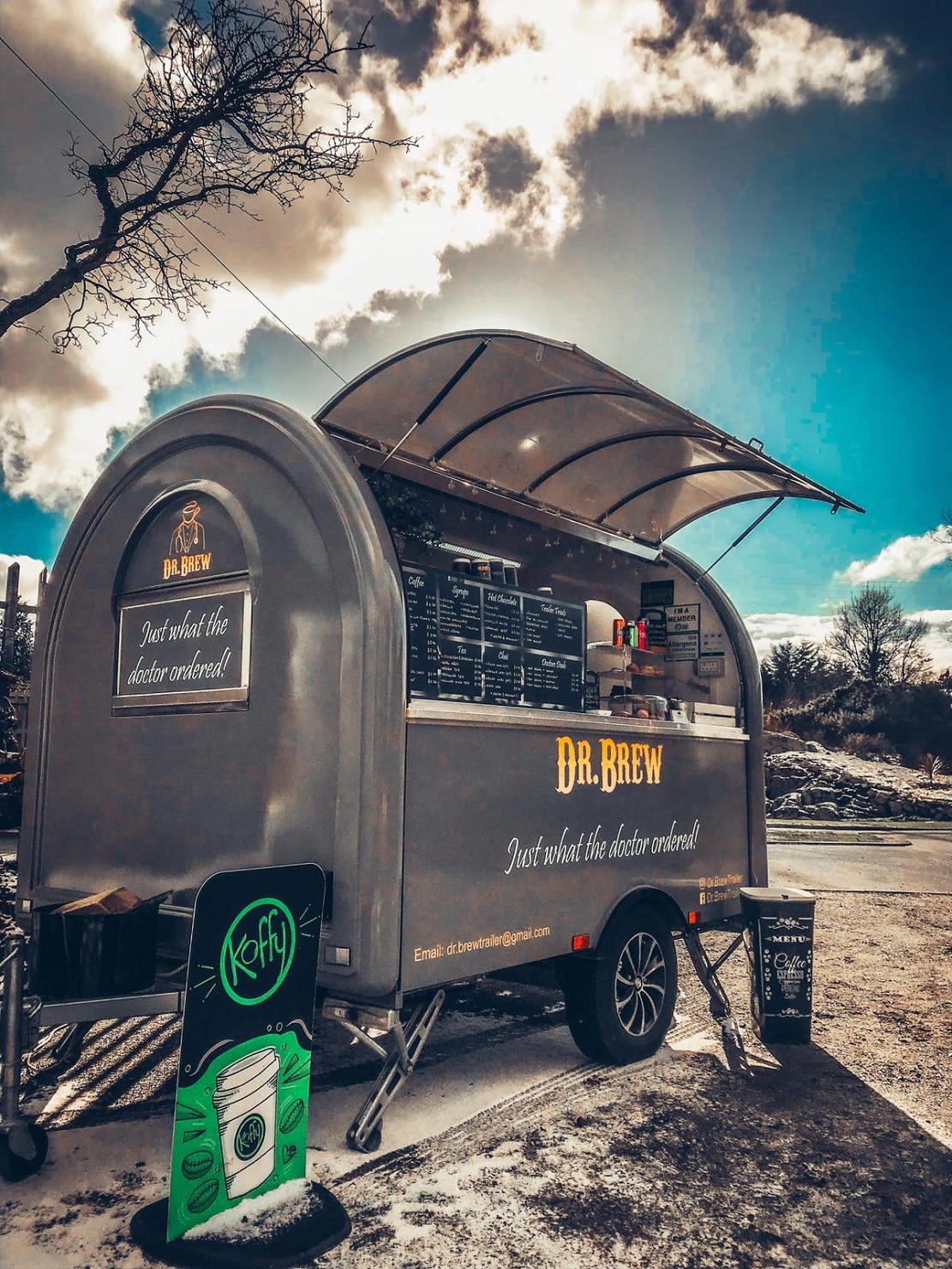 Despite having no experience in the industry, Niall commented: "I like to think I know a good coffee when I taste one.
"I just love coffee, anywhere we landed it was a quick Google and I was off on a mission to find the best one around."
Prior to opening up, Niall engaged in online courses and two days of training with coffee roasters, Koffy, in Jonesboro.
"I started in the middle of October," he said. "It spread by word of mouth and social media. The first day I opened was absolutely mental and I started panicking.
"The first customers I had were about seven cyclists and they just started shouting orders at me. I had to explain to them that it was my first day."
But Niall said that the support had been overwhelming, adding: "People love to hear that you are giving it a shot, making the most of it when you are not on the road.
"Local cafe owners who have called by have also helped me out by offering tips and tricks."
Niall's situation is not unique as he explained that many others in the band have had to find other work until normal service is resumed.
"Apart from the financial aspect, you are used to being on the road and away so much. When you go from that to sitting in the house every night of the week, it can be a bit of come down," he said.
"It is something to get me out of the house and into a bit of a routine and get talking to people.
"The social element is crazy. I wouldn't have socialised around Camlough much because I was always away at the weekend, so now I am meeting loads of people that live 500 yards from me."
Asked about the reaction from his band mates, Niall said: "They have been supportive, messaging me asking if I had a good week. I think they just can't wait to get a free coffee out of it.
"There have been a lot of Facetime calls and group chats. It is just the lack of playing. It is unusual that you would be going a week without a gig never mind a year."
Planning ahead, Niall admitted at the moment he is judging it month by month but he does have aspirations of a static shop.
"With the trailer it takes a bit of time to set up and if I were to employ someone it would be a good bit of work," he said.
"But during the summer I would be busy with festivals, which this lends itself to. I can have it sitting there, get up on stage, make a bit of noise and then come back."
Niall says he is itching to get back on stage and is hopeful that weddings and events for his coffee business penciled in for later this year will go ahead.
To find out more you can check out Dr Brew on Facebook and Instagram, or Niall's music pages.
Sign Up To Our Newsletter