A well-known family-run county Armagh business is to close its doors after more than four decades of trading.
Nigel O'Hara jewellers becomes the latest store to leave Portadown's dwindling high street.
And Mr O'Hara told the Portadown Times the "negative influence of Rushmere and traffic wardens on the town, leaving me no choice but to close after 42 years in the trade".
He added: "The footfall in Portadown has declined by the week. There are so many horror stories of over-zealous traffic wardens, and this helps chase the trade out to Rushmere where parking is free.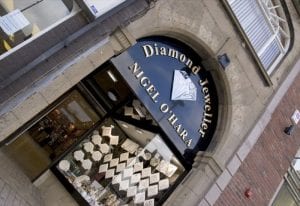 "We wish to thank personally all our customers who have supported us over the years. We have always carried a quality range of jewellery and watches, several 'big names' – in a beautifully-appointed shop.
"But it's so difficult for the local trader in this day and age. It's devastating having to lay off my faithful staff."
The store is currently having an 80 percent off sale at the minute.
Their website is currently down and it is unsure if it will remain down in the final throes of its existence
Read more news:
HMRC staff relocated from Newry told their new office is also to close
Man charged following 'attempted child abduction' at Armstrong PS
Thumbs-up for restoration of porter's lodge and City Hospital's boundary walls
Armagh poultry sheds would house up to 105,000 birds
Family fundraising drive to help others after losing Charlene and baby Myla
Controversial Milford digester plans postponed again – despite advice to approve
Sign Up To Our Newsletter