Singer, actor and TV presenter, Keith Duffy, has presented Portadown's community hero, Julia McKeever, with a coveted National Lottery Award in honour of her incredible work for people with autism.
Julia established The Autism Hive charity in 2022 to provide suicide prevention measures to people with autism following the loss of her son, Luke O'Hara, to suicide the previous year. Luke was just 25 at the time of his death.
Now, she has been recognised as the Community/Charity winner in the 2023 National Lottery Awards, which recognises the inspirational people and projects who do extraordinary things with the help of National Lottery funding.
Julia received the award from the former Boyzone star at a ceremony in the Seagoe Hotel, Portadown, on Thursday morning.
Keith Duffy has been fundraising for autism for more than 14 years and has worked to help raise awareness for children with autism since his daughter Mia was first diagnosed with the condition at the age of 18 months.
Suicide is regarded as one of the leading causes of death for people with autism and The Autism Hive provides suicide prevention measures, intervention and post-intervention support for the autistic community and their families in Northern Ireland.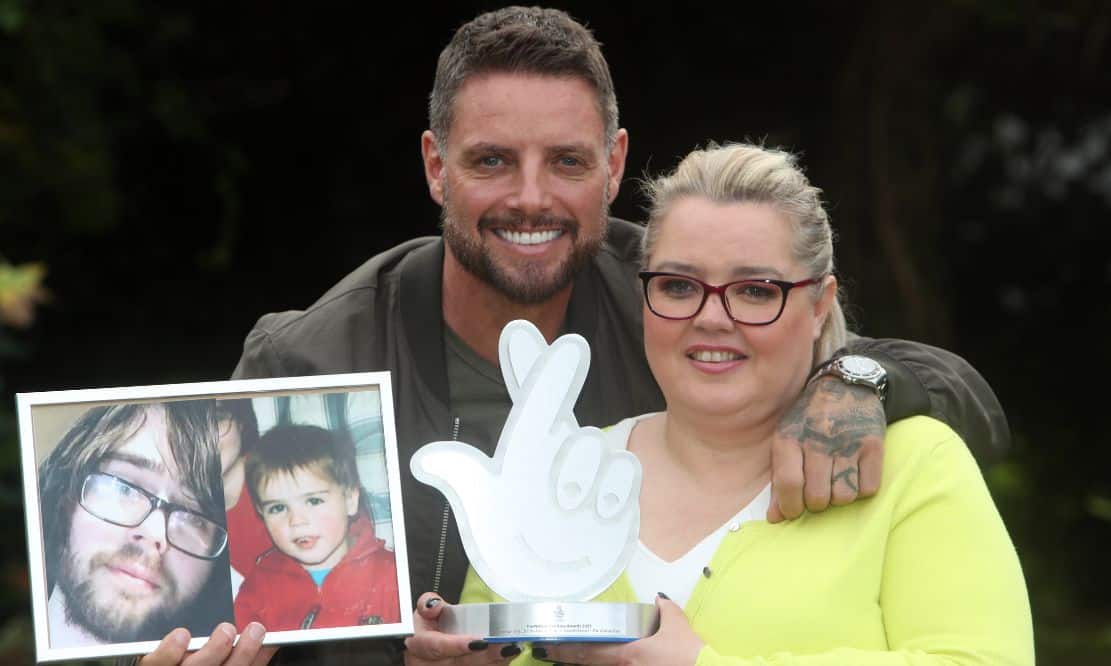 As the only autism specific agency offering these services in the region, where one in 20 children have a diagnosis of autism, The Autism Hive offers an invaluable lifeline for those in need. 
Earlier this year, The Autism Hive received National Lottery funding of £6,176 from The National Lottery Community Fund to develop a 'Train the Trainer' course focusing on suicide awareness for supporting an autistic person in crisis.
Speaking after the ceremony this morning, Keith Duffy said: "It is an incredible honour to present Julia with a National Lottery Award; she is such an amazing and inspiring person. It is remarkable that she has been able to overcome such adversity and channel her grief into a fantastic project which provides so much support to those with autism and their families.
He continued: "This cause is very personal to me, given the work of my Keith Duffy Foundation which is on a mission to make a meaningful difference in the lives of children and young adults affected by autism.
"It is truly disheartening how many families affected by autism are not receiving the appropriate support, guidance, intervention and education they desperately need. We need to change that.
"Julia is a thoroughly deserving winner of a National Lottery Award and National Lottery players, who raise £30 million every week for good causes like The Autism Hive, can be very proud in the role they have played in funding this wonderful woman and her organisation."
Julia, on receiving the award, added: "I am thrilled to have won this award not just for me and the team at The Autism Hive but for the legacy of my son Luke and other families who have had to go through the loss of a loved one.
"National Lottery funding has been vital to our charity allowing us to provide vital training to help support autistic people in crisis. It has helped us help others and I am very grateful for this support."
3,780 nominations were received in this year's National Lottery Awards campaign and a judging panel selected Julia as an 'outstanding individual' winner in the Community and Charity category.
As a recipient of the award, Julia will also receive a £5,000 cash prize for her project.
Sign Up To Our Newsletter