A Co Armagh football club is coming to terms with the impact devastating floods have had on their facilities.
Annagh United FC, who are based in the Tandragee Road area of Portadown, say they are "working hard" to protect what they can after the flooding which affected both the club and surrounding houses.
The Club's first team's manager, Ciaran McGurgan, told Armagh I that the pitch was "absolutely flooded" and the kids' Portakabin was "completely destroyed".
However, the clubhouse seems to have emerged intact with the water beginning to retract amid relief efforts.
Ciaran says there was also damage to a number of homes in the area, leading to a "good community effort" to help quell the flood water.
He said: "Unfortunately we haven't saved all the houses but we did manage to save a lot of them and we've managed to save our club as well. That's been a small positive out of the whole thing.
"The residents in one of the housing estates can't get in or out because the road has flooded. Four or five houses are flooded as well so it's not just us as a club, there's a community impact there. We have supported as best as we can and will continue to do that."
Despite this, the reality for Annagh United is they will be left without a pitch for a number of months.
"Our first team is only a very small part of who uses the club. We have 300 kids at our youth that use it, we have the IFA that use it, we have a Rangers Academy who use it… It's been a significant impact. Now it's just about how we can help to get them back playing.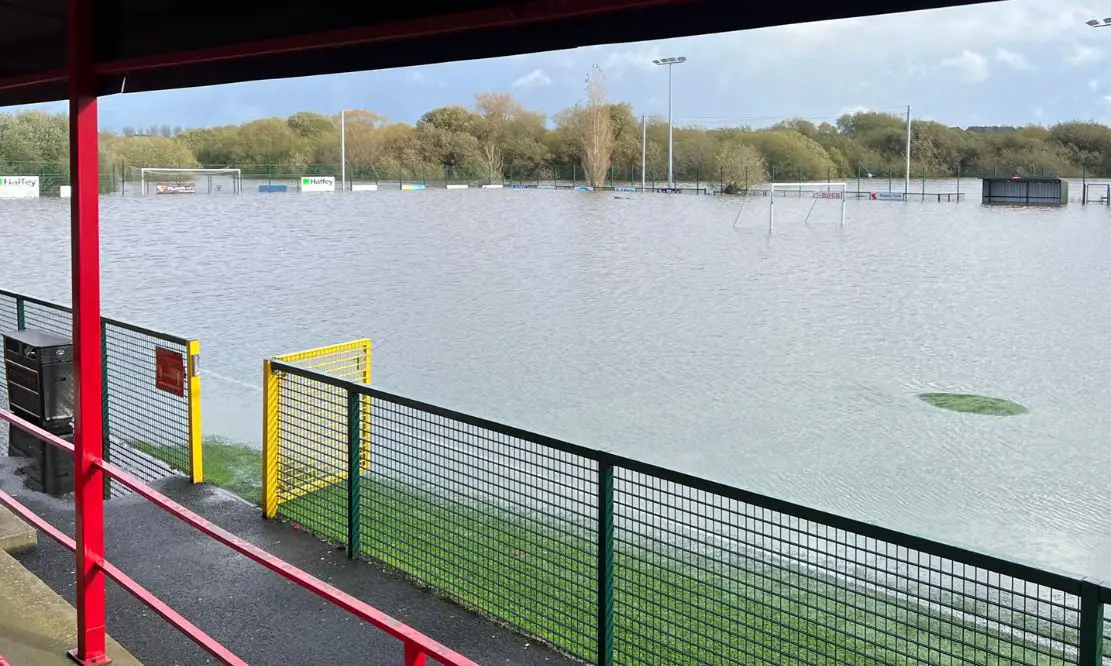 "There's been local support in terms of other clubs offering facilities, which has been overwhelming, and I can't thank them enough for that, but in term's of actual governing bodies, we haven't heard anything yet."
Ciaran continued: "For our club to survive it relies on the income from the pitch. If we don't have that we then rely on sponsors. The sponsors sponsor games and sponsor balls and things like that, but if we're not playing games on our own pitch, does that change?
"All that has just created uncertainty and unfortunately at the moment we're just in limbo with it because we don't know the extent of the damage because there's still so much water on the pitch."
As a result of the disruption, the club have also postponed a planned 'Night at the Races' event which was due to be held on Saturday night (November 4).
📢 𝘾𝙡𝙪𝙗 𝙎𝙩𝙖𝙩𝙚𝙢𝙚𝙣𝙩 📢 pic.twitter.com/4UvIjBmNsc

— ⚽ AUFC ⚽ (@AnnaghUnitedFC) November 2, 2023
The Department for Infrastructure has reiterated the multi-agency effort to respond to the impact of flooding as many towns across Co. Armagh continue to deal with the impact of this week's floods.
While there was "limited" rainfall overnight and river levels are generally falling, operational teams have been on-site to respond and assist in protecting properties in areas such as Newry and Portadown.
However, the department has noted that in some areas, river levels remain very high and it will take "some time" for the water to drain away.
The Department for Infrastructure spokesperson added: "Lough Neagh will continue to rise but at this stage is expected to peak tomorrow at a level below what was experienced in the winter of 2015.
"We have already engaged with colleagues in Local Government and Councils about the recovery stage and we will play our part in that in whatever way possible.
"We would like to thank the public for in many cases acting responsibly in relation to road closures and other messaging. In the coming days we would ask the public to remain vigilant and adhere to any public safety messaging."
Sign Up To Our Newsletter