The Lord Mayor has called for the safe return of a flag crudely hoisted onto a bonfire in Portadown.
Anti-internment bonfires in Portadown and Newry have caused controversy following the erection flags, emblems and sinister messages.
Elected representatives from all the major parties have condemned those behind the provocation.
However, Ulster Unionist councillor Julie Flaherty has called for the Hanover FC flag returned to the club in a bid to help restore community relations.
"A great deal of hurt has been caused by the placing of a flag belonging to Portadown club Hanover FC on an anti-internment bonfire in Craigavon," explained councillor Flaherty.
"This particular flag was taken to France when the club travelled to support Northern Ireland at the Euros in 2016 and represents precious memories for Hanover FC, so the club is understandably angry at its theft and placing on this bonfire.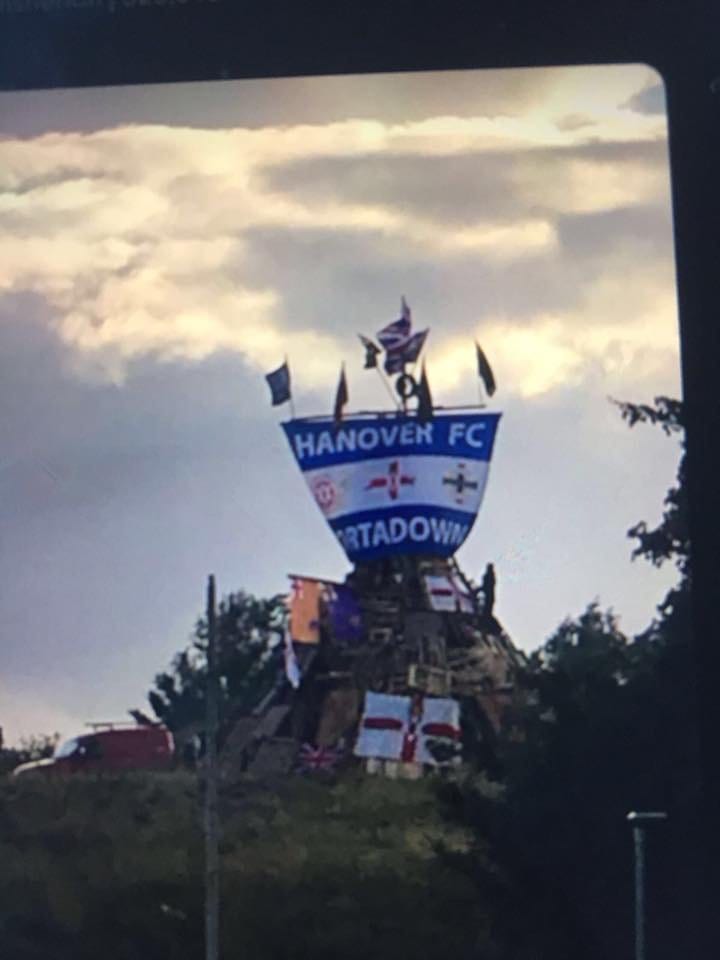 "The people responsible are quite clearly trying to heighten tensions and cause offence, which helps absolutely nobody.
"I would appeal to anyone with influence to do all they can to have this flag removed and returned to Hanover FC. Such a gesture would be hugely appreciated and help improve community relations."
Elsewhere, DUP MLA William Irwin, called those responsible for the Parkhead bonfire in Newry as "depraved".
"Once again Republicans in Newry have stooped to a new low in mocking the callous and brutal murder of an innocent man who was simply going about his daily business earning a living for his family and trying to do the best for the whole community," said Mr Irwin.
"This is not the first time this has happened in this area and speaks volumes about the type of depraved people organising this Republican bonfire at Parkhead in Newry.
"Following on from the desecration of the poppy wreaths at the Cenotaph in Newry and Narrow Water and the recent attack on the Kingsmill Memorial it's clear that a section of the Newry community are hell bent on creating as much tension as possible and injecting as much hate and bile into the area as they can possibly muster.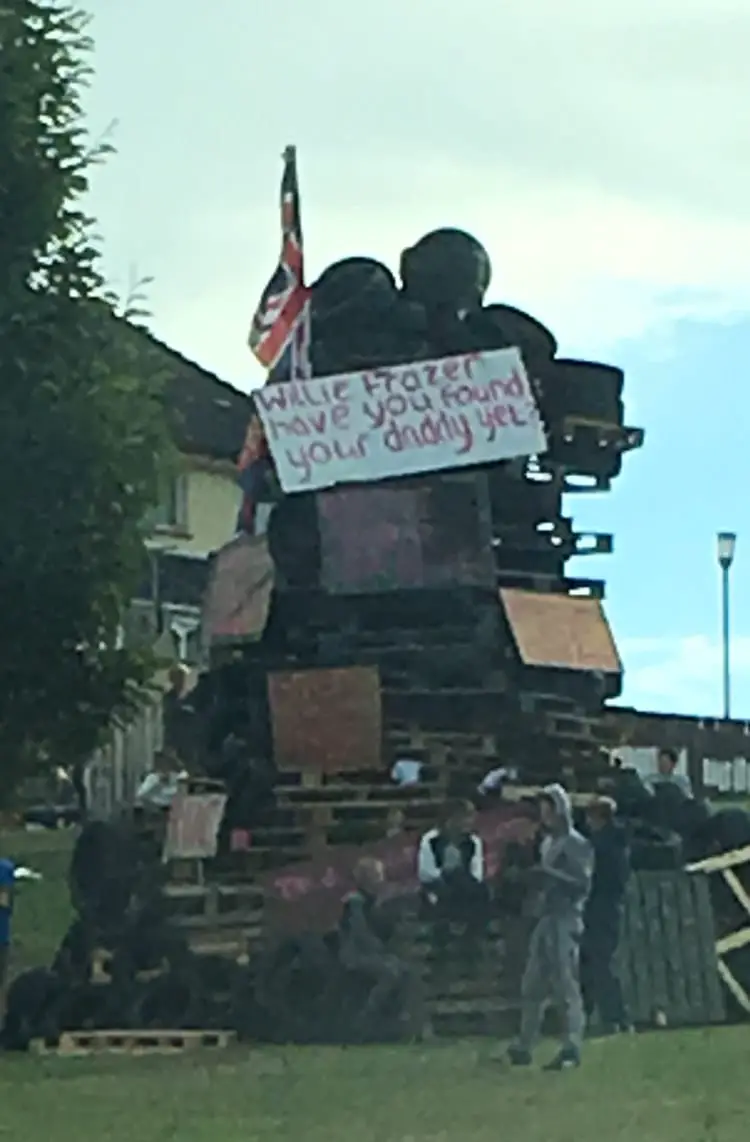 "This sick and mindless placard mocking William Frazer and his family must be condemned from all quarters and promptly investigated for what it is – a sickening hate crime which does nothing but create further tension in the community.
"Talk of equality and rights by Republicans around Newry is lost on their Unionist neighbours who have recently witnessed attack after attack in this area.
"I have spoken with William Frazer and assured him of my full support at this difficult time. His relentless pursuit of justice for innocent victims is obviously hurting some Republicans who feel they
must retaliate in the most vile manner possible."
Sign Up To Our Newsletter