Tributes have been paid to a dedicated and devoted member of the Northern Ireland Fire and Rescue Service who passed away at the weekend after a short illness.
Crew Commander Andy Sizer was only 50 years of age but had served for more than 25 years.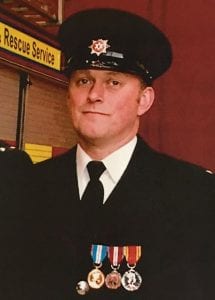 He was appointed Crew Commander in 2004 and had recently received his NIFRS Long Service/Good Conduct medal.
NIFRS Newry District Station Commander Alastair McConville said: "Andy's colleagues and friends within the Newry District and across the Northern Ireland Fire & Rescue Service have been very saddened at the news of his death.
"Not only was Andy an extremely popular member of staff, but he was also a very capable firefighter who helped keep the community he served safe.
"Andy was a husband, father and esteemed colleague. His efforts to promote fire safety across the District was evident in the numerous school visits he attended. He was always ready to share his knowledge to promote a safer environment.
"Outside of work, Andy was a keen marksman and he represented Northern Ireland at the Field Target European Championships. Andy also had a passion for auto repairs and mechanics.
"Andy was a really good team player within Newry District and we will all miss him. Our thoughts are with Andy's family and his wider circle at this difficult time."
Sign Up To Our Newsletter