Southern Area Hospice Services are providing support for bereaved people in the Southern Health and Social Care Trust Area through the well-known and well respected 'The Bereavement Journey' Programme.
The new 6-week programme is available to anyone who has been bereaved due to a palliative illness such as cancer, heart failure, MND living in the Southern Trust Areas, Armagh, Banbridge, Craigavon, Dungannon, and Newry and Mourne. The programme considers bereavement, the anger and guilt often associated with grief as well as support to help find ways of coping and living with grief following the death of a loved one.
The programme is available in Newry and Dungannon and is facilitated by our Hospice Bereavement support team. Jim Fleming, Hospice Chaplain said: "We are delighted to be able to offer this excellent programme in Newry and Dungannon.
Grief is a natural response to loss, and it can be a difficult and painful experience for a lot of people. This programme is designed to help those who are struggling with grief, and I would encourage you to sign up."
Programme dates:
Newry – Tuesday September 26, at 1.30pm in Southern Area Hospice Services.
Dungannon – Wednesday September 27, at 10.00am in South Tyrone Hospital – D Floor.
You can register your interest in attending The Bereavement Journey Programme here or by phoning 028 3026 7711.
The Bereavement Journey programme is a valuable addition to the existing bereavement support services offered by Southern Area Hospice Services. If you need more information, you can visit the bereavement section of the website here.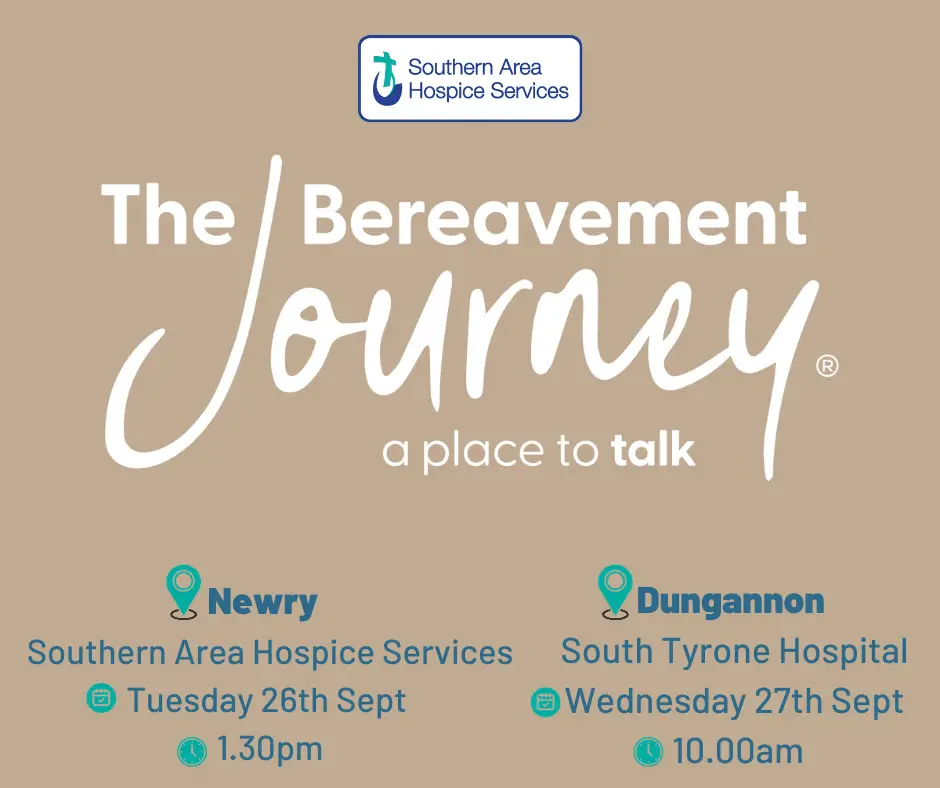 Sign Up To Our Newsletter