A 36-year-old man was arrested on suspicion of drugs trafficking offences this evening (Tuesday).
The arrest, in the Newry area, came after approximately 25,000 Class C pills were seized.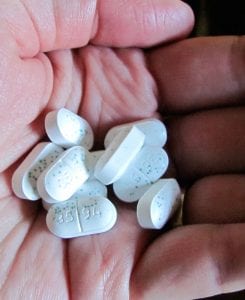 The man was interviewed at Armagh in connection with the joint PSNI/An Garda Siochana investigation.
He has since been charged and is due to appear before Newry Magistrates' Court tomorrow (Wednesday).
Detective Inspector Andy Dunlop of the PSNI Reactive and Organised Crime Branch said: "People should only take medication which has been lawfully prescribed to them by a medical professional.
"There is no quality assurance aspect built in the production of any drugs bought over the internet or on the street.
"People do not know what they are buying. A serious risk of harm exists to someone who illegally buys and consumes any medicines without a proper diagnosis having been made."
Picture for illustration purposes only
Read more news:
Woman due in court tomorrow charged with attempted murder
Young family left 'frightened and traumatised' by overnight attack on home
Man in serious condition following stabbing at a house
Vandals target city centre businesses in overnight graffiti spree
Armagh beat Monaghan by single point for McKenna Cup victory at Clones
New £6.9m paediatric ward and extension approved for Craigavon Area Hospital
Tributes paid to six-year-old Ella after tragic Newry road collision
Sign Up To Our Newsletter