Daisy Hill Hospital should be looked upon as an "asset" and not a "problem", a former senior health executive told a press conference today (Friday).
Derrytrasna woman Mairead McAlinden was speaking at the meeting in Newry, organised by the Daisy Hill Future Group.
The lobby group was established after it was announced earlier this year that all emergency general surgery was to be discontinued at Daisy Hill and relocated to Craigavon Area Hospital, prompting fears over the long-term future of the hospital.
Today it launched proposals to protect, enhance and expand services at the hospital.
Other attendees at today's meeting included a cross-party group of MLAs and MPs from Armagh and South Down, among them Finance Minister Conor Murphy, as well as representatives from Newry Mourne and Down District Council, Newry Chamber of Commerce, and the hospital's Pathfinder Group.
Ms McAlinden is a retired chief executive of the Southern Health and Social Care Care Trust and a member of the Bengoa Review Team, commissioned by the Department of Health to report on how healthcare across Northern Ireland could be improved.
She said: "If Daisy Hill Hospital closed tomorrow, there is no way the rest of Northern Ireland could cope. There is such a volume of people who use that service and depend on it.
"So I think we should stop the narrative that Daisy Hill is going to close. Daisy Hill is a really important asset for the Southern Trust and Northern Ireland.
"It provides excellent services. The renal service at Daisy Hill Hospital is second to none.  I think if we just remove the negativity and say Daisy Hill Hospital is here to stay and we want to make sure we provide the best possible services.
"I definitely see planned or elective care as a great opportunity. The waiting lists are horrendous and there are really good surgeons out there who can't do their work.
"Daisy Hill already does elective care but it does it in a very general way and I think there is a real opportunity to make it a centre of excellence."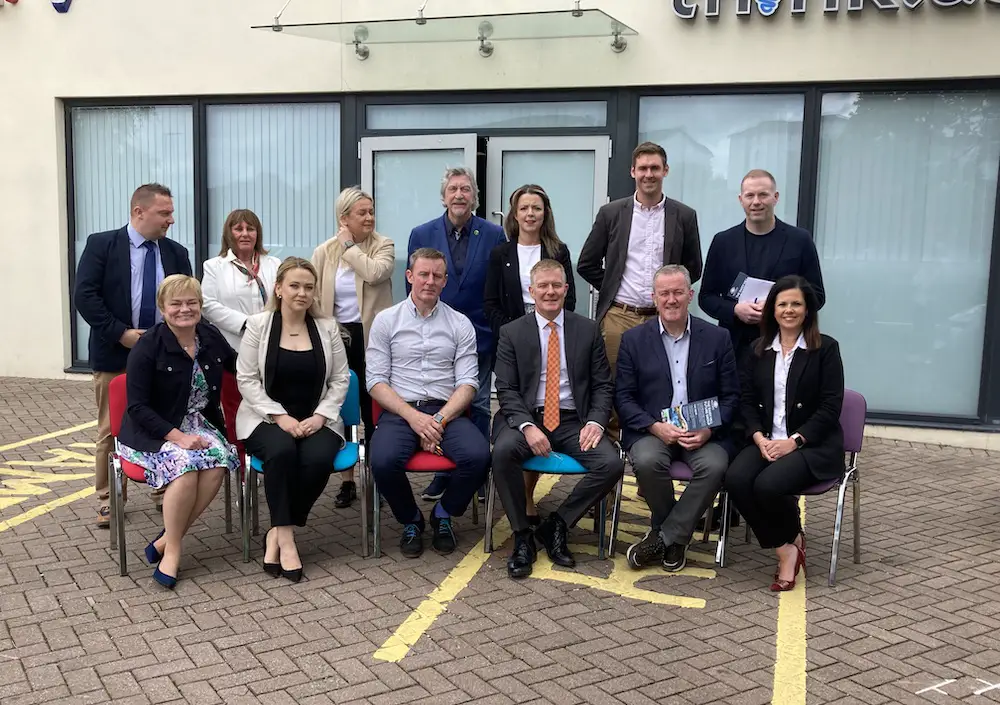 The Daisy Hill Future Group said it sees the hospital's future as an acute hospital hub which serves not just the communities of Newry, South Armagh, South and Mid-Down as well as a large hinterland in the Irish Republic, but which also provides specialist elective surgery and aftercare for citizens from across Northern Ireland.
Its main visions include reliable ambulance cover for the greater Newry area, an upgrade to the electricity supply to enable an MRI suite to be located at the site, elective surgery hub status, and a change to all staff contracts so they are trust-wide rather than site-specific.
Group chairman Conor Patterson, who is also chief executive of Newry & Mourne Co-operative & Enterprise Agency and a director of Newry Chamber of Commerce & Trade, said at least 200,000 people live in the area and that they deserve the same level of safe, accessible healthcare as people in the rest of the province.
He pointed out that the minimum journey time between Newry and Portadown is 40 minutes "on a good day" but that you can add 50 minutes on to that for people travelling from south Armagh or south east Down.
"Forty per cent of the Emergency Department caseload in the Southern Trust is handled by Daisy Hill Hospital," he said.
"For most people out there that we talk to, their primary concern is around emergency care at the site. The concerns of citizens are real and deserve respect."
MLA for Newry and Armagh Justin McNulty welcomed the "unity of purpose" and said he was pleased a consensus had been reached on the path forward for Daisy Hill.
"Many in the media have miscategorised my advocacy on behalf of our hospital as 'parish pump politics'.  I hope that today arrests that myth and demonstrates that the people of Newry, South Armagh and South Down are united behind a common cause and a common vision for the future of Daisy Hill," he added.
"It is incumbent upon the Department of Health and the Southern Trust to now review the plan we have put forward on the basis of its merit."
Sign Up To Our Newsletter