Markethill's Beautifi Beauty has been crowned 'Co Armagh Salon of the Year' at the 2018 Northern Ireland Hair and Beauty Awards.
The fourth Northern Ireland Hair and Beauty Awards ceremony took place at the Crowne Plaza Hotel in Belfast in celebration of the country's hair and beauty industry.
The prestigious industry awards seek to provide a platform to acknowledge and honour the impeccable and tireless work of the best professionals and businesses in the Northern Irish hair and beauty industry.
Following an overwhelming public response and hundreds of nominations, Beautifi Beauty were revealed as a finalist in the Northern Ireland Hair & Beauty Awards 'Co Armagh Beauty Salon of the Year' category last month.
The glamorous ceremony was hosted by TV personality, Pamela Ballantine who presented 32 awards to deserving winners in a range of categories.
Chloe Hodson, Proprietor of Beautifi Beauty Salon in Markethill was delighted at the success.
"We are honoured to have been awarded this prestigious industry accolade and to receive recognition on a local level as 'Co Armagh Salon of the Year 2018'," she said.
"We have also recently been recognised in the Northern Ireland Top 100 Hair and Beauty Salon Guide which we are also delighted about.
"This recognition is testament to the hard work of the Beautifi Beauty staff and I would like to thank them for their continued hard work and professionalism to provide our customers with the highest level of service.
"I would also like to thank all of our loyal customers, family and friends for their continued support."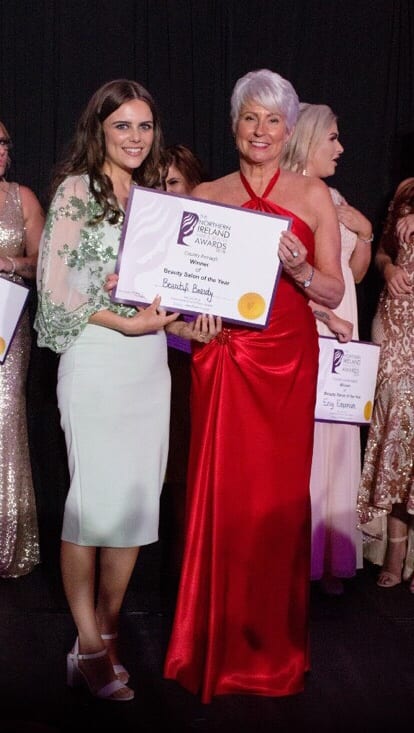 Creative Oceanic launched the official Hair and Beauty Awards in Northern Ireland four years ago. The English, Scottish, Welsh, Irish and London Hair & Beauty Awards have all been successfully established over the years as well, and this year the inaugural Toronto Hair and Beauty Awards were launched, increasing the brand's international appeal and recognition.
Irfan Younis, CEO of Creative Oceanic, said: "We are very delighted to have welcomed such top contenders representing the Northern Ireland hair and beauty industry.
"These awards have grown unbelievably. When we first started delivering the Northern Ireland Hair and Beauty Awards four years ago, we could never imagine that one day we will have to split the ceremony into two sittings due to the high demand of the public. We would like to thank the public for supporting us and showing us their willingness to be part of this amazing celebration.
"The hair and beauty industry play a vital role in the country's economy and we are very honored to see that our attempt to acknowledge and reward the meritorious professionals of the industry has been successful.
"It was a truly inspirational night and we would like to congratulate all finalists and winners for their amazing achievements!"
Inset: Chloe Hodson, Proprietor of Beautif Beauty in Markethill collects her 'Co Armagh Beauty Salon of the Year' award from TV personality, Pamela Ballentine at the Northern Ireland Hair and Beauty Awards held at the Crowne Plaza in Belfast.
Newsletter
Sign up for our weekly newsletter here.