Armagh City, Banbridge and Craigavon Borough Council's planning committee has approved plans for public realm improvement works in Waringstown.
The application, which was before members of the committee at its meeting on Wednesday, July 8, was lodged by Council and will see a new tree planting, lighting, seating, planting beds, paving and the development of a civic space in the village.
A planning report on the matter, compiled by a Council planning officer notes the application has received no objections.
The site is comprised of three portions of land at the junction of Mill Street and Main Street and will focus on the creation of a civic space to create a focus for the town.
The theme of the design is based on the weaving history of Waringstown and the layout and shapes of the feature elements are based on weaving spindles and threads of material running between the spindles.
The new paving is to be laid in sandstone slab paving with feature sandstone shapes. The kerbs are to be silver grey granite with buff coloured granite tactile paving at crossing points and six new lighting columns, two bins and eight new seating benches are proposed as part of the application.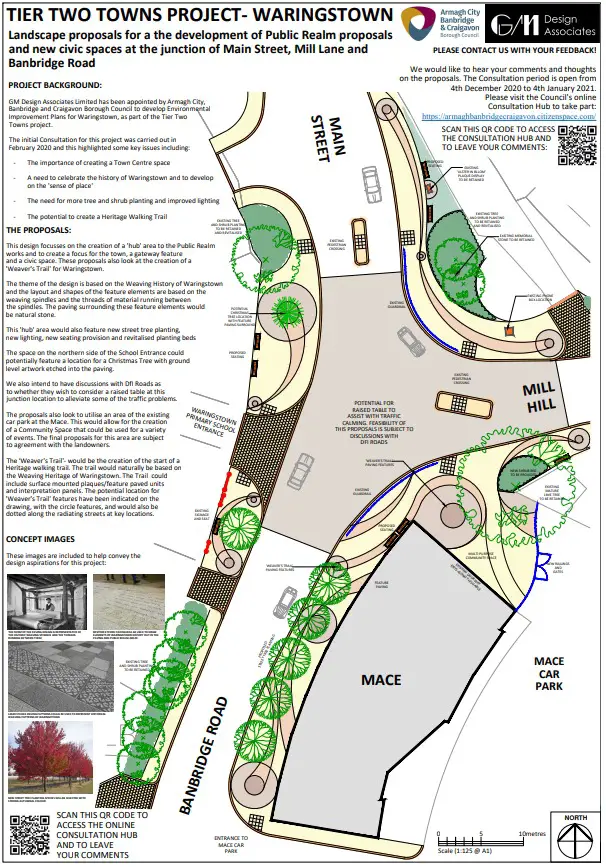 At Council's monthly meeting in June Council accepted a letter of offer from the Department of Agriculture and Environment's Rural Development Programme for up to £322,933.16 for work on both this project and a similar refurbishment of Tandragee.
Speaking at planning committee meeting in July, committee chair, Councillor Peter Lavery, said cycling infrastructure is important and noted a lack of it in this proposal and asked if it could be added at a later date.
"This is a great civic space and and it would be much nicer for cyclists if there is infrastructure added for them to allow them to enjoy it," he said.
A planning officer confirmed the infrastructure could be added under permitted development rights at a later date if permission was granted or it could be considered as a "non-material change" to the application should it be approved.
Councillor Paul Duffy asked if broadband and energy providers had already carried out work in the area and said he would "hate to see" the work carried out only to be ripped up a few months later if these service providers were doing work in the area.
The planning officer said that detail was not in front of them but assured members checks would have been carried to avoid such an occurrence.
A proposal to approve the application was put forward by Council's Lord Mayor, Alderman Glenn Barr and seconded by Councillor Paul Duffy and the committee voiced its agreement.
Sign Up To Our Newsletter