A Lurgan shop owner says she has genuine fears for businesses as town centre footfall is as bad as it has been in years.
Sinead McMahon, who has run the Danaan Crafts shop on William Street for nine years, says only for her online presence, her bricks and mortar store "probably would have collapsed by now" because footfall just isn't there anymore.
Sinead shared a video with Armagh I showing a deserted William Street on a sunny Tuesday afternoon at 3pm – a sad indictment on the old market town.
"There's days where you can be really busy, or like Tuesday, I had maybe 10-12 people inside the shop and only one bought something. Last week, I didn't make a sale one of the days last week; the next day made £7.
"This is what we're up against constantly at the moment; it just seems to be the footfall in the towns has just disintegrated. I would really go as far as business has gone back to 2018/2019; that was the last time we were really bad on footfall.
"During COVID, yes, we were supported but, because people were around, we saw the footfall came back into the likes of Lurgan and Portadown and the other small towns."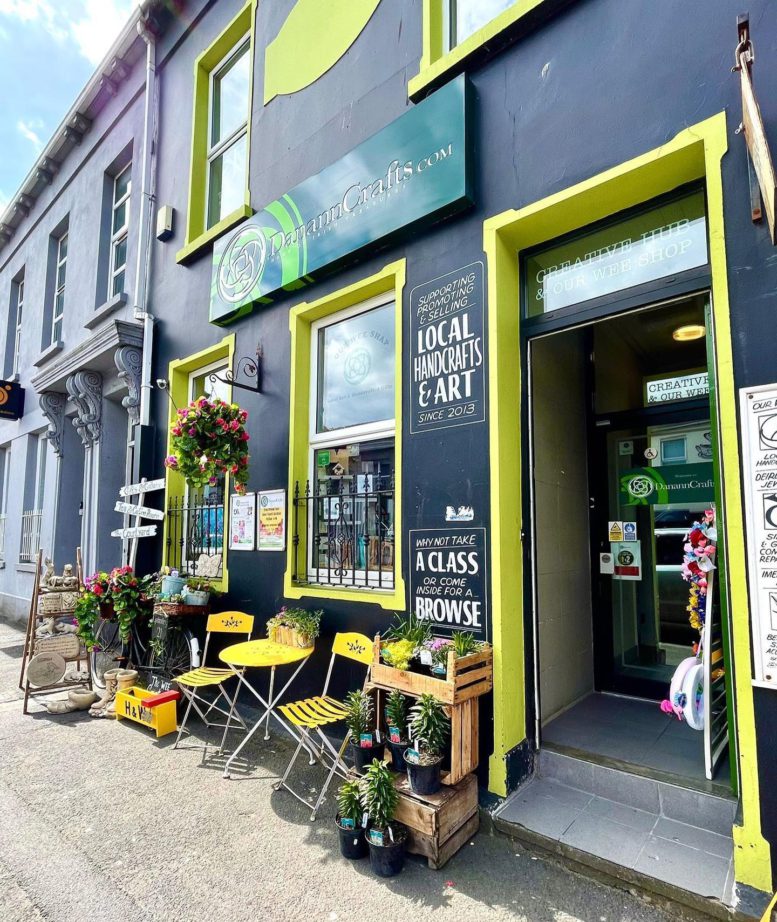 It was like a mini renaissance for town centres but Sinead says there has been a number of factors which have reversed the trend in the last 18 months or so.
"One thing we've noticed in Lurgan – and this is something that is really vital – is that once the offices in Belfast started bringing back their staff members, that's when our footfall disappeared.
"We're back to what it was like pre-COVID where we're battling to get the people in through the door, simply because they're not about the town anymore."
A cost-of-living crisis hasn't helped independent retailers either.
"Whenever the first gas hike hit last March, you start seeing the tail-off happening. And then in August/September, last year, that was the next hike that came in with gas and electric and from there, it's just been slowly disintegrating. This year has just been exceptionally hard.
"By the time you pay your rent, your rates, your electric, your water charges, and whatever else is hidden, there's sometimes very little left in the pot.
"I'm not just speaking on behalf of me. I've been hearing so many other businesses saying exactly the same thing and it's just killing me. It's killing me that, the majority of people running businesses, we're at that sort of crossroads at the moment where we're going, 'what's the next move?'."
Unfortunately, Sinead feels it's going to get worse before it gets better and that Christmas will be a barometer of where the future for her – and others – lies.
"Nobody's really talking about it, or at least they're not saying it out loud, and because of that people on the street aren't realising that we're needing them to come and support local more than ever," she added.
"People spending £2-3 in a shop; those pounds add up and gives businesses a boost. If you have a quiet day, you are asking yourself, why? Then weeks and months go by and you're constantly up against it, it never ever stops, because you're just always trying to think of ways to change the business just to make it work.
"It's not solely just us, the business owners, it is the lack of footfall and the support is dwindling inside our towns and, unfortunately, if we don't get that support back, there's not going to be town centres.
"I don't have an answer but what I do know – by the time answers are got, most of the businesses in this town will be gone and that's going to be sad. There are some really good quality businesses in all of our towns that aren't going to exist because of it."
Sinead said while the going is tough, she is lucky that her income is not solely reliant on the bricks and mortar store, but it's a big part.
"I'm not thinking about closing just at this moment in time but I just have to look at what I'm going to be doing next."
Christmas, she says, will tell a tale for a lot of businesses.
Sign Up To Our Newsletter