One of Ireland's leading fast food outlets is planning a major expansion plan in the north – with County Armagh firmly on its radar.
Apache Pizza, which was started by the Pendleton family in Dublin, has only one outlet in Northern Ireland at present.
The first opened here was at High Street in Portadown.
But the business – which now operates 134 pizza franchises across the border – is planning to open up to 40 pizza delivery and restaurant franchises here over the next two years.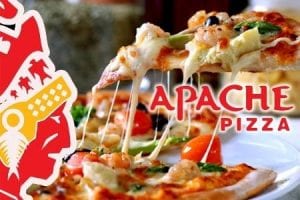 It has just confirmed a second outlet in County Armagh at Lurgan.
And it is due to open three others in Belfast, as well as at Lisburn, Carrickfergus and Bangor.
These eight are due to be up and running before the end of this year.
But Apache Pizza owner Robert Pendleton has confirmed he expects to open in other locations across the Province – some 40 in total – by the end of 2018.
The growth is expected to concentrate on main city and town centres and each will employ between 15 and 20 staff, giving a potential jobs boost in the north of 800 positions.
The outlets are operated as franchises and there is no setting up costs involved for the franchisee, although there is a commitment to training and Apache Pizza will assist in terms of signage and branding.
The chain has enjoyed tremendous success in the south since the first opened 20 years ago.
Mr Pendleton admits to there being "very few opportunities" remaining for expansion in the Republic and it is for that reason they are inviting "international proposals" to take master franchises in Northern Ireland, Scotland, Wales and England.
The owner expects to open 200 across the UK and admits that is a conservative estimate.
The initial indicator will be a full-on expansion plan in Northern Ireland first and foremost to test the market.
"We had so many calls in relation to Northern Ireland, so we decided (to go for it). It's all about getting some traction," Mr Pendleton told the Belfast Telegraph.
"We are dipping our toe in the water first, and there is a lower price point in Northern Ireland. If it works there, it should work elsewhere in the UK.
"The model we have been using, it's been huge growth over the last four or five years."
Read more news:
Traffic light programming and next city sewer phase to see more Mall lane closures
New McDonalds drive-thru restaurant to open in Banbridge in July
Patient doused with raw sewage after pipe leaks onto hospital bed
Tragedy averted as three young children rescued from factory fire started 'for a laugh'
Ram-raiders use vehicle in attempt to rip cash machine from wall
Major public realm work could transform area around Armagh's historic Mall
Residents urged to be vigilant as men selling knives 'acting suspiciously'
Sign Up To Our Newsletter