A newly-installed defibrillator is to be unveiled in Crossmaglen this weekend.
The life-saving equipment will be available for public use and is being provided by the Crossmaglen and District Community First Responders.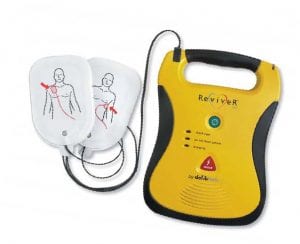 It will be unveiled this Saturday, January 2, at Cardinal O'Fiaich Square, beside the Bottom Drawer.
It comes just three months after Armagh I reported that a First Responder's scheme – to provide urgent medical treatment to those in need is being – was being established in Crossmaglen.
The Crossmaglen First Responders cover the south Armagh area and was formed in response to concerns over the length of time it can take for an ambulance to access rural parts.
The group will work closely with the Ambulance Service as it develops.
Community First Responder (CFR) volunteers are trained to attend emergency calls received by the ambulance service and provide care until the ambulance arrives.
Volunteers can arrive at an emergency scene in a matter of minutes, as they are sent to calls in their local area.
Having someone in the community who has been trained in first aid and can reach the patient quickly makes all the difference.
Several regions now have CFR units operating in their area with more seeking to establish this important role.
They would attend 'immediately life-threatening' calls' including cardiac arrest, unconscious patient, diabetic emergency, breathing difficulties and seizures.
The provision of the new defibrillator – which will be unveiled at 2pm – will bring added reassurance to the local community that such a vital piece of life-saving equipment will be on hand and readily accessible when required.
Read more news:
Police arrest man in fake Adele and Justin Bieber ticket scam on gumtree
Vile social media hoax reporting three deaths and multiple injuries in Armagh accident
Man arrested after Boxing Night burglary at Armagh Cricket Club
This new parking system at Spires retail park in Armagh really takes the biscotti!
Storm Frank: Travel, flooding and powers cuts and some useful telephone numbers…
Cruel thieves swoop to steal child's playhouse from back garden
Date set in March for all-out smoking and e-cig ban at local hospitals and health facilities
State-of-the-art play area, MUGA and floodlighting plan at Markethill Primary
Sign Up To Our Newsletter