Two Eglish families who lost much-loved relatives during the Covid-19 pandemic are holding a fundraising memorial run/walk this Sunday, July 3.
Maura Daly lost her battle with cancer in March last year, aged 64, having been diagnosed just two months previously.
And five months later, her brother-in-law Pat Donnelly (PD), passed away, aged 51, after a short illness.
Pat, who was married to Roisin and had five children, was a manager at Dungannon company Barrett's Concrete,  while Maura, a devoted mum and grandmother, was a nurse and, in later life, also worked for the business in an office role.
Their families have organised the 5k walk to raise money for the Intensive Care Unit (ICU) at Craigavon Area Hospital and Marie Curie and remember Maura and Pat whom they describe as "huge role models".
They have named it, 'Walk on, walk on, with hope in your heart, and you'll never walk alone'.
The walk will start at 12 noon from Oona Enterprise Centre and cover the Crubinagh route, the townland where both Maura and Pat lived.
Pat's daughter Catherine, who is also Maura's god-daughter, said the walk was not just to remember Maura and Pat but also to honour every family in Ireland which has lost relatives during the pandemic.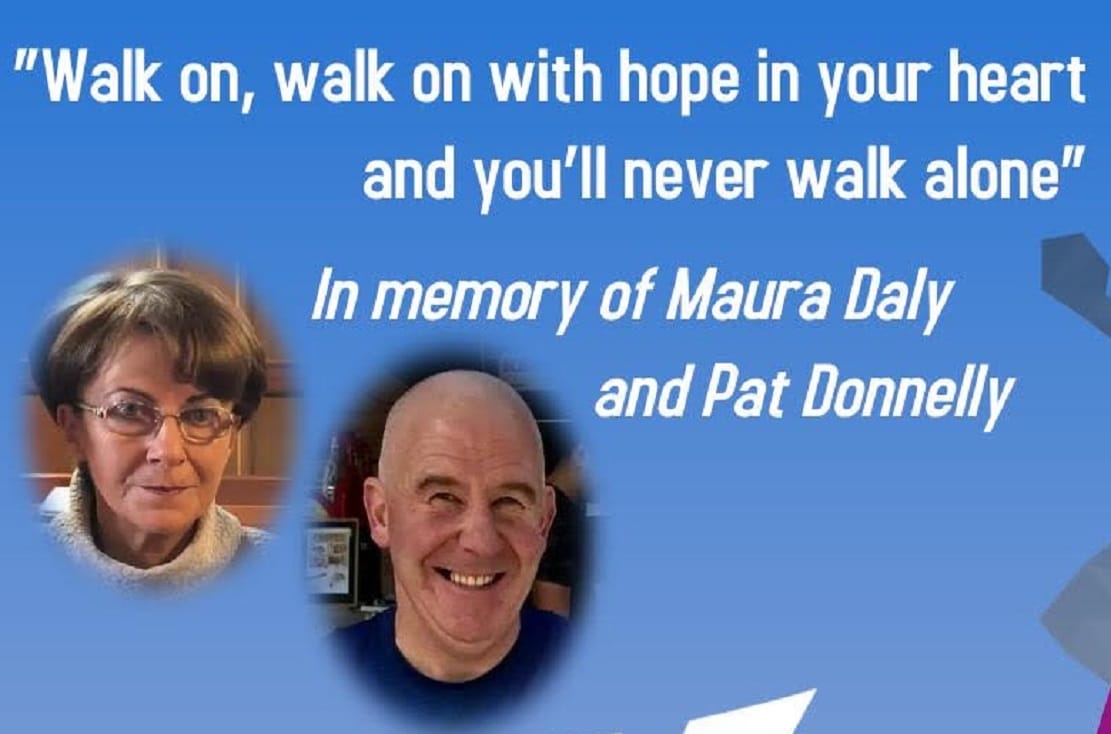 She said: "We have come out of lockdown and the big interest over lockdown was walking.
"It's just the small things, getting out walking, having a coffee. I thought it would bring everyone together."
She said her dad and Maura had fundraised for Marie Curie every year and were well-known and respected in the community.
On their Facebook page, the families said: "Throughout both their lives the silent works these two people did for their families and for our local community was inspiring.
"Both Maura and Pat left an everlasting mark of love and pride in both their families. This is something we as a family will hold onto and treasure.
"We have learnt over the past year that grief is just love. It's all the love you want to give but cannot. All that unspent love gathers up in the corners of your eyes, the lump in your throat, and in that hollow part of your chest. Grief is just love with no place to go.
"So as a mark of the love we received from both Maura and Pat in their short but fulfilled lives, we would like to spread all the love they left behind by putting together a day to remember and cherish the memory of our two angels."
To date, the families have raised £7,000 via their JustGiving page and more money has also been donated via cheques.
The families want as many people as possible to walk, run or just call in for a cuppa "and join us to remember our loved ones who we have lost".
To donate, go to the JustGiving page here. You can also visit the Facebook page here.
Sign Up To Our Newsletter