Decorated donkeys, dolly mixtures and Danny Boy toffees feature in just some of the amusing anecdotes being put to print for the second volume of a photo-led booklet designed to raise funds for two local charities.
Behind the collation of stills and stories is retired photojournalist, Richard Scott.
In December of last year, Richard – after some gentle coercion from friends and family – decided to release a curation of his memories of Dungannon in a bid to generate funds for Air Ambulance NI.
Speaking to Armagh I at the time, Richard said: "People kept saying that I needed to put them [the photographs] all into a collection, into a book, so that's where the idea came from."
Entitled 'Down Memory Lane in Dungannon', the 2022 booklet was a roaring success, with copies distributed far and wide amongst history-hungry homebirds in Dungannon and to nostalgic expats in Australia, America, Canada and New Zealand.
Just one month later, Richard – and daughter Wendy – took great pride in handing over the proceeds, which totaled £3,300, to Air Ambulance NI at their headquarters in Lisburn.
Related: 'Red letter day for a big red Air Ambulance' as Dungannon Booklet proceeds exceed £3000
But the story of the anecdotal-history booklet that raised over £3,000 for charity doesn't end there… Public appetite had been well and truly whetted, and the people want more!
Said Richard: "Over the last year people who enjoyed the first booklet kept saying 'come on, bring another book out' and I had that much stuff left over from the first one, I suppose it made sense."
'Down Memory Lane in Dungannon – Volume Two', is now hot off the press, almost a year to the day of its predecessor, and has been collated in an effort to raise funds for two local charities, with the amount to be split equally between Macmillan Cancer Support and Southern Area Hospice Services.
Volume Two takes a similar format to the first, with approximately 75 photographs accompanied by 40 short stories, all written in Richard's own voice with a conversational, and at times, humourous tone.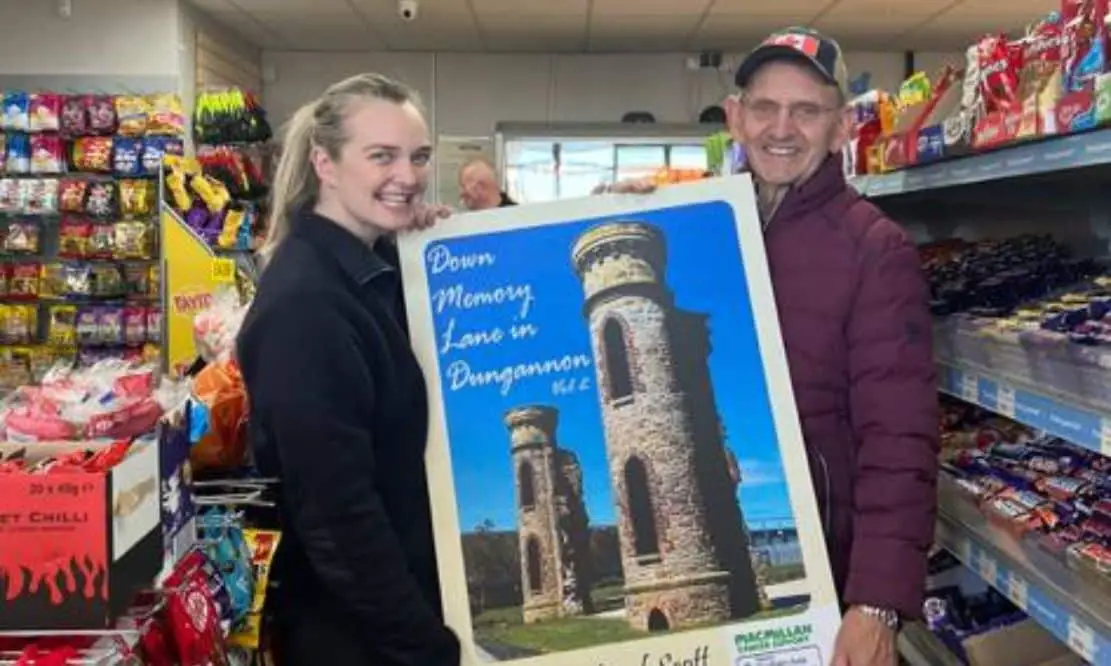 His own personal favourite appears on page one of the booklet, entitled 'When the bull in a china shop turned out to be a donkey'. It depicts a day 'long ago' when Richard, who was at the time working for the Tyrone Courier, got the call to 'Get over to McClure's shop now – there's a very important visitor here'.
Richard said: "I nearly wrecked myself getting over to the shop and when I got there it was total chaos! It was unbelievable. It was around Christmas time and a local had brought this donkey into the shop. It had decorations and garlands all over its head and body. Everyone in the shop was laughing but one lady wasn't too amused, she said, 'get it out, it will wreck the shop!' No one really paid much attention and the donkey left with a belly full of Mars bars from the sweetie shelf!"
Related: Retired photojournalist captures anecdotal history of Dungannon in fundraising booklet
Unfortunately, the photo Richard had taken of the donkey has since been lost but the story itself remains as clear in his mind as if it were yesterday.
Many of the stories feature prominent local buildings and people. Most are from years gone by, but Richard was also keen to highlight those who continue to support the community today.
One such story champions the hard work and dedication of Harold Bennett, who has restored Ennish Flax Mill, making it just one of three fully operational flax mills in Northern Ireland.
It has taken Richard approximately three months, although he says, "it could be longer", to compile the booklet but, what it's 40 pages keenly demonstrate, is a life-long commitment to conserving the past.
'Down Memory Lane in Dungannon – Volume Two' is now available to purchase. Copies can be picked up from CR Print, Fork Filling Station at Donnelly's on the Moy Road and The Food Doc on Market Square, Dungannon.
Sign Up To Our Newsletter