A sickening racist graffiti attack on a young Co Armagh family has been branded "disgusting" and an act that a community "will not tolerate".
On Sunday morning the family woke to find the racist slurs crudely painted across driveway walls at their home on the Tievecrom Road on the outskirts of Forkhill.
Mum Briege Roe shared the images of the attack on her home online, which have attracted widespread condemnation from friends, family and the wider community.
Councillor Mickey Larkin, who knows the family involved, said the community will not tolerate such racism.
Speaking to Armagh I, councillor Larkin said: "It's absolutely disgusting, racial slurs painted on someone's property like that."
"It's to be condemned, not just by myself, but the whole community. It doesn't reflect the thoughts or feelings of the people in this area.
"The council and other organisations have been working for many years to be inclusive of people from all races, religions and creeds, so this does not reflect the general feelings of the district or anyone in it."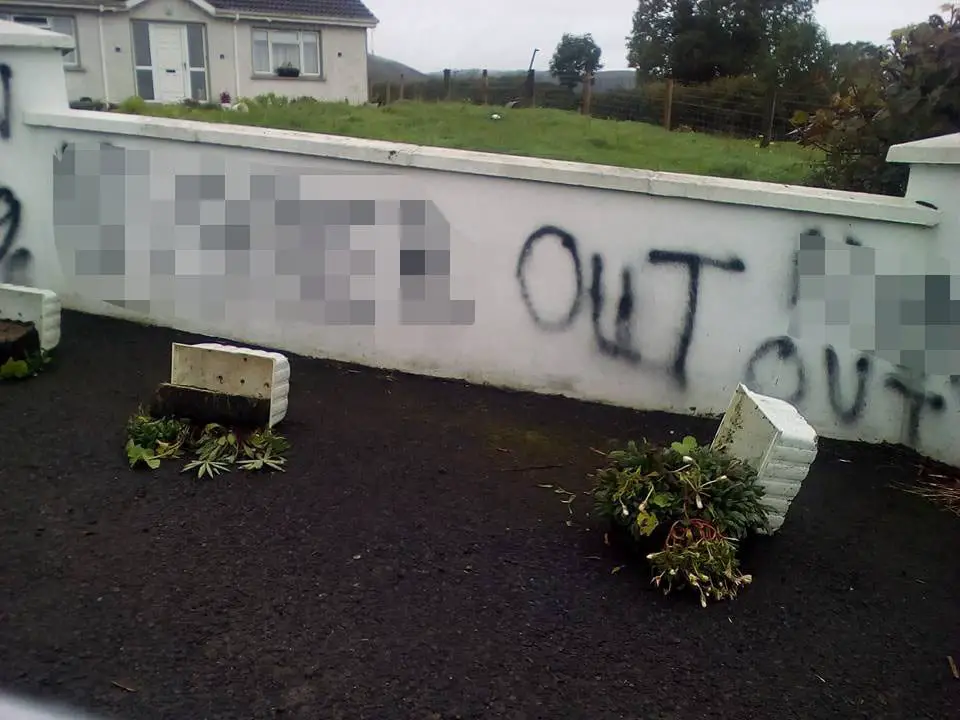 He added: "It's an attack on a local family, born and reared in Ireland but it wouldn't matter if they were only here six weeks as newcomers, the whole community will stand with this family in support against those who, for whatever reasons, painted these disgusting slurs in the dead of night.
"The support the family have received on Facebook; that's reflective of this community and how they feel about such an act. We won't stand for it, we won't tolerate such racism.
"I have never come across such racism in this area. This isn't a minority, this is the act of a mindless thug."
The police have been notified of the incident and are investigating.
Councillor Latkin added: "This council has been working steadfastly to promote inclusion and embrace those of all nationalities.
"On Saturday there was a Fáilte Europe event held in Slieve Gullion courtyard where we had groups from across Europe entertaining crowds; it was a wonderful and exciting experience and to have all those nationalities welcomed is what this community is all about."
Sign Up To Our Newsletter