A series of artworks created by participants on the 'Heads Up' Craigavon and Banbridge Arts Care Project have gone on display in a number of Southern Health and Social Care Trust facilities.
Heads Up is an art project inspired by the Five Ways to Wellbeing; Connect, Be Active, Take Notice, Keep Learning and Give. Over 300 participants from the Craigavon & Banbridge locality created individual heads based on their interpretations of 'what keeps me well'.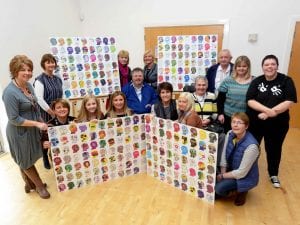 Throughout 2015, Arts Care artist-in residence Jill McKeown facilitated art workshops involving Mental Health, Learning Disability and Physical Disability programmes of care for adults and children.
Jill McKeown, Artist in Residence said:
"The aim of the Heads Up project was to think about our own wellbeing through our individual stories 'what makes me feel good, what keeps me well, what do I enjoy doing.'
"Each participant created their artwork inside a head shape and at the end of the project all of the heads were integrated into a large collaborative artwork piece."
"This project has shown creativity, connecting with one another and taking part in art is beneficial to your health and wellbeing."
Dr Jenny Elliott, Chief Executive of Arts Care for Northern Ireland, said at the launch: "I wish to thank the service users who participated in the project to date and for sharing their creative gifts in the form of this wonderful artwork. I also thank Jill McKeown, Arts Care artist-in-residence for facilitating the project and for her dedication to the many projects over her 10 years with us, and to the local Craigavon and Banbridge Arts Care Committee for their support of and commitment to this innovative arts project."
Read more news:
Club pays tribute to 'well loved' Michael McConville
No more new play parks in smaller areas across council borough
Man escapes injury after petrol bomb launched through window of home
Third crash on main Armagh to Keady Road over festive period
Temporary classroom plans allow major Armstrong Primary extension work to begin
Sign Up To Our Newsletter