Lord Mayor Darryn Causby has confirmed Armagh I's exclusive report that planning approval has been given for the new £6.9 million paediatric unit at Craigavon Area Hospital.
And he has welcomed the "major investment" in the Armagh, Banbridge and Craigavon Borough.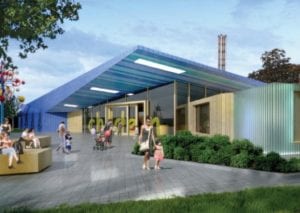 Armagh I revealed nine days ago that the development, consisting of 19 inpatient beds, was about to be given the go-ahead.
Today, Lord Mayor Causby gave official confirmation to our report.
This project is part of an overarching £15 million development plan which will modernise services for children and young people across the Southern Trust area.
Welcoming the announcement, Lord Mayor of Armagh City, Banbridge and Craigavon, Councillor Causby said: "I am delighted to announce that the go-ahead for the development of this new facility at Craigavon Area Hospital has been agreed by Council, paving the way for construction to begin over the next few months.
"This local capital project represents a major investment for the borough, not just in terms of the provision of quality health and social care in the region, but it is also welcome news for the construction industry, creating further employment opportunities in the area."
The new facility will comprise a 19-bed inpatient ward, a five-bed ambulatory care ward and an outpatient department, consisting of five consultation exam rooms, treatment rooms and ancillary accommodation.
The Lord Mayor said planning consent for this large-scale investment proposal was processed as a priority by the council, "underlining its commitment to stimulate investment, growth and opportunity across the borough".
Work is due to begin in March with completion earmarked for September 2017.
Read more news:
CCTV appeals: Police keen to trace these men
Model Terezita dazzles on ITV's prime time date show Take Me Out
Work on new £6.9m Craigavon paediatric unit to begin in a matter of weeks
Diesel marker has fuel laundering gangs stumped in attempts to remove it
Teen girl admitted to hospital after found lying in street after drinking
DSD spent £5.3m on regeneration of Armagh city centre in past five years
Police respond to reports of shots fired in county Armagh
Newsletter
Sign up for our weekly newsletter here.