The Irish Football Association (IFA) selected eight young men from Armagh City, Banbridge and Craigavon Borough to represent Northern Ireland in the first ever Home Nations Futsal Tournament at the weekend.
Futsal is a form of five-a-side football officially recognised by UEFA and FIFA, and over the last few months, players from all over Northern Ireland took part in trials and training with the aim of joining the final line-up.
A phenomenal eight players out of the final squad of 14 were selected from this borough: Adam McGowan, Stuart Wells, James Gould, Michael O'Hehir, Gerson Rosario, Ernestas Verenka, Stuart Jordan and Jasir Camara.
Four of the players were spotted and selected to attend trails by playing in the Community Champions League Programme. As well as providing football training skills, the 10-week five-a-side football programme for men aged over 16 offers workshops on confidence-building, mental health and good relations.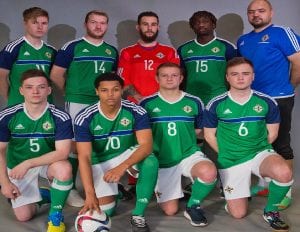 The programme is part funded by The Executive Office and delivered by the council's Good Relations and Sports Development departments.
Two players were also graduates of 'KickBack', a programme for unemployed young men, funded by the Department for Communities and delivered by the council's Sports Development department.
Coach Darius Dielininikaltis from Armagh commented: "It is a great opportunity for these young men to be part of the first ever Northern Ireland Futsal squad. It will be challenging for us to come up against England, Scotland and Wales but we have trained well over recent weeks and we're looking forward to the challenge ahead."
Councillor Glenn Barr, Chair of the Leisure and Community Services Committee said: "All our community sport programmes encourage participation in physical activity, but it's about more than that – we make sure participants have every opportunity to excel and develop themselves on and off the pitch.
"There's no shortage of success stories from the Community Sport Programme; from participants joining local tennis clubs to representing Northern Ireland at junior level football. I wish the squad the best of luck in the tournament and look forward to future successes."
The next Community Champions League begins on Sunday 15 January 2017 at 12 noon in Portadown People's Park and is open to men aged over 16 from throughout the borough. To register or for more information on all Community Sport Programmes, contact Alex Clifford Alex.clifford@armaghbanbridgecraigavon.gov.uk.
Read more news:
Con artists bid to lure bank details from online Christmas shoppers
Almost 8,000 street lights broken and Southern Area waits longest for repairs
Parrot on the loose after escaping from home in Armagh
Man charged as part of investigation into theft of sheep and farm equipment
Translink timetables 'a mess' as 8,000 passengers less use Portadown station
Lorry blows out tyres causing commuter delays in Armagh
Home Bargains respond to concerns over future of Armagh store
Carbon monoxide detected at house where pensioner found dead
Up to 30 teenagers involved in anti-social behaviour at Sherry's Field
Key school routes will NOT be gritted despite safety concerns
Sign Up To Our Newsletter