A Co Armagh mother says the support from the UK's largest grant-making charity for disabled and seriously ill children has made such a difference to her son's life.
Jodie lives in Craigavon with her son, Jimmy, who's eight and has autism, epilepsy, and developmental delay.
She has shared their intimate family moments for photo research project shown at Stormont on Monday – marking 50 years of support for disabled and seriously ill children.
She explains the difference Family Fund grants have made in her son's life: "Around two, Jimmy's speech started to regress, he was having seizures, and an assessment quickly led to an autism diagnosis. I knew the signs, but that day was still a hard, lonely day.
"Jimmy has low muscle tone, particularly in his mouth and tongue, so I used to actually blend everything up until 4 or 5 because he couldn't chew it. He absolutely loves water and swimming classes as a young toddler, but as his autism developed, our very busy, noisy local pool began to cause him sensory meltdowns.
"There were also absolutely no swimming lessons in children with additional needs either. So the one activity that brought Jimmy so much joy and helped with strengthening his muscles was taken from him following his diagnosis.
"When I applied to Family Fund, to my surprise one of the options available to us was an inflatable hot tub, which I immediately listed as our first choice. It arrived within weeks and it has been the best thing Jimmy ever received, which is why I chose the picture of him in it for the Window to our World digital report. It offers relaxation, a chance to build muscle tone, and to learn water safety. Autistic children are three times more likely to drown than those without autism."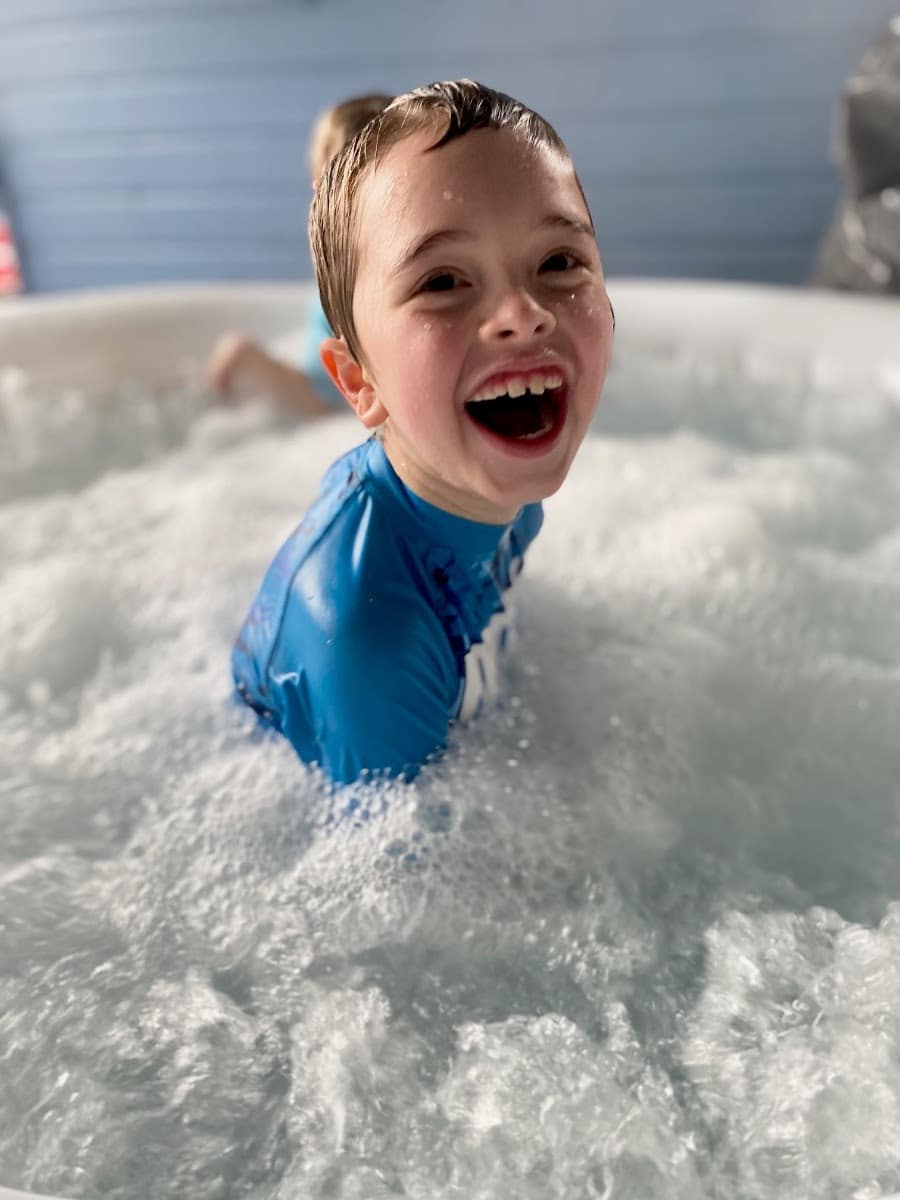 Family Fund, the UK's largest grant-making charity for families raising disabled children, will share the findings of its photo research project Window to our world – which brings together poignant family stories and images of daily life and research highlighting the challenges and joys of raising disabled children.
Cheryl Ward, Family Fund Chief Executive, said: "For 50 years Family Fund has provided essential grants to improve life for families raising disabled or seriously ill children on a low income. They know best what their children need to thrive, which is why we've provided 4,605 grants in Northern Ireland worth £1.6 million in the last year alone.
"Every single family we have helped has their own unique story of how our grants have enabled them to spend quality time together. Our Window to our world report compiles 18 of these special stories and personal photos, at an important moment in our history where support is needed now, more than ever, for families raising disabled and seriously ill children on a low income across the UK.
"We wholeheartedly welcome new applications for grants from families on lower incomes, raising seriously ill and disabled children."
Key findings from the report show that with 94% or parents say their child needs specialist items to be healthy and happy, including bespoke toys and play equipment and specialist educational materials.
Just 8% of parent/carers say they can work as much as they would like to because of caring responsibilities for their disabled or seriously ill child. Nearly 80% say they would like to spend more time on days out and short breaks with family and friends.
Families outline the high costs they face, made even starker in the current cost-of-living crisis. Over half of families (54%) say they also use more energy as a direct result of their child's disability or serious illness.
Food is also a higher cost for families with disabled or seriously ill children or young people. 75% of families spend more on food or groceries as a result of their child's disability or serious illness – in 37% of cases, the extra spend was a direct result of a child's avoidant-restrictive food intake disorder.
Family Fund provides grants for essential items to families on low incomes raising disabled and seriously ill children- everything from kitchen appliances, clothing, bedding and sensory toys to computers and tablets, much-needed family breaks and more.  Family Fund began life in 1973 after a public campaign on behalf of children affected by thalidomide. Formed as part of a £3 million fund provided by government to support families affected by this drug, it awarded its first grant of £26 for a father to travel from Wales to visit his sick daughter in hospital, on 2 April 1973.
Public understanding of life for families raising disabled or seriously ill children has grown over the decades and the role of Family Fund has developed to include wider support beyond grant making services. During the last 50 years the charity has provided 1.5 million grants and services for essential items to benefit disabled children.
Alongside giving grants, Family Fund also offers families raising disabled or seriously ill children, on a low income, wider support, including information and resources on where to go for help with money and benefits; budget planning; their children's education; mental health and wellbeing; digital training and creative workshops.
Sign Up To Our Newsletter