A Banbridge woman has made an emotional appeal for the return of her late mum's jewellery which was stolen during a burglary at the weekend.
Caroline Pearce said she had barely stopped crying since the theft of the items (pictured below).
"It's been like my mum dying all over again," she said. "The jewellery is all I had belonging to her."
The jewellery box was taken from her aunt's house at Whyte Acres, on the Castlewellan Road, some time between 7.30pm on Saturday night and 2pm the following day.
Items stolen included a gold gate bracelet, a solid gold bangle, rings, a locket and her mum's engagement, wedding and eternity rings as well as her dad's wedding ring.
There were also silver items of jewellery bought for Caroline by her mum and baby bracelets belonging to Caroline's daughter.
Her mum Stephanie died of cancer 22 years ago, aged 35.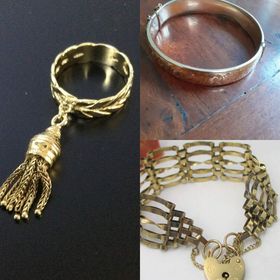 Said Caroline: "I was 17 at the time, the oldest out of five. Her jewellery was her pride and joy.
"I'm a student nurse. I know everybody is getting it hard at the moment but I work extra hours in the hospital at the weekend to make ends meet.
"I work Monday to Friday and I do a 24-hour shift on a Friday and some scumbag breaks into my aunt's house and steals my stuff. It's just disgusting."
Caroline said the burglars did not touch anything in the living room but "went straight for the bedroom".
They also took her aunt's jewellery box and £200 cash.
Some of the items are very distinctive including a gold tassel ring.
"I just want the items returned," said Caroline. "I never even wore the jewellery because of it being so sentimental. I didn't want anything to happen to it."
Anyone with information leading to the safe return of the jewellery should message Caroline on her Facebook page.
Sign Up To Our Newsletter