Union officials have lambasted proposals to close the local Electoral Office – along with five others – as part of a new centralisation plan aimed at saving money.
The Electoral Office in Banbridge is to be axed and all functions transferred to Belfast.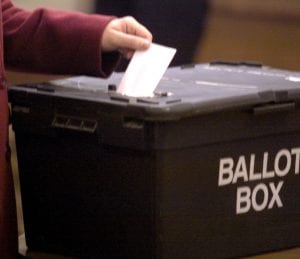 NIPSA, the largest trade union in Northern Ireland, has expressed serious concerns.
It says it has recently received draft proposals from the Electoral Office for Northern Ireland that will see offices close in Ballymena, Banbridge, Derry/Londonderry, Newtownabbey, Newtownards and Omagh.
Management has confirmed that, as a result of the introduction of a new online registration system later this year – and significant cuts to their budget – it has no option but to close regional offices as well as transfer responsibility for elections to local councils.
NIPSA official Dooley Harte, said: "NIPSA is concerned with the current proposals from management as they will significantly reduce the local services to the public and will cause staff to lose their jobs putting the electoral process at risk across Northern Ireland.
"Proposals to close regional offices will seriously impact on public access to services provided by dedicated staff within regional offices and could, in our view, lead to a reduction in the number of people on the electoral register."
Management within the Electoral Office has confirmed that they are currently underfunded by around £500,000 and this is expected to rise to £700,000 by 2020.
"NIPSA has sought a meeting with political parties to raise our members' concerns," said Dooley Harte.
"We are also seeking support for additional funding to be allocated by the Northern Ireland Office to the Electoral Office to protect our regional services and to protect our electoral processes.
"Politicians rely on the dedication and professionalism of staff within the Electoral Office and we want their support for those staff now under threat."
Read more news:
South Armagh man dies after tragic boating accident in Australia
North/South Interconnector liasion officer appointed to work with landowners
School pays tribute to 'popular' former pupils tragically killed in accident
Sixty-five jobs to go at Benburb manufacturing company
Friends pay tribute to life-long pals Andrew and Mark after double road tragedy
Two teenagers tragically killed in early morning accident
Sign Up To Our Newsletter