A new hi-tech 3G synthetic sports pitch will be built in the Borough after Council secured funding for the project.
The full size 130m x 80m 3G pitch will be built at St Patrick's College in Banbridge.
It will include floodlighting, fencing and changing pavilion which can accommodate soccer, rugby and Gaelic games.
Once completed the pitch will be operated on a dual use basis with St Patrick's College using it during the day and Armagh City, Banbridge and Craigavon Borough Council managing the facility for community use.
The funding for the shared space project has come about thanks to the combined efforts of Armagh City, Banbridge and Craigavon Borough Council and St Patricks College who between them have secured the £1.5m costs to facilitate the build with the council approving a budget of £684,496 as well as receiving £750,000 funding from the Peace IV Programme.
The remainder of the costs were made possible thanks to St Patrick's College successfully securing a £100,000 National Lottery funding from Sport NI's Single Facility Capital Programme.
Speaking of the new venture Lord Mayor, Alderman Gareth Wilson said: "On behalf of the council I am delighted to announce the funding that will allow this eagerly awaited project to become a reality for both the pupils and staff of St Patrick's College and residents of the Borough.
"State of the art facilities such as this are essential in promoting health and wellbeing for young people as part of their educational experience plus the proposed dual use basis will allow the council to promote the facility as a valuable leisure
and sporting resource for the greater community.
"I keenly await the completed project which will undoubtedly prove to be a great asset for all."
John Devaney, PEACE IV Programme Manager added: "The St Patrick's College Campus project is one of the most important initiatives within the council's PEACE IV programme, and is an exciting development for the school, the local communities and sporting organisations.
"It is also a very good local example of various stakeholders coming together to develop something for the common good.
"The PEACE IV programme has a strong focus on bringing people and communities together and providing a range of opportunities, with a particular focus on sport and education."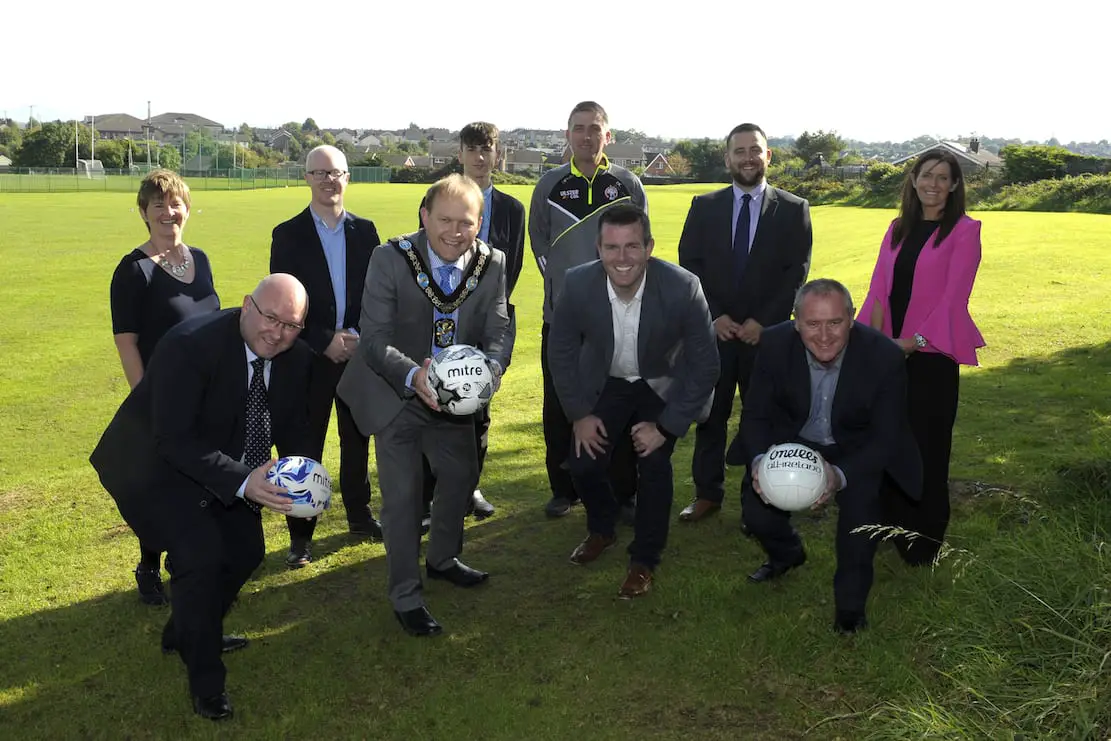 Chair of Sport Northern Ireland, George Lucas commented: "Sport NI is delighted to be investing approximately £2m of National Lottery funding into sporting facilities across Northern Ireland. The Single Facility Fund aims to help grassroots sports clubs and organisations develop the facilities and equipment to get local communities active and involved in sport.
"We look forward to seeing the impact of our investment in encouraging people here to enjoy, engage and excel in sport and leading to a population which is more active more often."
Principal of St Patrick's College, Mrs Roisin Woods, spoke of her delight at the exciting news for the school: "The entire community at St. Patrick's College is absolutely thrilled at the announcement that funding has been made available for a brand new 3G pitch at the school.
"It is fantastic that we can now further enhance our school building so that pupils can learn and play in an environment that they truly deserve.
"The provision of the pitch will enhance our Physical Education and extra-curricular provision and allow us to collaborate more closely with the wider community in Banbridge.
"The new pitch will be a fantastic asset to Banbridge, providing both the open space and the opportunities for people of all ages to be active and enjoy exercising, whether in competitive sports or in leisure activities.
"We are grateful to all our funding partners who have recognised that St. Patrick's College is a growing school worth investing in and look forward to the realisation of this fantastic project!"
Become a member
Support local, independent businesses by becoming an independent member.
Become a member