Parents in Co Armagh are paying out the most money for childcare compared to any other county in Northern Ireland, according to figures released this week.
The average cost of full-time private childcare in Co Armagh stands at £176 – a whole £36 more expensive than Co Fermanagh.
The overall average, according to Employers for Childcare, is £168, which is the equivalent of 40 percent of a weekly average household income.
This figure was announced as the Charity launches its 8th Annual Childcare Cost Survey, which analyses the scale and impact of childcare costs.
The report captures the views and experiences of 4,800 parents across Northern Ireland and highlights how they believe access to childcare is acting as a barrier to work.
For many parents, covering the cost of childcare is their single biggest worry.
In almost a third (30 percent) of households, the childcare bill is more than the mortgage or rent.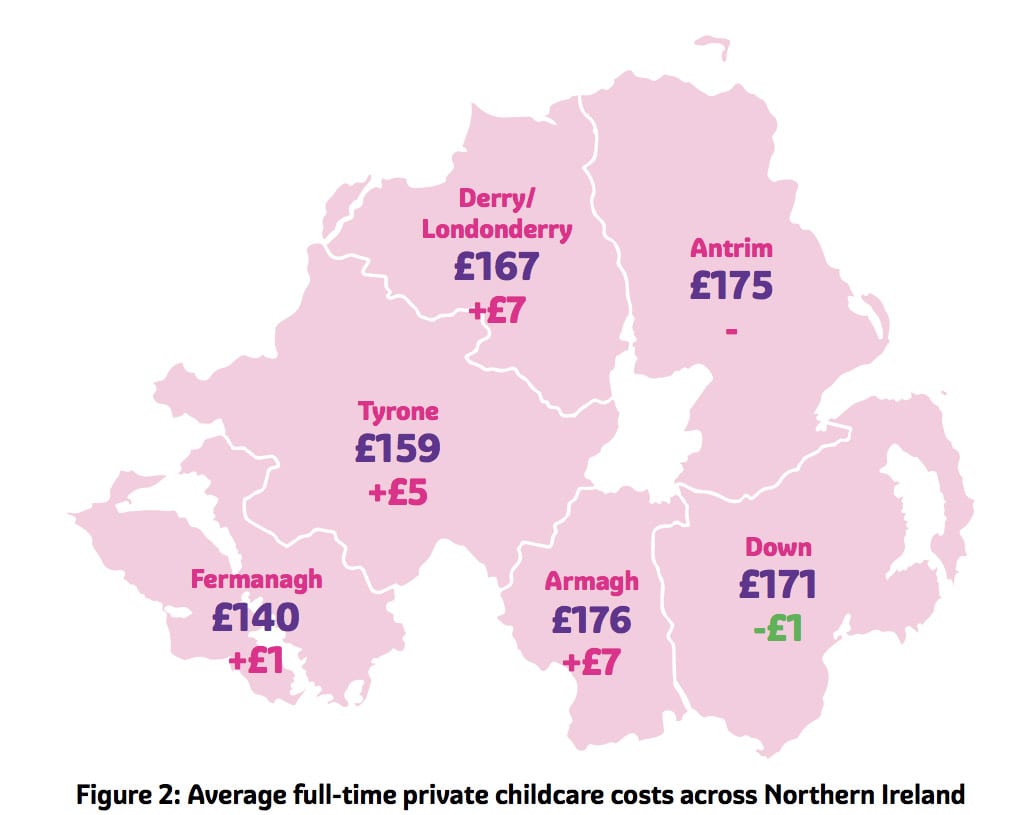 Revealing the struggle families go through to meet their monthly childcare bill, 46 percent of parents report they have had to go without or cut back in order to meet childcare costs.
For some this means cutting back on heating their homes, going without quality, fresh food, and skipping meals to meet their monthly childcare bill.
Worryingly, 33 percent of parents, up from 25 percent last year, have used means such as savings, credit cards, loans or gifts from family and friends, and even payday loans to cover the cost.
Aoife Hamilton, Policy and Information Manager at Employers For Childcare, comments on the findings: "Parents recognise they need to pay for childcare so they can go to work, so it takes precedence over other bills such as groceries or heating.
"As a result, many are paying 'interest only' on their credit cards, not putting money away for the future in savings or pensions, and constantly worrying about making ends meet.
"This year more than other years, we see parents identifying themselves as experiencing in-work poverty. For others, the figures simply don't add up and they have left, or plan to leave, the workforce."
Factors other than cost that working parents struggle with include: lack of out of school and wraparound services; lack of provision in rural areas; restricted and inflexible opening hours; and limited provision for children with specific needs.
On the issue of family well-being Ms Hamilton said: "This year's results express the most personal impact since recording began in 2010. Many parents have told us how the high cost and lack of childcare provision has been detrimental to their family well-being.
"Families are waiting until their first child is in school before having another baby to minimise costs, or reducing their planned family size because they are already struggling to pay for childcare."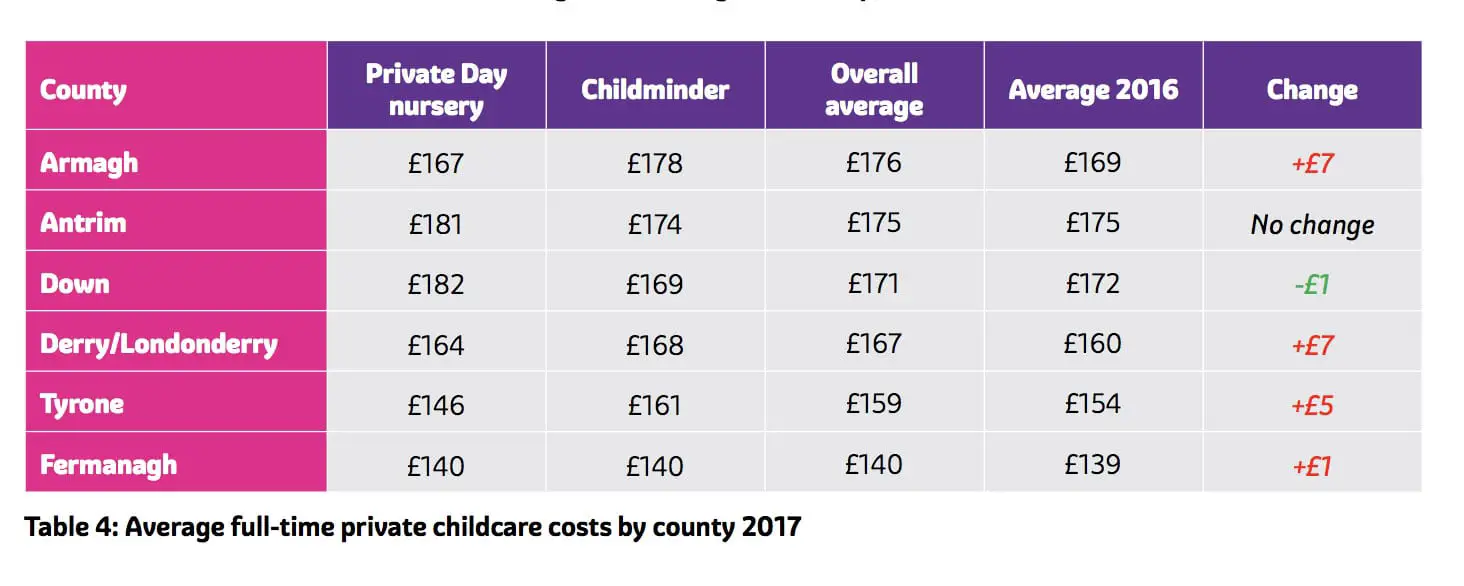 Despite this, the overwhelming majority (87 percent) of parents are positive about the quality of childcare provision.
They recognise the valuable experience their children receive and the important role childcare staff play in their children's lives.
Commenting on what parents are calling for to ease the burden of childcare costs, Ms Hamilton concluded: "There is an overwhelming cry from parents who perceive they are being penalised if they choose to go to work. They want childcare to be an enabler to work and are calling for the Government to provide financial help but more importantly, information on the support currently available."
"Employers For Childcare is committed to making sure the voices of these parents are heard and are at the heart of legislation and policy development on childcare reform.
"Investment in childcare here is drifting even further behind that in other parts of the UK. It is more than two years since the consultation on a draft Childcare Strategy for Northern Ireland closed, and we are no further forward.
"We will continue to work with stakeholders to ensure childcare is treated not as a side issue but as an economic and social priority so that children, parents, childcare providers and employers in Northern Ireland can benefit from affordable, accessible, quality childcare."
Sign Up To Our Newsletter