Martin Kelly runs the CBD & Hemp Store in Armagh and is supporting the SuperHero 5k BudRun/Walk in Lurgan Park this Sunday. Here, he explains how the CBD & Hemp Store is here to help people get healthy, not high.
The CBD & Hemp Store on Abbey Lane, Armagh was born December 2017, and we are delighted to have been warmly welcomed by the best part of the local community, traders and even councillors.
As we specialise in Cannabinoids and specialist oils, it's only natural that some may have reservations about such an establishment.
That's why we have worked hard to create a neutral space – free from the Bob Marley narrative.
The CBD & Hemp Store is here to help people get healthy, not high.
The nutritional and health benefits of these oils are incredible and increasing in popularity locally, as more and more people are becoming aware of these benefits, not to mention the sheer versatility of hemp.
The global market for hemp consists of more than 25,000 products in nine submarkets: agriculture, textiles, recycling, automotive, furniture, food and beverages, paper, construction materials, and personal care.
No wonder hemp is now being called a 'super crop'! Our store is a place where people can come, have a cup of tea and educate themselves on all things hemp.
Our friendly staff members are highly trained and have a plethora of valuable knowledge. We were heartbroken by the news that Billy Caldwell had his prescription for THC-a cancelled.
It was a historic day when Billy's doctor wrote that script. That's been turned upside down now by the Home Office who have instructed Billy's doctor to stop writing prescriptions for THC.
Billy was diagnosed with epilepsy as a baby and suffered up to 100 seizures a day. His mother, Charlotte said that at eight months, he was sent home to die by doctors in Belfast.
Charlotte refused to accept that diagnosis and took him to the US nine years ago for treatment under Chicago-based epilepsy specialist, Dr Douglas Nordli.
Dr Nordi's medical opinion was cannabis oil and that's what worked.
What's interesting is that it just so happened to be THC-a that was the answer – it wasn't a case of "find a doctor who will get
this", more so this is what the specialist in the states advised.
Charlotte fought endlessly for her son's quality of life, at one point even resorting to being homeless in LA just so Billy could
access his medicine and be near a children's epilepsy specialist with resources unavailable in Northern Ireland.
The battle for Billy was won and he received his prescription for both CBD and THC-a at home in April 2017.
But now his mum Charlotte has been told he can have no more prescriptions which she says have helped keep him alive and well.
Billy NEEDS his cannabis oil to maintain his quality of life. In the time I've spent with him and Charlotte it's been clear to see how much he's improved since he got his prescription.
Since his seizures have been under control he's developed into a curious, playful kid whose learning to engage more with the world around him.
His character is coming through, now that he is balanced, but that has been taken away from him now by the pen of the Home Office.
Now our government want to take this away from him, rob this sweet little boy's quality of life. His doctor has been instructed that he cannot write any more scripts for Billy's medicine – effectively signing his death warrant.
Charlotte is having to fight for her son's life… AGAIN.
Since Charlotte and Billy returned to Northern Ireland last year, they have been campaigning for medicinal cannabis from the NHS – or at least some sort of programme to get compassionate access to medicinal cannabis for other kids like Billy, with him as the face of a campaign called 'My Buddies Need This Too'.
The purpose of this 'BudRun' is to raise both money and awareness. Money for Billy's buddies, The "Sponsor A Bud" charity helps
support low income families with CBD oil.
There will be grant forms at the event which you can fill in for you or a loved one. Every penny that goes into the event will be going towards helping out the ordinary people who are suffering at home with many of these conditions.
The awareness is for everyone. Most people with normal, fully functional operational bodies take for granted the ability to walk or run. The effort that it takes for able bodied folk is nothing like what kids like Billy and others go through. It is to remind us that sometimes, people do need a hand. And it doesn't hurt to help!
Billy's Buddies superhero themed BudRun is going to be a family orientated (and dog friendly!) day with raffles, amusements and plenty of chattering with new folk, making friends and sharing stories – not to mention the weather gives for 23०C – what more can anyone want on a Sunday?
The event starts at 11am with registration for the event at 10am in Lurgan Park, and interest can be registered on the Facebook page here.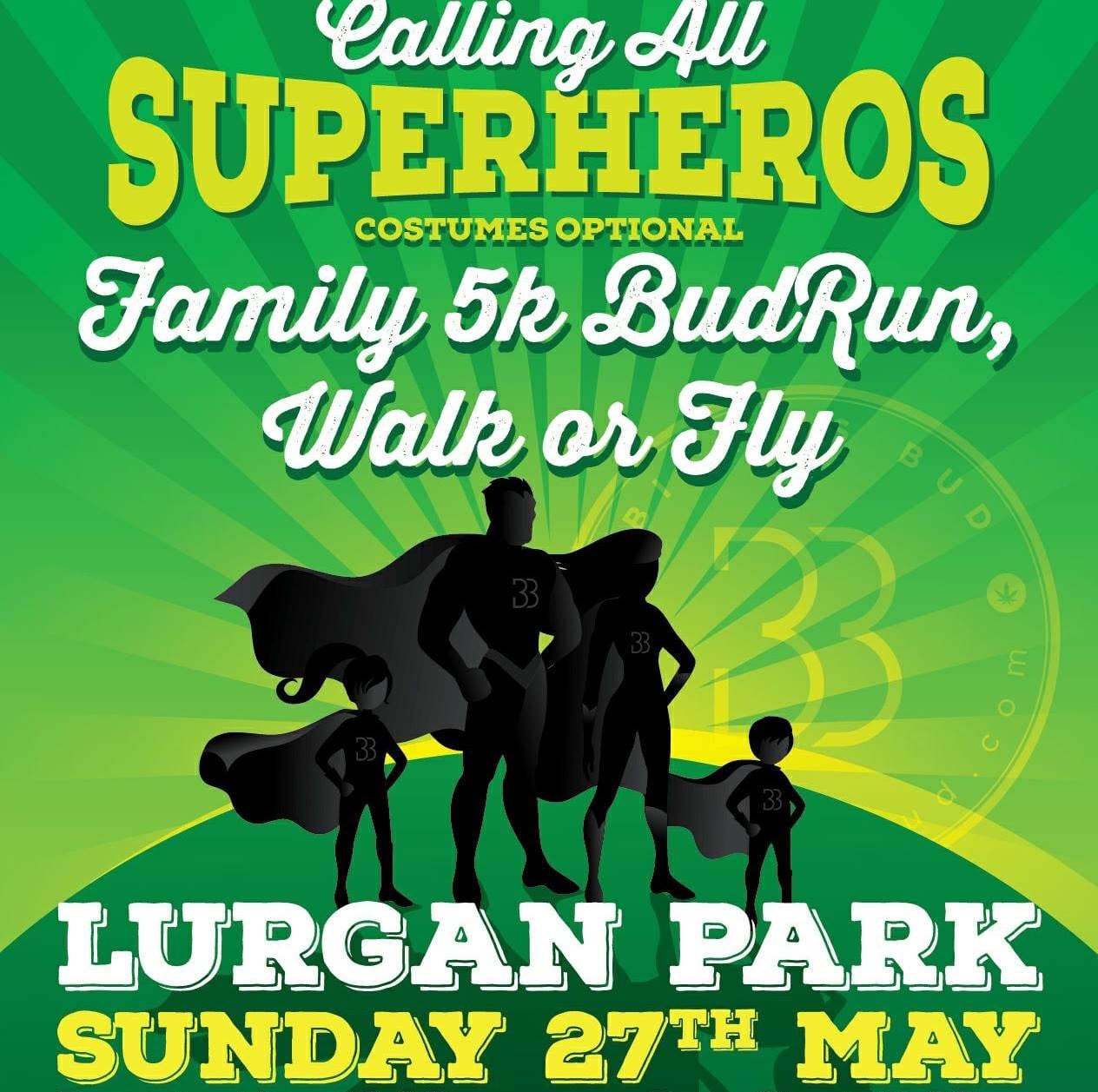 We really hope to see as many superheroes as possible there, supporting Billy and Charlotte on their fight for Billys right to life.
Sign Up To Our Newsletter