An eight-year-old Armagh schoolgirl, who started who own little internet business selling homemade, personalised photo frames, says she wants to save enough money to take her granny on holiday.
Amelia-Rose McElmeel is the mastermind behind the fledgling Little Pixx photo frame business taking the area by storm.
With the help of her parents, Anthony and Christina, the budding entrepreneur is using her spare time to amass any cash she can to treat her grandmother – who she has barely seen since the beginning of the pandemic – to a week away in Tenerife later this year.
The St Patrick's Primary School pupil turned eight just last week, and it was this occasion, coupled with her dad's attempts to offload a laser engraver, which prompted the bright idea.
And Amelia-Rose, along with dad Anthony, kindly took time out of their busy schedule to speak to Armagh I this week.
"I came up with the idea when I asked my daddy, who was selling a laser, could he make me a birthday frame; then I looked at it and thought we could sell them," Amelia-Rose explained.
Starting any new business is often fraught with the unexpected but Little Pixx has found instant success since its inception on Monday, with 13 orders already placed by Thursday – and one repeat order, which is a sure sign she's doing something right.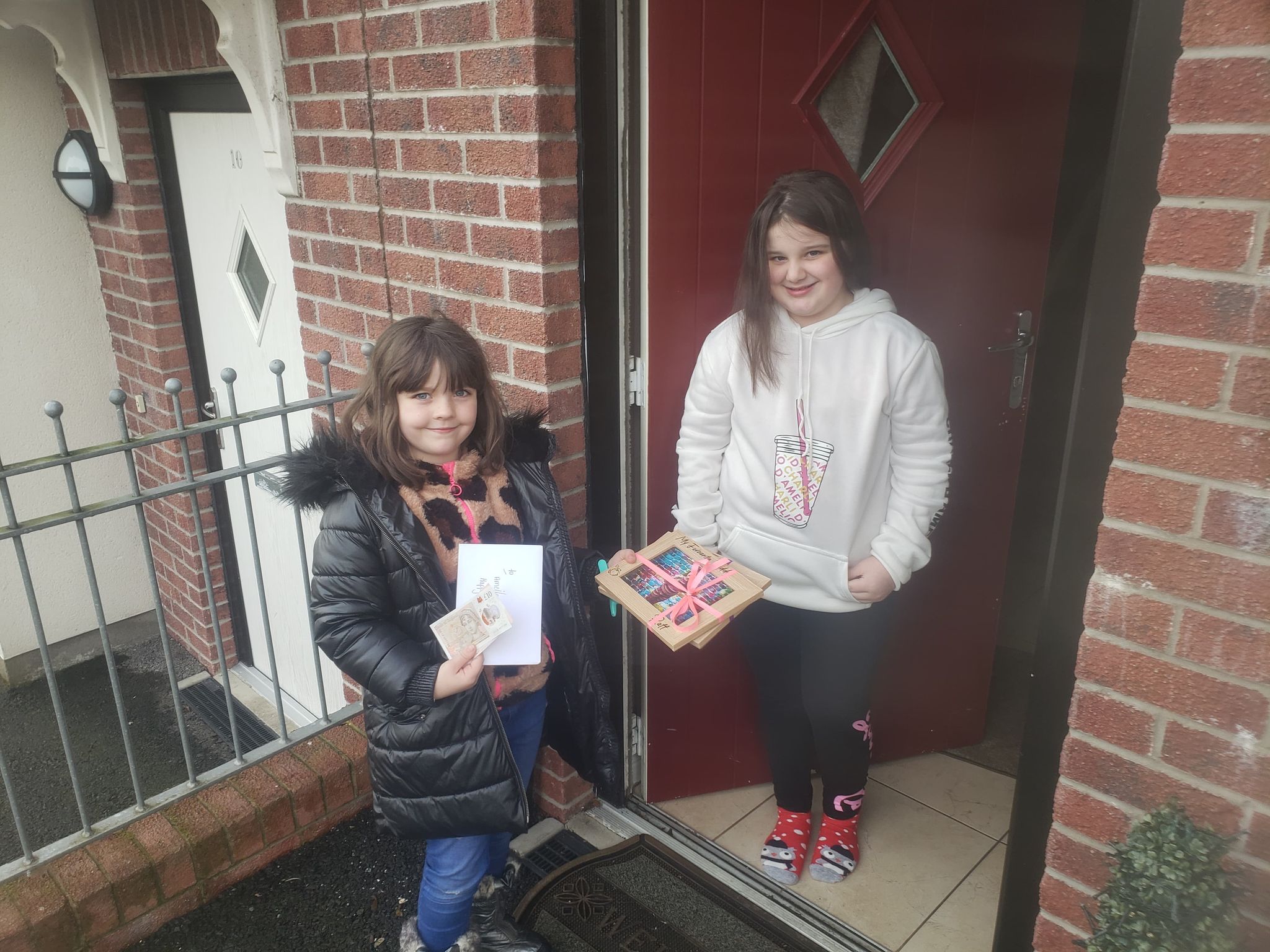 Amelia-Rose has already hosted a Facebook giveaway and is planning on printing off fliers to help promote the business – all for a worthy cause.
"I want to get a lot of money so we can go on holidays with my granny," she said. "I want to take granny on holidays to Tenerife."
Visits to granny have become a lot less frequent since the onset of the pandemic and birthdays have been little more than drive-bys too.
Hugs are in short supply these days, but with light at the end of the tunnel, Amelia-Rose has already began preparing for a bright future.
It's certainly not the first idea Amelia-Rose and her siblings – Lauren (9) and Chloe (5) –  have come up.
Just this Christmas past, the terrific trio, amazingly raised more than £700 for the NI Children's Cancer Fund with another entrepreneurial enterprise – selling hot chocolate from their garden.
Amelia-Rose explained: "We first got the idea when my daddy was looking up ways of making hot chocolate and then he told us to get out of the kitchen so he can make it."
Anthony interjects with an explanation: "It was a surprise".
"And then he brought it in and it was great," Amelia-Rose added, somewhat surprised. "We then thought we could sell it and give all the money to charity."
Which, in true spirit of Christmas, they did.
"We raised 769.60p for the Cancer Fund for Children," she added. "I feel really happy to raise so much money for the kids."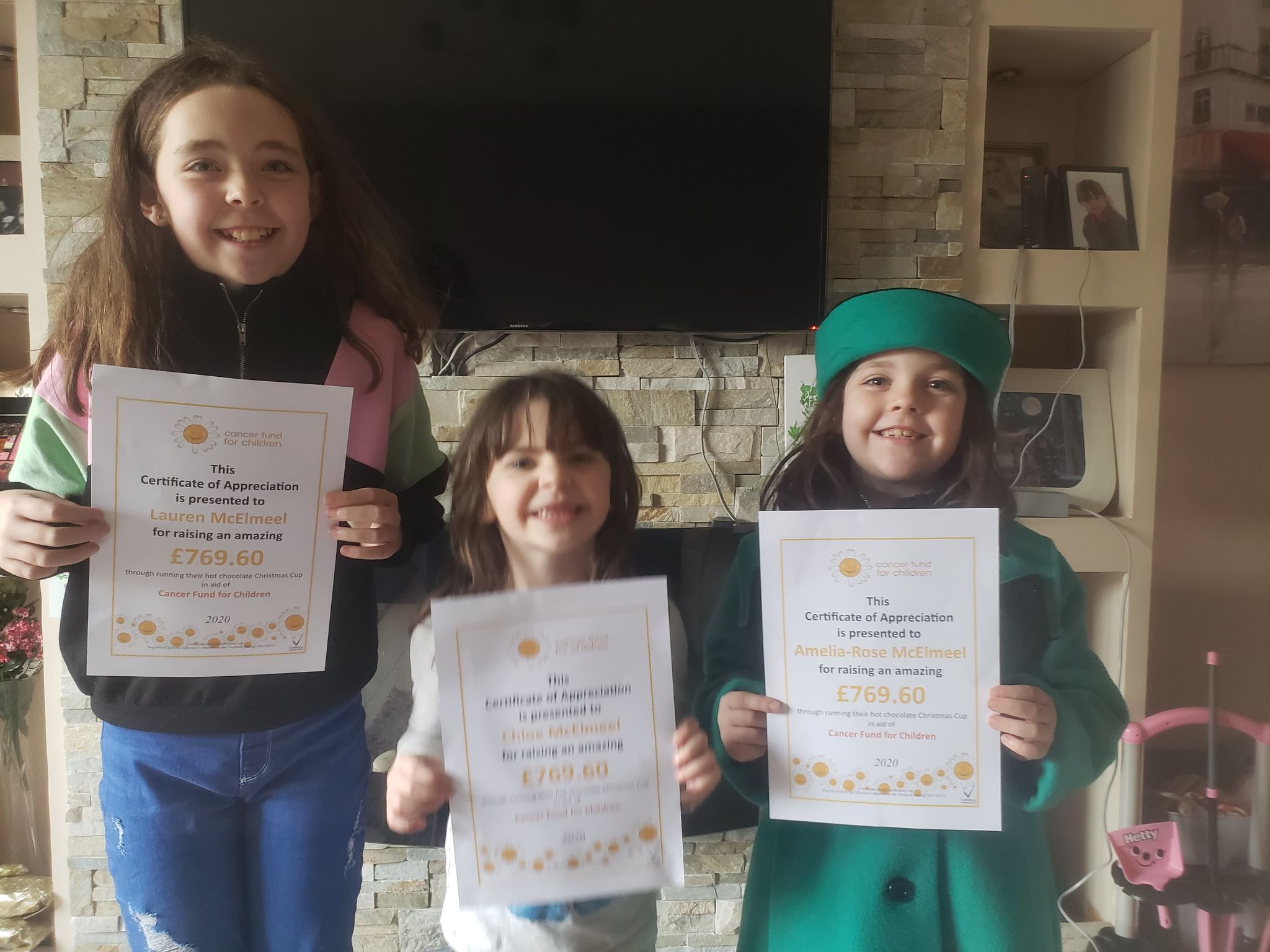 As for the lessons she learnt from the experience, Amelia-Rose extols some words of wisdom: "The tiny details mean everything."
"We wrap up the frames with ribbons and give a card to the customers too. People love it; we're getting really good reviews."
Amelia-Rose says she loves doing frames for the kids, frames which show your favourite teddy – her second favourite being the frames housing a picture of your dog.
Dad Anthony added: "Whenever we are doing the deliveries I would sort of talk a lot of business and try and teach them that the little things mean a lot.
"It's a great way to keep us active and keep us doing stuff together, instead of just watching TV the whole time."
"As parents we help them and try and teach them as much as we can, and especially at this age, you can't get over how fast they learn things.
"You tell them stuff and you think they're not listen and next thing, a few weeks down the line, they're reciting the same thing. We're definitely making use of this learning phase with them."
For Anthony, it's a case of passing on to his children what his parents taught him from an early age.
"My parents would have been the same with me," he recalled. "I had my first shop at seven years old, which was a wee sweetie shop. My parents would have come into the Dunnes Stores in Armagh and we would have bought our multipacks and I would have sold the stuff out of it.
"I had so many wee businesses the whole way through because of the support of my parents; this is me just doing the same with our girls."
You can check out Little Pixx on Facebook here, and you can place an order for a photo frame here.
Sign Up To Our Newsletter