Hair loss, whether a result of aging, treatment for cancer, alopecia or any of the numerous causes, is hard to come to terms with for either gender.
This can have a massive impact on the sufferer's mental health and their confidence in themselves, but one Armagh city salon may have the answer.
Behind the amazing transformation which you may have spotted on Facebook by URBAN Armagh, is local woman Rebecca Boylan.
Speaking to Armagh I, the 39-year-old said: "It is a brilliant job, it is very fulfilling. I have sat sometimes and the customers start crying and then I start crying. It is so emotional but so worth it all."
Rebecca has been the owner of the salon on Armagh's Railway Street since 2013, but it was not until three years ago that she began treating hair loss.
Explaining how it all started, she said: "It was my mum that had thinning hair on top. I had been fitting hair extensions for a year but obviously with hair loss that was not an option."
It was back to the drawing board for Rebecca.
After researching about hair loss treatment she then went and enlisted for a course in England.
"That was about three years ago. I learned to fit on slightly thinning hair but over the years you do pick up your own techniques," she said.
"I have a few male clients, I only just train in the men's now. They are a bit more funny coming to get it and theirs is a completely different process.
"Also, the men do not like the before and after photos, they are very private, which is understandable. Any post put up it was just banter."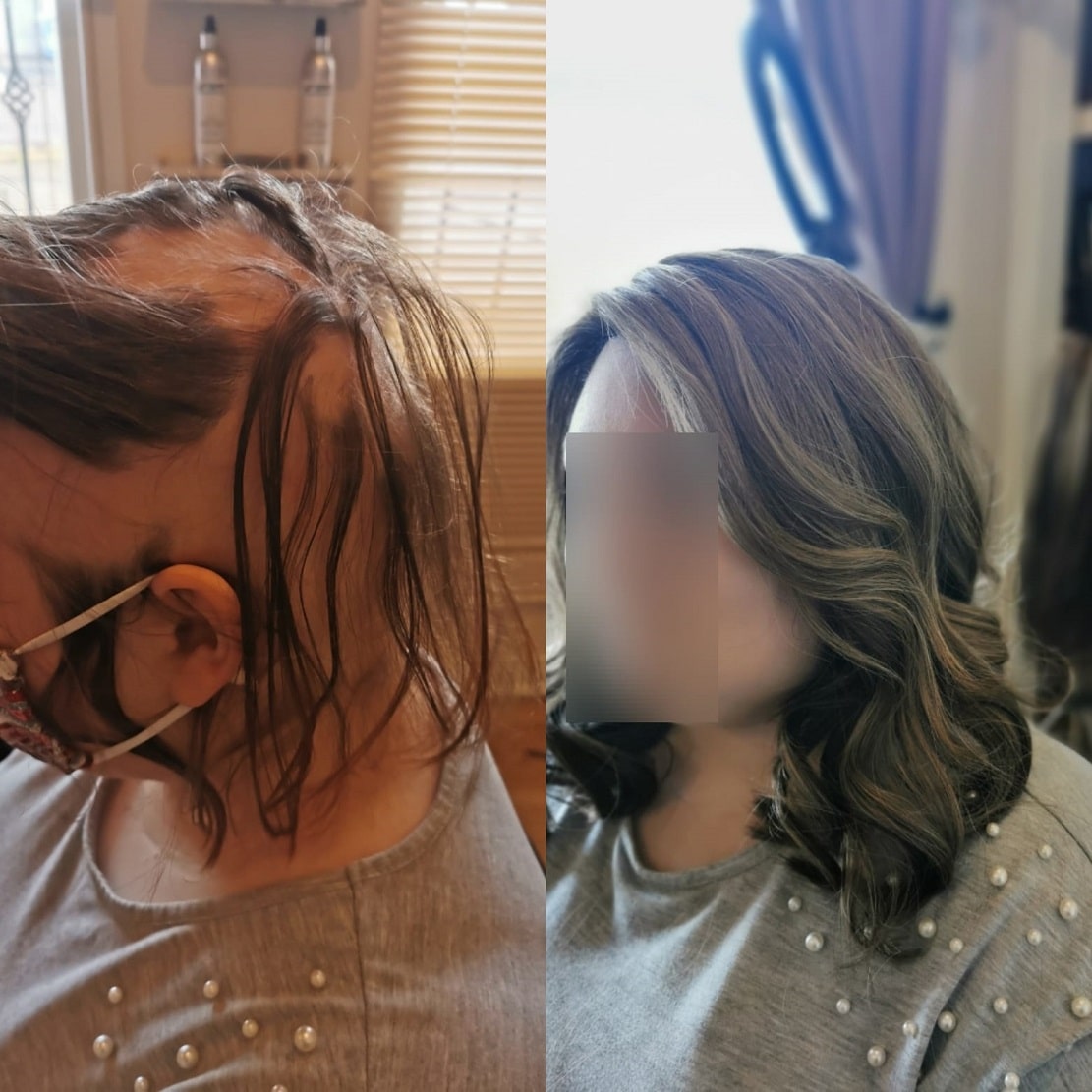 Rebecca has taught people from all across Northern Ireland and the Republic, through training classes, on how to treat hair loss.
Talking about the techniques she uses, Rebecca said: "For anyone going through cancer at the moment, they can't have anything fitted directly on their head so I have hand made wigs that can be adjusted into a clip system.
"For others I use mesh integration. There is no glue used, because my main priority is the hair underneath that may be growing back and any glue would prevent that.
"I have clients who would have come to me first for fittings and now they just have some small clip systems, which is just amazing to see."
During lockdown, Rebecca's clients were not able to attend to have their hair readjusted, so to overcome this she talked them through removing the hair and it was then posted to her through the mail for her to rework into clip systems.
She said: "A lot of them did come back to me after and said that it did not compare to the mesh integration, as it just feels more like their own hair and it falls more naturally.
"Also the big difference between it and wigs is that you don't have to take it off every night. With wigs people have to face their hair loss every night."
Rebecca said it was upsetting, especially seeing younger girls suffering from alopecia, attend at her salon.
"I am their last resort. I am very straight with them. I am just here to hide it. There are no magic potions to make your hair grow back or anything like that," she said.
"One girl, who was told by another salon that they couldn't help her, then came to me and her transformation was absolutely amazing. Her mum rang me crying, it just made me so chuffed."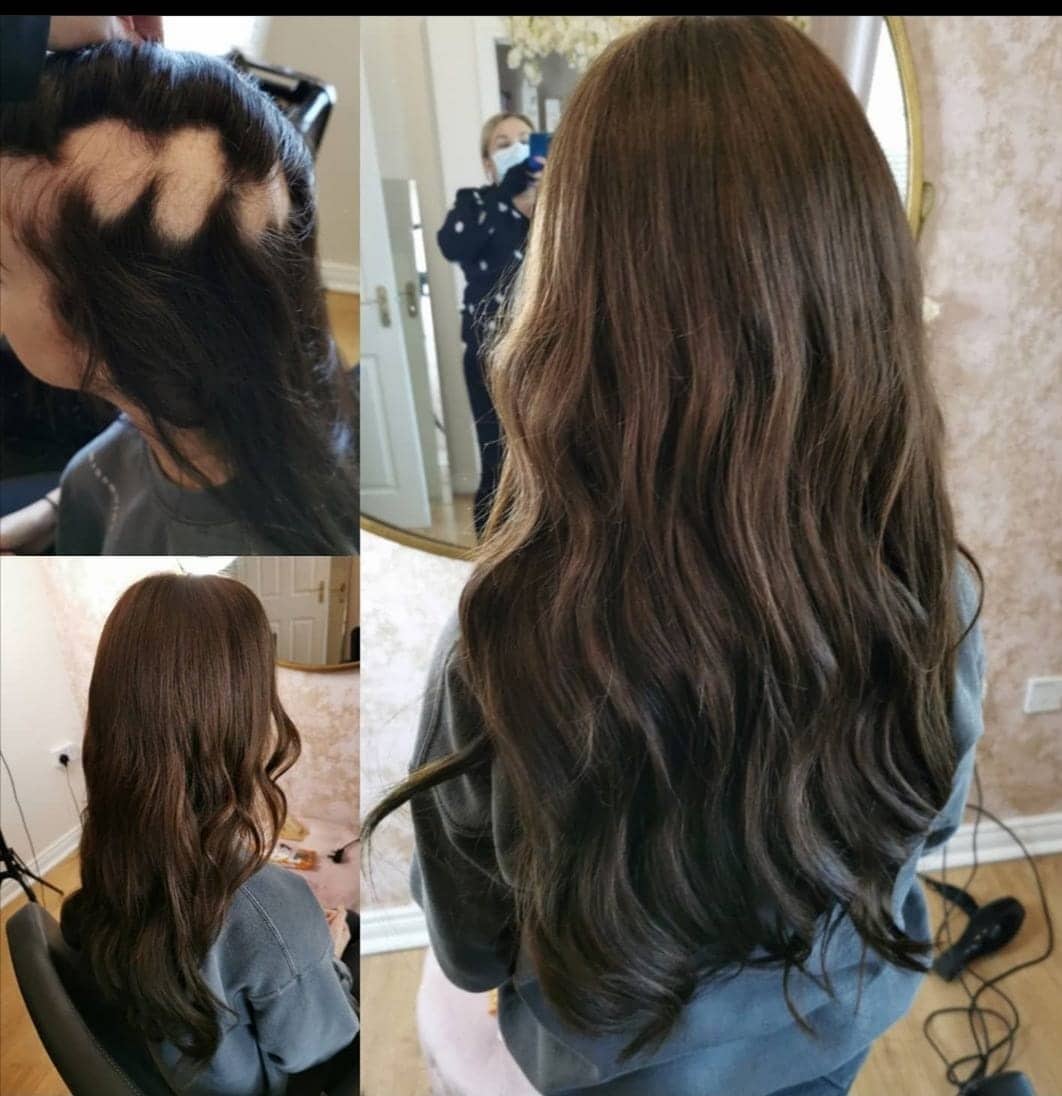 Rebecca added: "It is one in three women now that would struggle with it at some stage in their life. A lot of them would come in and feel ashamed or can't even look at themselves in the mirror.
"For me it's about telling them that this is not their fault and that it is out of their control. The majority don't show face, which is understandable, but they will allow me to take the picture.
"It is just amazing to see them walk out that door with this new complete confidence booster."
Sign Up To Our Newsletter