A yellow weather warning has been issued for winds which could reach severe gale force across all counties tomorrow.
And forecasters are warning of the potential for disruption.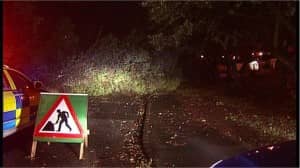 The warning, issued today, comes into effect from 7am tomorrow (Sunday) and remains in place through until 8pm tomorrow night.
And the winds will be accompanied by very heavy rains at times, which could lead to surface water and make driving conditions difficult.
There have also been warnings about the potential for structural damage as a result of the high winds.
The strongest winds are expected to reach here around dawn, and most areas by the end of the morning, before gradually subsiding from the west during the afternoon and evening.
According to the Met Office, there remains some uncertainty with the track of this low pressure and the precise wind speeds and areas to be affected, with a further update likely on Sunday morning.
Inland, gusts of up to 60mph can be expected and coasted areas could see severe gales in excess of 70mph
"Please be aware of the potential for disruption due to the gales and severe gales," advises the Met Office.
Read more news:
Listen: Why is Tandragee a hotbed for burglaries?
Major £135,000 road resurfacing works begin in Armagh
Police appeal for help in finding missing Co Armagh woman Lorraine
Committee hears 'Armagh courthouse should close with business transferred to Newry'
Thieves attempt to break in to shopping centre via glass roof
Craigavon road collision causes long delays this morning
Sign Up To Our Newsletter