Is this a ghost captured on camera at a Co Armagh battlefield?
The picture was taken by Sam McCourt, who is a member of the Lisburn Paranormal group.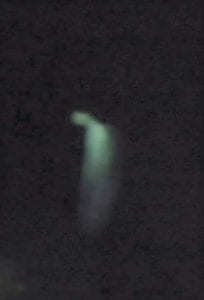 It is made up of a small group of friends with an interest in paranormal activity.  And, while they are based in Lisburn, their operations do take them further afield.
To Loughgall, for instance, and the site of the Battle of the Diamond, where this picture was taken.
The Battle of the Diamond – which led to the formation of the Orange Order – was fought on September 21, 1795, and saw about 30 Defenders killed at the site.
This is an enlarged image of one part of the print. It involves no camera trickery.
And it was only discovered some weeks after being taken when Sam was going back through his photographs.
Lisburn Paranormal team member Chris Hogarth told Armagh I: "There was no flash on the camera. And no full moon."
As with previous images we have shown from sites linked to violence and death, such as those at Armagh Gaol, they are open to interpretation and people will always make their own minds up.
"We are told it looks like someone being hanged," added Chris.
"Perhaps some viewers see into it what makes sense to them. We aren't sure what it is but it's the nature of our group to be sceptical and not to make big claims."
So what do you think?
Taken in a field in County Armagh that was the site of a battle in 1795. Not sure what it is. Comments? pic.twitter.com/2yTuHDh4kv

— Lisburn Paranormal (@lisburnparanorm) November 28, 2015
Sign Up To Our Newsletter