A Caledon grandfather who overcame Covid-19 back in March has been welcomed home by family after almost a year of care homes and hospitals.
Eddie Magee turned 79 back in August and has not been settled at home since New Year's Day.
But this week he has returned to live with his son, Colin, and his family.
This absence all began on January 1.
Eddie had been staying with Colin when he took unwell.
Speaking to Armagh I, Colin explained that his father was "just not himself" and after the concern over his welfare an ambulance was called.
The response car arrived initially, before an ambulance attended to take Eddie to Craigavon Area Hospital, where he was found to have a kidney infection.
Colin stated: "He got through that, then when he got a bit better he was transferred to Loane House there in Dungannon for another two weeks, before then being moved onto the Chestnut Lodge Nursing Home in Benburb.
"He was only meant to be there for two weeks for respite but then it just went on and on. The time just kept getting longer and longer."
It was then in March, whilst a resident at the nursing home, that Eddie, who suffers from diabetes and dementia, contracted coronavirus.
"He was the first patient in the Chestnut to take it," said Colin. "He was transferred back to Craigavon for two weeks and there was no-one allowed near the hospital with restrictions.
"I mean, we only got to talk to him over the telephone once or twice over those two weeks. It was a bit of a shock the whole thing. I actually didn't think that he was going to come out of it because of his age and his health issues, with having diabetes and dementia."
Speaking about the isolation his father suffered, Colin added: "I don't think he really knew much about the virus. It was all real to everyone at that stage and he didn't really know what was wrong with him.
"He was in the Chestnut, there was no visitors allowed in really to update him on what was going on in the outside world, just closed in with four walls .
"He wasn't aware that everything was closed down or how bad it all was. It had nothing to do with dementia, it was just a case of him being shut off."
Fortunately, during the fortnight Eddie spent at Craigavon Area Hospital with Covid-19, Colin was able to speak with the care home to obtain him a downstairs bedroom.
"He was upstairs before," he explained. "They were able to move him down so that we could even see him through the window. It was a lot better than not being able to see him at all."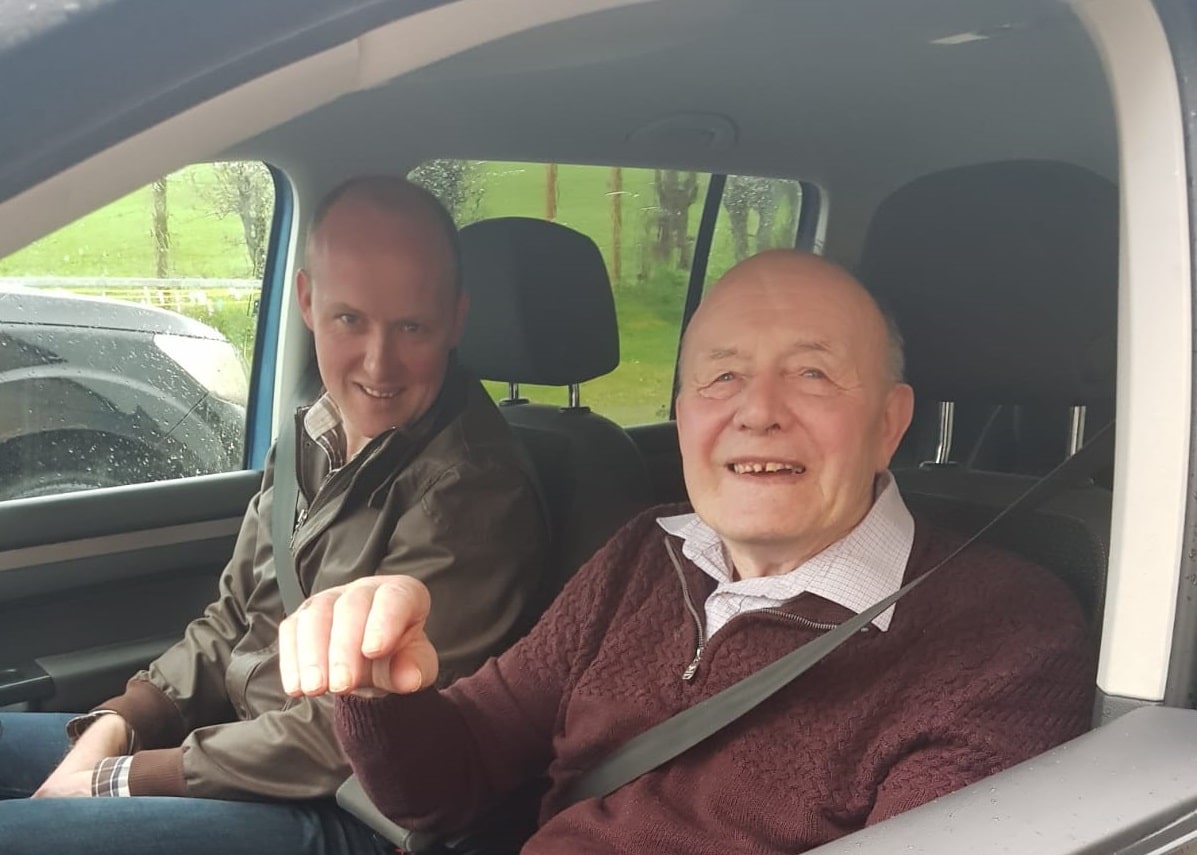 Colin said: "He has been in there now from March, he never wanted to be in the home. It is just not his place at all.
"My daddy was a farmer all his life and you couldn't have got him in at all when he was fit and well".
Speaking after his father returned on Tuesday afternoon, Colin said: "It really has been a life changing experience for him.
"We are forever grateful to the staff and management of the Chestnut Lodge Nursing Home for the care they provided to Daddy during his stay
"I think it's clear to see from the pictures that he is absolutely delighted to have been given the green light to come back home to Dyan, Caledon and live with us at No 21".
Sign Up To Our Newsletter