A movie night in memory of Annie O'Neill – who passed away from Pancreatic Cancer in 2014 – will be held in Armagh next Friday night.
Grainne O'Neill (below: second from right) has been at the forefront of the Fight on for Annie movement, ever since her mother's passing almost five years ago.
And even before her untimely death, Grainne and her mother began fundraising for pancreatic cancer – a total which has now surpassed the £50,000 mark in those intervening years.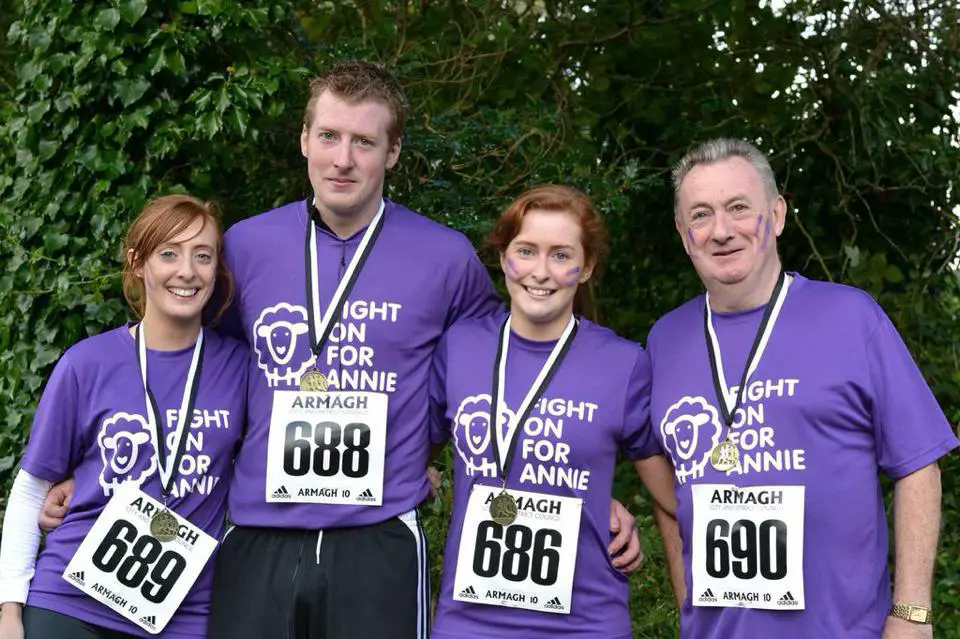 And the latest in Grainne's fundraising is the now annual movie night at the Market Place Theatre on Friday, November 2.
There will be two showings of the classic Grease, at 6.30pm and 8:30pm.
"It is coming up to mummy's five year anniversary in January," explained Grainne. "Our lives haven't been the same since mummy passed away.
"We have raised over £50,000 in her memory but as the years go by I worry that 'our story' won't be as important anymore.
"It doesn't matter how many years pass, I still lost my mummy to pancreatic cancer; I still don't have a mummy anymore and I still want to make a difference for the future of pancreatic cancer. We will continue to keep fighting for a better outcome for patients."
The Armagh woman says she wants people to think pancreatic cancer when they see the colour purple – awareness that is also helped by Council who have continued to light up civic buildings, including the Gaol & Palace Demense.
"We are grateful for the Council's continuous support in helping us raise awareness," she said. "This year it will be lit up on Thursday, November 1."
Grainne has urged people to call down and get a selfie for social media, another way, she says, to help raise awareness.
There will also be an information stall in The Mall Shopping Centre on Saturday, November 10.
If you would like to do something for pancreatic cancer awareness month or World Pancreatic Cancer Day (Thursday, November 15) contact Grainne on info@fightonforannie.com or 07754566157. Fight on For Annie are forever grateful for all the support we get from the community.
'Grease' Tickets available online at www.visitarmagh.com/marketplacetheatre or phone 028 3752 1821 to purchase tickets over the phone.
The Facts of pancreatic cancer:
Less than 7% of patients survive 5 years- it has the worst survival rate of all 22 common cancers
Pancreatic cancer is the fifth biggest cancer killer
27 people are newly diagnosed each day
24 people will die each day
It receives just over 3% of overall cancer research funding
In 2015, 9,921 people were newly diagnosed with pancreatic cancer in the UK
In 2015, 8,912 people died from pancreatic cancer in the UK.
Symptoms include:
Jaundice (yellow skin and eyes, dark urine and itchy skin)
Unexplained weight loss & poor appetite
Indigestion
Recently diagnosed with diabetes
Back pain
Nausea and vomiting
Sign Up To Our Newsletter