A special event is to be held to celebrate the life and ministry of Armagh man Bob McAllister, who passed away two years ago.
A familiar figure in the city, Bob, for many years a resident at Patrick's Fold, at Scotch Street in Armagh, passed away on April 29, at the height of the Covid-19 pandemic.
Aged 95 at the time of his passing, both the house and funeral were strictly private, although family had indicated at the time their intention to hold a memorial service to their dear father when circumstances permitted.
This will now take place on Saturday, July 23, at the Crescent Church, 6 University Road, Belfast, BT71 1NH.
Bob and his late wife Alma, had left the shores of Belfast Lough to live as missionaries in the Democratic Republic of Congo in their younger days.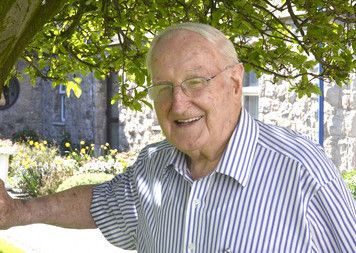 Bob, upon his return to Northern Ireland and having settled in Armagh, continued to bear witness and was a regular visitor to churches to give his testimony.
He would recall stories of how playing cowboys and Indians saved his life, of how his late wife Alma was held at gunpoint as she delivered a rebel's baby, and of how the couple raised their three children – William, David and Ruth – in one of the most dangerous places on earth.
In the summer of 2016, Bob shared these stories with the Duke and Duchess of Cambridge, William and Kate, at a royal garden party set in the grounds of Hillsborough Castle.
On his conversation with Kate, he said at the time: "I told her that I was out twice in the Congo in 2014 and that unfortunately the situation isn't an awful lot different now compared to when we lived and worked there. Problems can arise at any moment."
Bob had been laid to rest after a funeral service at Markethill Presbyterian Church.
And there will be local representation in that regard at this Belfast celebration, where the Rev Norman Smyth, Minister of the Markethill Presbyterian congregation, will give the final exhortation.
During the event, music will be provided by Jonathan Rea and others, as well as the Irish Orchestra.
Described by family as a "celebration of the lives" of Bob and Alma McAllister, it is due to begin at 7pm. It is hoped and expected that many friends locally, from Armagh, Markethill and beyond, will make their way to Belfast for this apt and fitting tribute.
All are welcome to attend.
Sign Up To Our Newsletter