It's something you hope never happens, but for some, a medical emergency will happen.
When it does, you hope that help is on hand.
Such was the thought of Tyrone man, Brendan McAnallen, father of Tyrone GAA player, Cormac McAnallen, who tragically died suddenly in 2004, aged 24, from an undetected heart condition.
Formed in 2015, Community First Responders Armagh and Tyrone (CFRAT) is made up of a group of volunteers who are trained and equipped to respond to medical emergencies.
Speaking to Armagh I, Aidan Early, chairperson of the Community First Responders Armagh and Tyrone group, said: "Brendan planted the seed in our heads about a community responder group who could provide this service. He was always looking for a way to improve responsive defibrillator use in rural areas."
A sentiment not wasted on those who would become the founding members of the first responders, Aidan Early, Eammon Casey, Francis Barrett and Bernie Jordon – all of whom had a background in the ambulance service or wider healthcare profession.
"It started off small, we intended to concentrate on the areas we were from, Benburb, Tullysaran, Blackwatertown and Eglish. As more people heard about us we had to expand into Armagh, Richhill and we have ended up becoming one of the larger groups of responders, covering a large area from west of Dungannon, Donaghmore, into Armagh, the Lough Shore, from Stewartstown, around to Lurgan and from Caledon following the border round to Aughnacloy."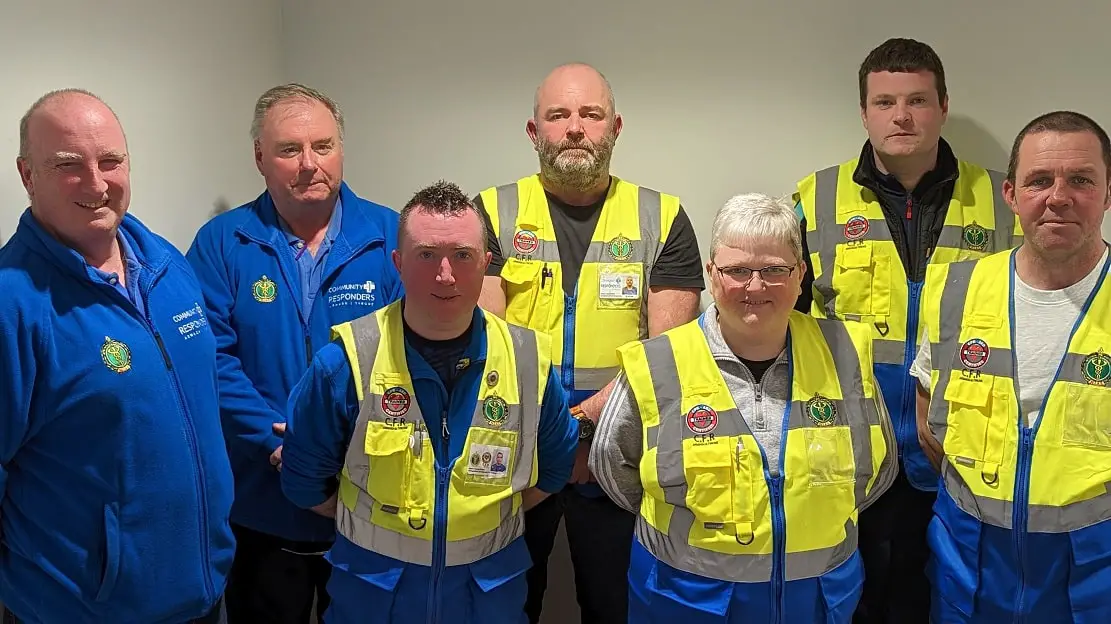 Following a successful application to the Big Lottery fund, the group were able to set about a growth and expansion plan for the service, with the aim of having 100 volunteers within the area they cover.
Working in conjunction with Northern Ireland Ambulance Services (NIAS) to help respond to 999 calls, the team of volunteers are alerted should their skills match the emergency.
"Our purpose is to get to the scene as quickly as possible in order to sustain the person's life until the emergency services arrive," Aidan said. "This is achieved by training and equipping responders in the local area.
"Once a 999 call is received by the emergency services, our responders are activated via text explaining what and where the emergency is.
"There are delays as everyone knows in the ambulance service, there has always been delays, not as extreme as they are now.
"The idea of community responders was really for rural areas where there is an inbuilt geographic delay."
Related: First Responders: How a father's grief led to the launch of life saving provision on Lough Neagh
Pointing out the reality that even if you live next door to an ambulance station, if the ambulances are out on call, you are as remote as anyone Aidan acknowledges that the need for such a vital service is as prevalent in towns as outlying areas.
"We are working alongside the Ambulance service to find out where are the areas more in need of a service like this."
Highlighting the importance of self care within the group Aidan says "it's a major thing for people to attend the calls we are asking them to attend and therefore it is important that as a group we communicate with one another, as a group we are very conscious of how people's mental health can be affected and we have had responders tell us they need a bit of help and that's fine, we are always happy to provide that help. That care of each other is a very important aspect"
---
This is the second of a four-part series looking into local first responders – kindly sponsored by Blackwater Private Clinic, Armagh
Sign Up To Our Newsletter