A very rare bank note from the old Provincial Bank of Ireland – drawn from the Armagh branch – has surfaced in County Limerick.
And the one pound note is expected to gain quite a bit of interest among collectors after being put up for sale, with offers being sought in the region of €700.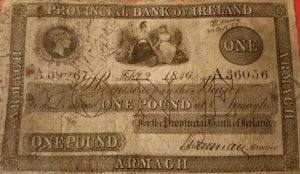 It is a part of local history and a seldom-seen chance to own something of this vintage relating to Armagh's banking history.
The note is 169 years old!
The Provincial Bank of Ireland was established in 1825 and pioneered branch banking in Ireland. The terms, rights and privileges of the Bank of Ireland allowed it to effectively strangle the development of banking in Ireland until the Irish Banking Crisis that followed the post-Napoleonic War Depression.
The Bank of Ireland effectively held a monopoly within Dublin and the surrounding areas within a radius of 50 Irish miles – it did not issue banknotes outside of Dublin until 1824.
As such, there was a shortage of currency in the country outside of the Dublin and Ulster areas in the years prior to this.
In 1845, a period of financial crisis prompted new legislation to regulate the issue of notes.
Only six Irish banks were authorised to issue banknotes and this new law allowed notes in 'round pounds' only, so banks had to withdraw – over a period of time – any of their banknotes in guineas, fractional guineas and such oddities as 25s, 30s and 35s denominations!
The ability to print their own banknotes gave these banks a huge commercial advantage over their new and emerging 19th Century rivals – the Provincial Bank of Ireland was one of these six banks.
This banknote was issued in 1846, the year after the legislation came in.
It bears the name of the branch – 'Armagh' – and the signature of the manager. There were 33 branches formed around the country, north and south.
The Limerick-based seller describes the note as being in "fine condition" and a "great collectable".
While it has some tears and tape on the back, it is holding its form "considering it is almost 170 years".
The Provincial Bank of Ireland, together with the Royal Bank of Ireland and the Munster & Leinster Bank, were brought together as a new company was formed in 1966 – the Allied Irish Bank.
Anyone interested in making an offer can check out the ad here:
http://www.adverts.ie/notes/the-provincial-bank-of-ireland-1846-1-pound-armagh/9081559
Read more news:
Families evacuated as 'viable device' is made safe
Marcell Seeley murder: Detectives granted more time to question suspect
Police receive support from local residents in 'boy racer' clamp down
Former Acheson Glover site up for sale at Carnbane Industrial Estate
Former Armagh rector complains to Cadbury over 'OMG!' use on new snack
One charged, two being questioned, after four burglaries
Sign Up To Our Newsletter