Like many entrepreneurs, Maghery man George Corr does not come from a privileged background.
The 56-year-old, who set up 4C Armagh Coffee House and Kitchen in Armagh during the Covid-19 pandemic, grew up in a council house and was one of seven children, including two sets of twins, of which he is one.
He had two family tragedies to contend with in his early years, losing his father when he was a young teenager and his youngest sister Rosemary who died in a car accident aged 13 – on George's graduation day.
He found an outlet in sport, playing football, basketball and boxing to a high level at St Patrick's College, Dungannon.
"It was credit to the school, more so than me," he said. "We were 13 when daddy died, the oldest in the family, so that was the start of the growing up stage.
"PE teacher Art McRory took me and Paddy under his wing, I owe a lot to that man. His ethos was 'if you could do it on a pitch or a court, you could do it academically too'."
Surviving and thriving in spite of adversity is mirrored in his can-do attitude and resilience when it comes to business.
His CV is wide and varied and, up until now, didn't include hospitality, unless you include silver service experience in a hotel as a teenager.
Having studied for a teaching degree in PE and design technology in Manchester, George was a supply teacher at his former school for a short period, and also coached football in the USA.
However, it was while he was in the States that he made the spur-of the moment decision to return home in time for his late sister's birthday.
"When I was teaching, I could see my sister the whole time. She was a really good footballer and the whole joke was that I would end up teaching her.  I just felt I needed to be home," he said.
He never returned to teaching and, instead, went into financial services where he mediated between banks and clients in insolvency cases.
He still runs Financial Facility Partners and Cork Consulting, with most of his work based in the Republic of Ireland.
He also also went on to have four children, Caoimhe (24), Cormac (23), Cara (22) and Cliona (19), after whom the coffee shop is named.
The idea for 4C took root about three years ago and it opened in September 2020.
"I live nearby and was always passing it. I said to Paddy, 'That's wide open for a coffee shop, with the mall and so many people walking about'," he said.
"I train every day and from a protein point of view I couldn't find the menu I wanted – foods such as avocado and protein balls.
"I also wanted somewhere people could get a really decent cup of coffee."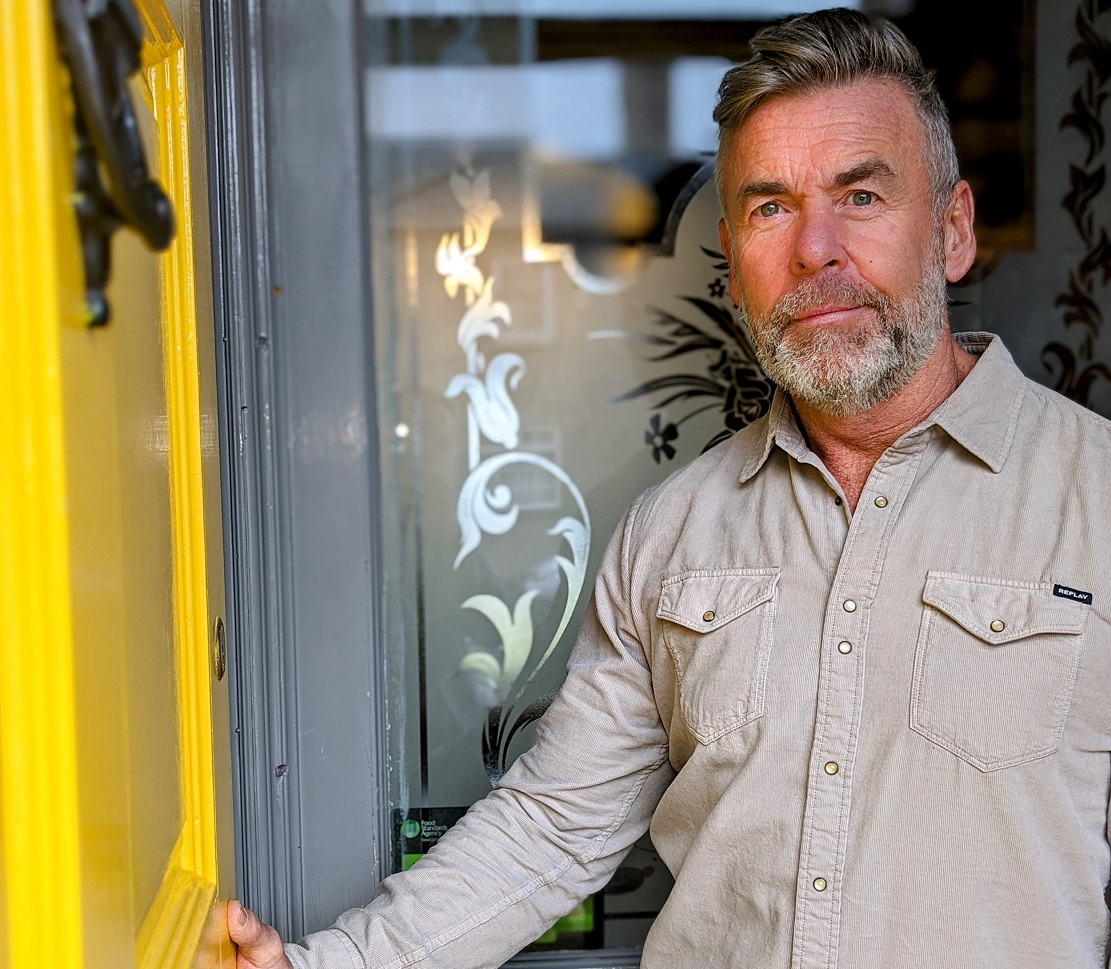 The building at College Hill, which was built around 1865 to serve as the Court of Probate and was later an office for HM Customs and Excise, retains original features such as the thick stone walls and fireplaces.
"It wasn't good when we came in," he said. "The tiled floors were black and with the kitchen we basically started from scratch again.
"We bought most things second-hand as we wanted it to look lived in. My younger brother Tony can put his hand to anything and he was here night and day doing the interior painting and decorating.
"I am also very lucky to have good friends who are much handier with a screwdriver than I am.
"I wanted to create something that was a wee bit different, comfortable, where people could come and sit and relax.
"We have had so much support. It's been a delight, to be honest. I enjoy the people coming in."
The coffee shop employs 21 staff, five of them full-time, and all the food is freshly made on the premises.
Breakfasts on Saturday and Sunday are "massive", he says, with lunches, tray bakes and scones always popular.
"When we first started we closed at 5," he said. "Then I realised there was nowhere for people walking around the mall to go in the evening for a coffee or tray bake, so we started opening late.
"We made a lot of mistakes at the start but I've learnt from them.. I think that's what life is about."
As for the future, plans are also afoot to develop the outside seating area and introduce an evening menu, probably once a week to start off, with tapas, steak nights and gourmet burger nights the favourites so far.
George is also looking for premises for a gym, where members will be able to avail of the services of a personal trainer who will devise a full training and fitness programme, including meals, cooked to their specification by 4C.
He explained: "I go to the gym every day and have a personal trainer. It's more of a mental thing for me, a form of escapism. Then, I have the guys in the kitchen preparing the kind of meals I need.
"So the gym will be an extension of what we are doing now.
"We work in the service industry, so if I feel the benefit of something, why would I keep it to myself?
"The level of support has been super and I am very grateful for that. We couldn't have done it without people giving us a chance."
Sign Up To Our Newsletter