A brand-new state-of-the-art 'Sensory Xperience' is coming to Armagh, equipped with the best professional kit in a safe and secure' environment.
'The Sensory Xperience', which opened its doors today (July 4) in the Dobbin Centre, offers an innovative, multi-sensory environment, spread across a variety of spaces, featuring the best-of-the best equipment that engages with all of the senses.
The space, which is the first of its kind in Armagh, was set up by Colleen McConville, who along with her husband Ciaran, became frustrated with what they had witnessed first hand as a lack of support in Northern Ireland for children with additional education needs.
They have three kids, a daughter who is 20 and two sons aged 10 and 8. Their sons are both in a primary school for Special Educational Needs (SEN), and have Autism Spectrum Disorder (ASD), Global Delay, Sensory Processing Disorder (SPD) and Attention Deficit Hyperactivity Disorder (ADHD) which presents them both with severe learning difficulties.
Their oldest son suffers from anxiety and their youngest son is non- speaking.
Speaking on her sons' conditions, Colleen said: "During and after the initial process of having our oldest son diagnosed with ASD we realised quite quickly that there is a lack of adequate support and resources.
"There is very little in the country to cater exclusively for people with additional needs, despite the ever-growing need for that diversity. While some people with special needs can reasonably, or even easily, cope with activities that are considered 'normal' so many simply cannot, and the options beyond the 'normal' are extremely limited."
To this end, the idea for a new 'Sensory Xperience' was conjured up in November 2022. By December, it quickly began to grow and developed into a seven-month long project that Colleen and her family threw themselves into.
Colleen says that the space is a "safe and secure environment for children and adults with additional needs. It's an opportunity to have fun and express their emotions," adding that she is "passionate" about making things easier for other families.
A sensory room is an environment that can help stimulate, develop and relax the senses. It can help self-regulate the users' behaviours which will help with focus and can aid with interaction and social skills.
Sensory equipment has been shown to improve language, cognitive and motor skills and helps people develop and engage senses.
On your visit, there are a number of rooms that you will encounter which truly tailor for all kinds of needs. The space, which consists of a number of different rooms and areas, is an inviting environment that is welcoming, fun, safe, stimulating, educational and relaxing.
'The Green Room' is the first room, which contains an extensive range of equipment designed to enhance sensory stimulation, produce a calming effect and covers multiple senses. The equipment here includes a supersized interactive bubble tube, fibre optics, sound activated sensory panels, infinity light corners, giant piano keypads, projectors and various tactile boards.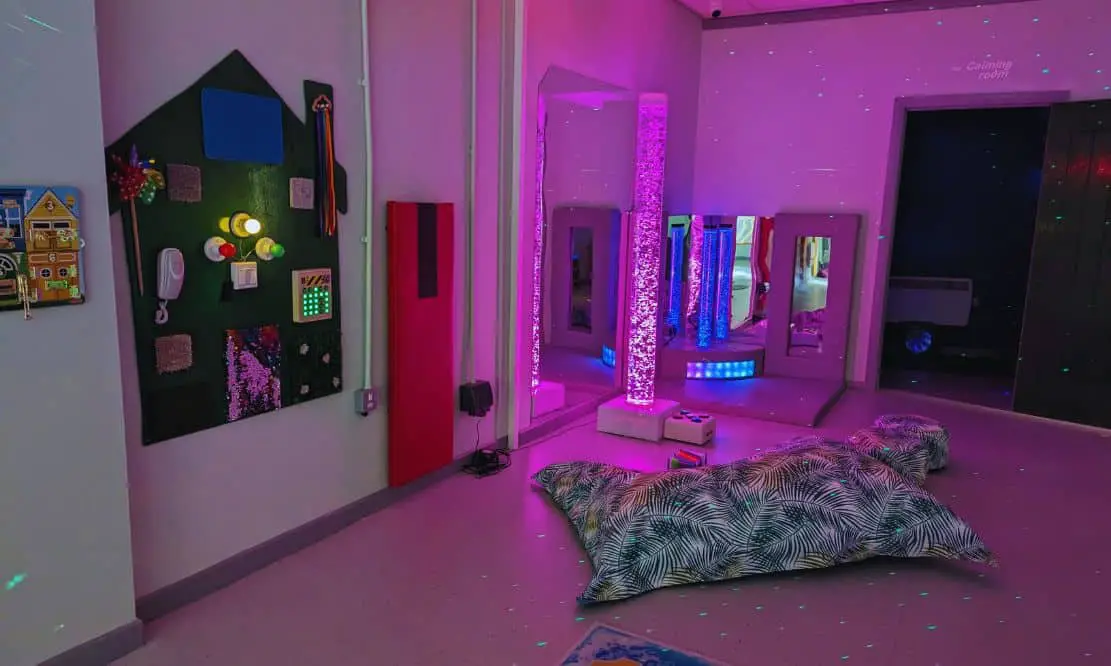 'The Interactive Room' which is located right in the centre, is the most exciting and high-tech room, using a state-of-the-art interactive projector and the very latest software technology to simulate an array of vivid environments and provide a variety of immersive, stimulating activities sure to suit all ages and abilities.
Other rooms include 'The Calming Room' which offers a small, discreet place to escape for a moment of privacy, and 'The Blue Zone' which is an open-planned multi-sensory room.
Visitors can avail of sensory circuits, sensory play sessions, and messy play in this area. The Blue Zone can also be used for welcoming school outings, group community events, pre-school and after school activities.
Colleen says that these facilities will "help alleviate pressure on parents and carers because it gives them somewhere to go with people who have similar difficulties."
Colleen is keen to stress that the space comes with the knowledge that all staff have been trained, fully vetted and have experience in all the necessary and relevant fields.
She said: "Our boys are so different in their needs. We have a lot of experience in how to handle different behaviours."
Colleen has all of the safeguarding qualifications for working with children and adults and is has her Level-3 food and hygiene and is a designated safeguarding officer. She has also completed adult additional needs qualifications and is now a Sensory Practitioner.
She was also keen to engage with professional backing on the project and to this end has collaborated with an Occupational Therapist (OT) that is trained in Ayres Sensory Integration.
Eager to know more, she is currently studying for her CACHE Level-3 Diploma in Supporting Teaching and Learning and Level-3 Certificate in Understanding Autism which are both recognised qualifications to be working in schools.
There are a number of options available at 'The Sensory Xperience' for all kinds of groups.
You can book small group slots to hire out the multi-sensory rooms or even a more tailored service with sensory sessions. The space also caters for birthday parties, school trips, community groups and day care sessions and activities for groups with disabilities and additional needs.
These are available to people of all ages along with their parents, carers or support workers.
Ready to book? Head on over to the Sensory Xperience website to find out more information and pick your slot.
Sign Up To Our Newsletter