Known to many as Seamie's, others – McDonagh's – and of course, now today Autobits Motorstore.
The name may vary depending on who you're talking to but the family-run business has remained a constant in the heart of Armagh for 40 years!
Autobits Motorstore is celebrating four decades of top-quality personal service under the watchful gaze of the two Cathedrals.
For many businesses, 10 years is testament to quality but for the McDonagh family, they've done that four times over – and they're still going.
An institution in its own right, but that wasn't always the case as the motor parts store had to work hard to establish itself in challenging times.
And that challenge first lay at the feet of the late Seamus McDonagh.
The story begins in March of 1980 – the business located across the way to where it is now on the Cathedral Road – at premises currently occupied by the Mulberry Café, coincidentally where we caught up with Seamie's wife Teresa and her son Marty, who now runs the business.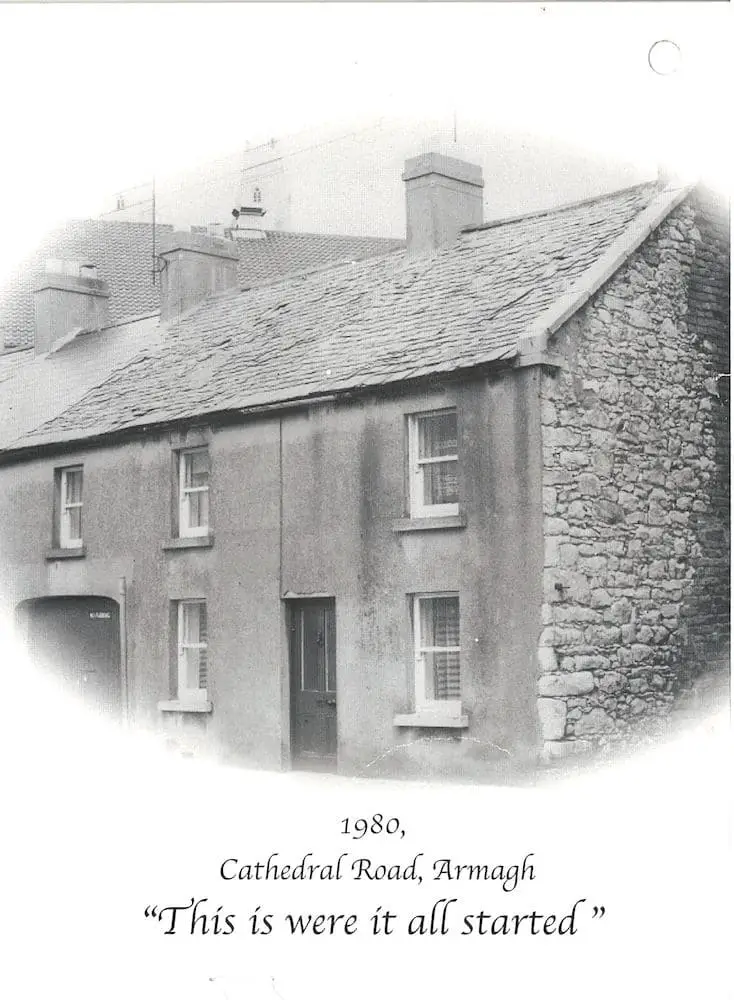 "Daddy would have worked at Auto Supplies previous to that," Marty recalled. "That would have been mummy's brother Jimmy Kane & business Partner, the late Kenny Dougan, while mummy was always dealing with the money and the office."
Teresa admitted the first year was "very tough". Twelve months in and she said Seamie wasn't convinced his venture was going to pan out just how he had hoped. "It really was that tough," said Teresa.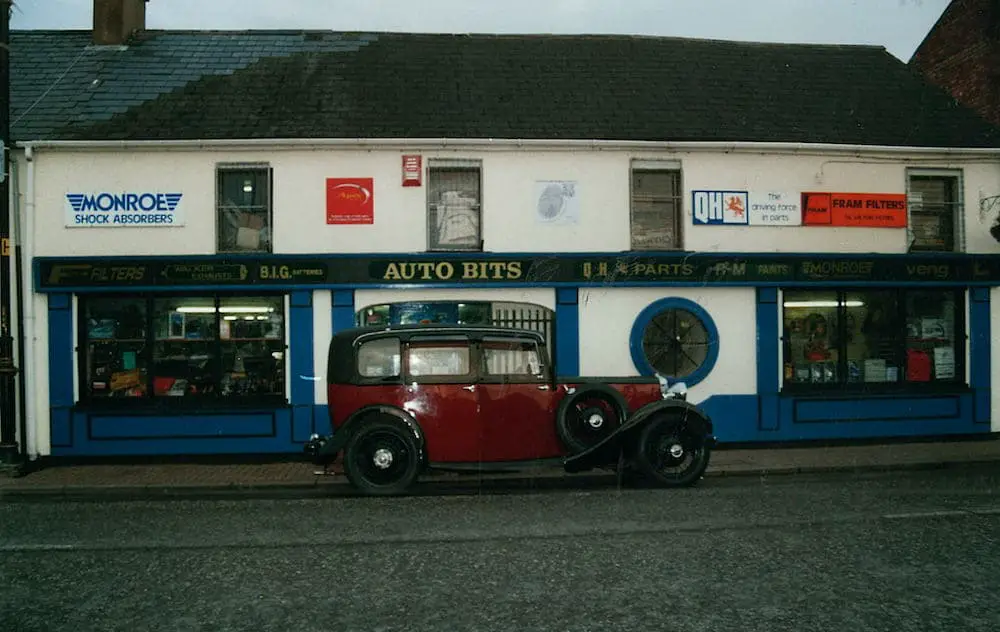 "We started out with nothing but Seamie had a very good reputation and he had known all his reps from his previous employment and was very well known in the community. It ended up that he couldn't afford to employ anybody so I had to learn how to do the accounts.
"That first year I went and took four home health jobs; to have some money coming in for the kids. In those days I left the children to school, and then went to the office; did what I had to do and then collected them again."
A relentless beginning to the world of owning a business for the McDonaghs, but their hard work began paying dividends and in the New Year of '81, Seamie was able to enlist the help of an old friend and work colleague – Francie McCusker.
Francie worked with Seamie at Auto Supplies; he too had left around the same time as Seamie as he wanted to pursue his music career. In 1981 Francie came in to help Seamie out and ended up staying for 37 years until his retirement in 2018.
Francie was very much a huge part of the McDonagh and Autobits Family & this was another difficult time for us as Francie sadly passed away in 2019.
For Marty, some of his earliest memories involved the shop – coming into the store to help his father out on Saturdays and during the summer with his older brother Ciaran.
Teresa remembers fondly of her two young sons having to stand on boxes in order to see over the counter.
Marty commented: "For a right few years, the staff didn't change, it was daddy and Francie, Vincie Hagan was there – in and out helping out; we also had Mary McArdle for a number of years but that was it a very small team really.
"A few years before daddy died, we employed Graham Megarity and he has been with us for over 16 years now, so there has been a very small team of staff right up until 2018 when we started to expand the business"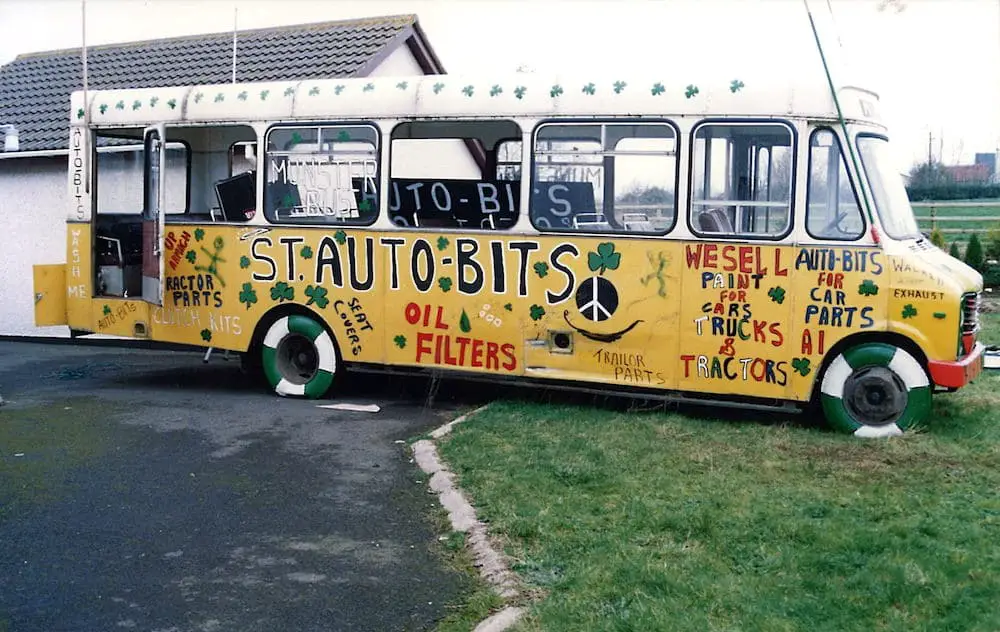 Teresa remarked: "When staff came, they normally always stayed, which is always a good sign."
"I am there from I was 17," Marty remarked. "I was at Saint Patricks College Armagh and then went to Greenmount for a year. Daddy needed help over the Summer, so I went in to help out and never left."
As for the store itself, sharing photographs of days gone by, illicit fond memories for Marty and Teresa.
"Daddy would always have been very community driven, he would have been really involved in the St Patrick's Day parade and loved the football," said Marty.
These images are proof, showing several St Patrick's Days of by-gone years and the many times the walls of the store were redecorated in the Orchard county colours of orange and white – especially in the heydays of the late nineties and early part of the 2000s.
Video by Patrick Hughes
"Over the years we developed some great relationships," Marty regaled, "they were more than customers they were friends and that was always the way."
Teresa added: "When the football was on, people would have called into Seamie, got what they needed to get and had a bit of craic; some of them didn't even come for anything, they just wanted to chat about football.
"People used to say run to Seamie's, run to McDonagh's, he would have been well known and I think that in part is what drove the business on."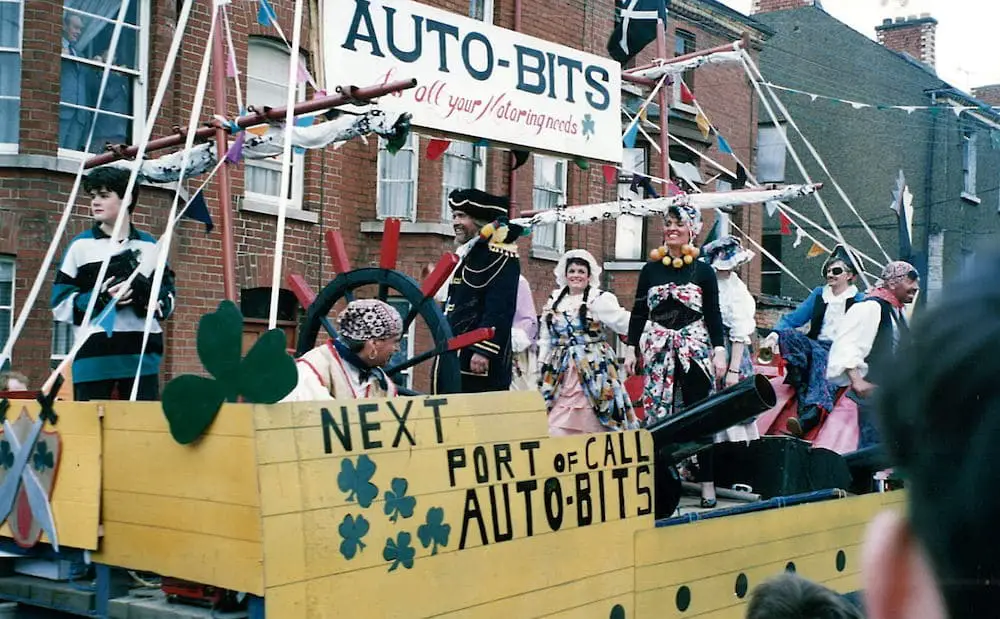 However in the mid-2000's there were "big changes" as Marty explained how his mum and dad bought a place in Spain in 2004.
"The plan then was for him to semi-retire, spending weeks out there at a time, but he took unwell in 2005 and passed the next year; it was a lot of responsibility to take on then."
The emotion of it still feels as raw today as it did then for Teresa but with a family business, "you find that you push through hard times" – evidently proud of her son's achievement of turning the business into what it is today.
Since the passing of his father, Marty has adapted and expanded the business to keep up with trends, with three vans now delivering to trade customers and even a re-brand, pioneered by his wife Mairead.
Times have changed for Autobits Motorstore. The early days of one delivery a week out of Belfast are gone, for it's now three deliveries a day.
It's not the only thing that has changed, and while many things have changed for the better, there are many things Marty misses.
"Over the years we have seen a lot of older generation of mechanics disappear, either passing on or retiring; they were real characters who would have come into the store but now with changing times most business is done over the phone.
And while a firmly established company, 2020 has shown that there are still plenty of things which can rock the foundations of a seemingly solid company – as Marty attests.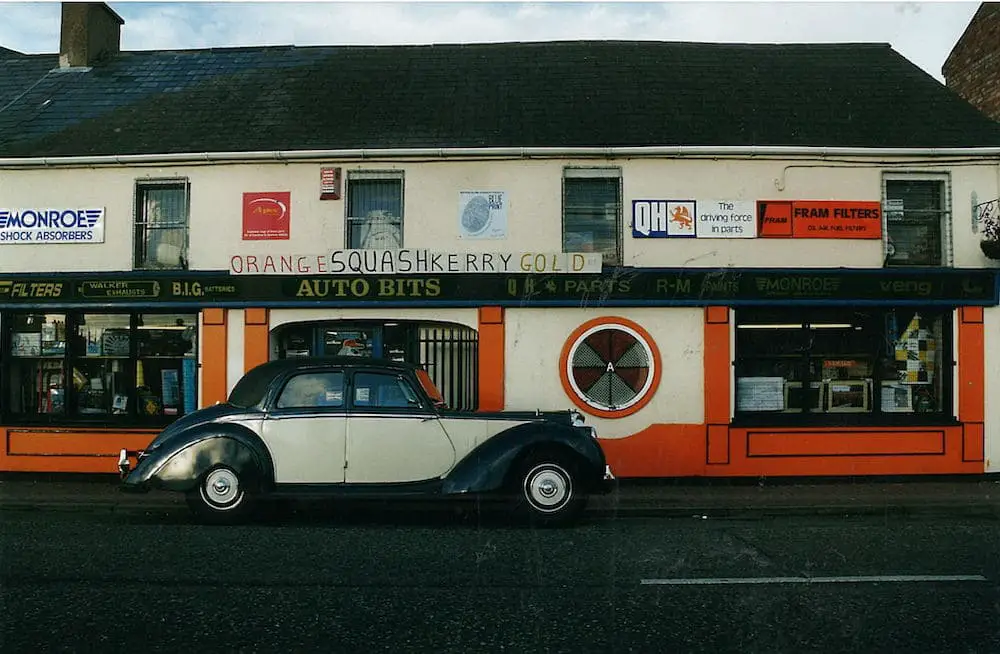 "Anyone that says business is easy is deluded; starting in the early eighties there were the Troubles, there are always stumbling blocks it would have been difficult to do business in the early days but thankfully that is all behind us now.
"But now we have it with Covid, it's going to be testing every business but it's just about how you adapt your business in order to survive."
For a business like Autobits Motorstore, the temporary loss of MOTs, coupled with the potential barriers Brexit may bring, the birth of the internet shopper, it makes adapting a key component for their business and subsequent growth.
Said Marty: "We would find there are always people that buy online but most people prefer to rely on the knowledge and trust that they know they are going to get the right product at competitive prices and if they have a problem they have somebody to come back to.
"We try to support local businesses; I think it is important for people not to forget what amazing businesses they have in their local town."
Talking about who is next to take up the mantle, ensuring another 40 years in business, Marty said: "I have three amazing girls, who are very eager for the work or should I say the pocket money.
"My eldest Mollie was very keen to start spending Saturdays working in the store however after one day she doesn't seem to be as keen. Ruby is more interested in the housework than the shop and Maisie, the youngest, still thinks she can stick it but we will see what the future brings, there is certainly very exciting times ahead."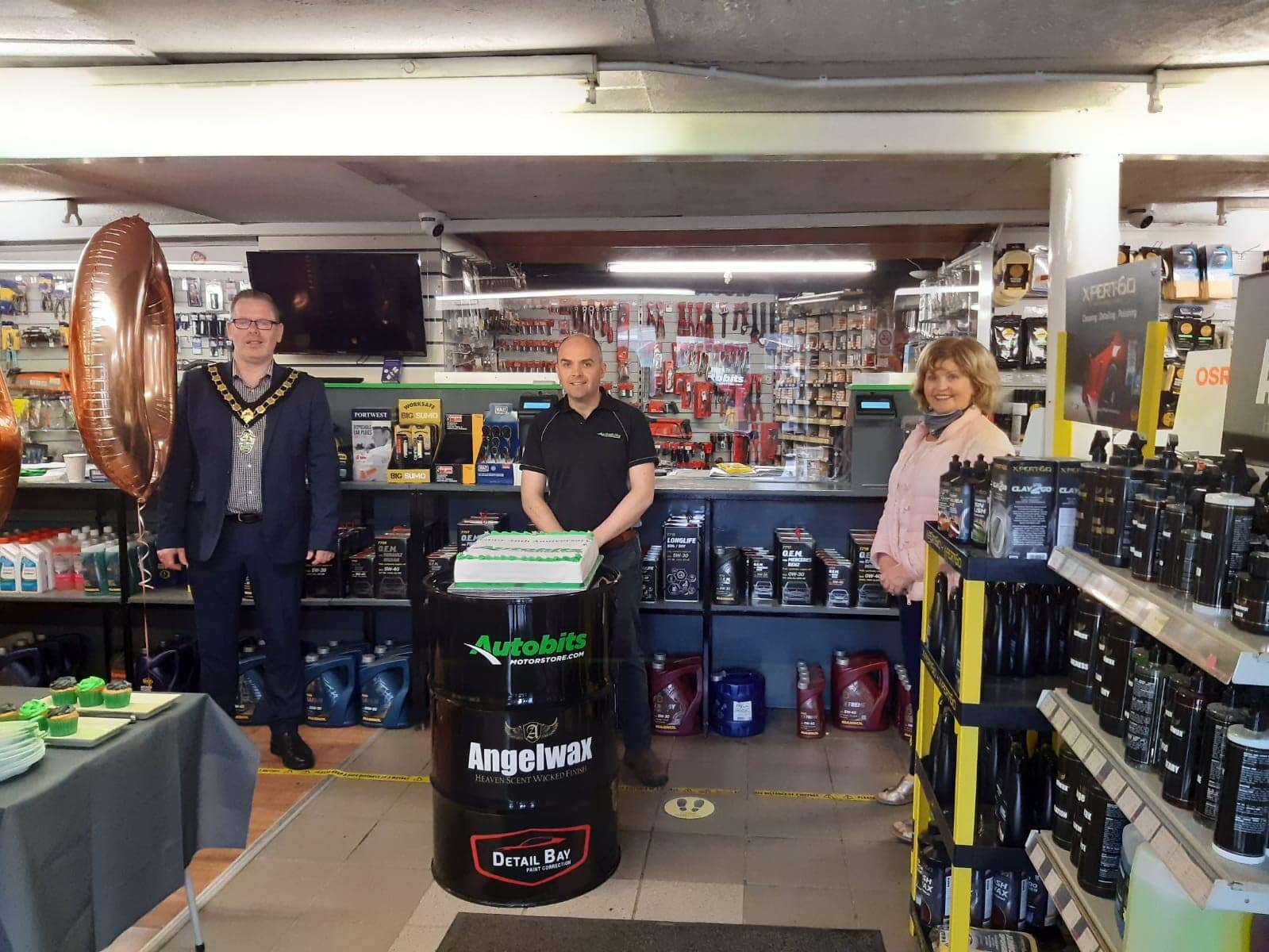 Autobits Motorstore are helping celebrate 40 Years in business with a fantastic giveaway for every £20 spent in-store throughout the month of September – see below. Visit their website here.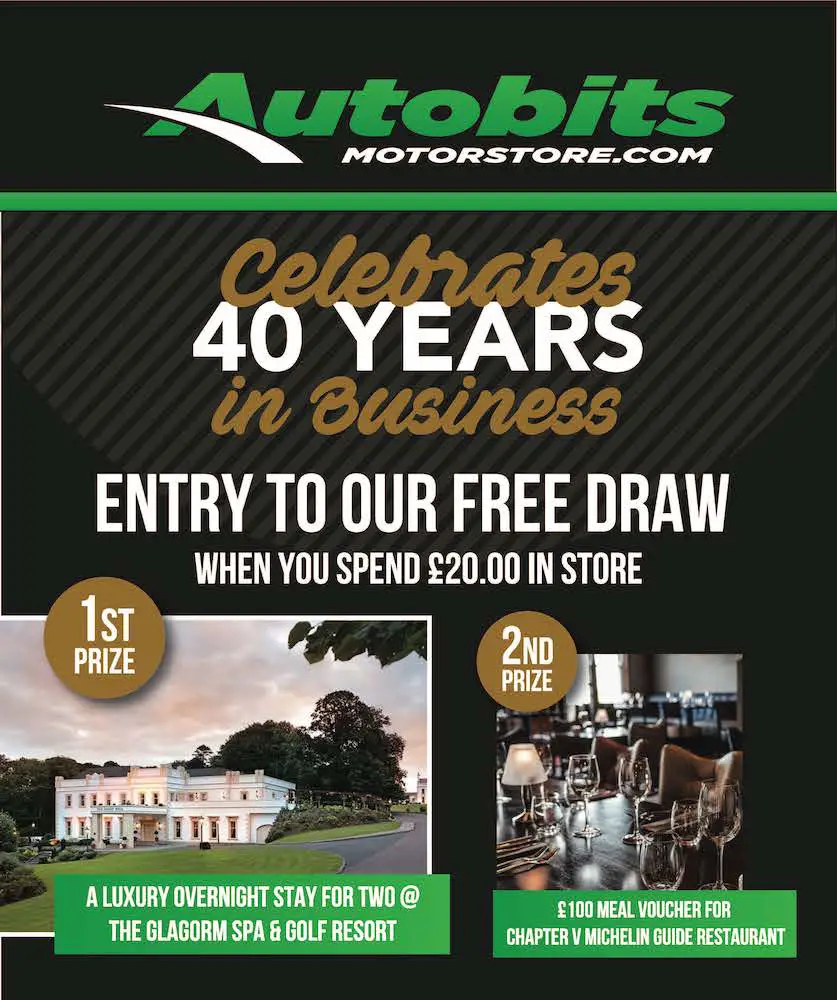 Sign Up To Our Newsletter