An Armagh woman who appealed against a two-year suspended jail term imposed for causing unnecessary suffering to a dog has had her sentence increased.
But Ann Haugh Irwin has been allowed to keep the dog she currently has in her possession.
Defendant appeared at Armagh Magistrates Court in February charged with causing unnecessary suffering to a female Jack Russell type puppy, under the provisions of Welfare of Animals Act (Northern Ireland) 2011.
She pleaded guilty to the charge, which was brought by Armagh City, Banbridge and Craigavon Borough Council under Section 4 of the Welfare of Animals Act (NI) 2011.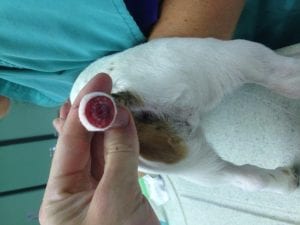 It followed an investigation by animal welfare officers into the offence, which was noted in July 2015.
The council received a complaint alleging that defendant had cut off her dog's tail the previous day.
The animal welfare officer who visited the location noted a female Jack Russell type puppy which had its tail docked.
When questioned, Haugh Irwin informed the officer she had removed the tail with a knife after the puppy's tail had been injured in an accident.
She said she did not take the puppy to be examined by a vet until advised to do so by the officer.
At the recent appeal hearing in Armagh Magistrates' Court, the District Judge extended the period of the suspended sentence from two to five years.
But they removed the Deprivation and Disqualification Orders, thereby permitting defendant to keep the dog she currently has in her possession.
An ABC council spokesperson commented: "Council gives a high priority to the welfare of domestic pets and horses and operates a rigorous enforcement policy to ensure full compliance of regulatory requirements.
"I would urge the public to be vigilant and report any suspected cases of mistreatment or cruelty to our Animal Welfare team on 028 3751 5800 or email animalwelfare@armaghbanbridgecraigavon.gov.uk.
"Complaints are investigated thoroughly and where necessary formal action is taken, which may include the issuing of Improvement Notices or, in extreme cases, the seizure of animals."
Read more news:
Staff and pupils' in cookery book fundraiser in memory of Lesley-Ann and John
Portadown man Willie loses cancer battle months after dream wedding
Designers outline why £240k Macha marionette is 'right for Armagh'
Borough to stage huge one-off 'Stars & Stripes' Independence Day spectacular
Huge jobs fair proposed to highlight EVERY vacancy in ABC borough
Exciting multi-million pound bids to develop borough-wide 'blueway' and 'greenway'
Public realm works at Armagh Courthouse included in new regeneration plan
Approval sought for multi-million pound Southern Regional College new-build in Banbridge
Newsletter
Sign up for our weekly newsletter here.