Armagh Round Table has handed over a cheque for the proceeds of its annual 'Sexy in the City' event.
The gala do was held on February 20, at Armagh City Hotel.
But it is only now that the counting has been finalised and all contributions in.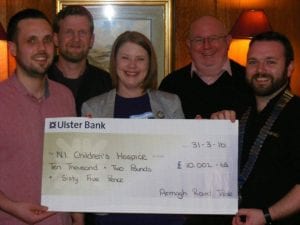 The amount was phenomenal – and underlines that 2016 was the most successful to date.
Over 350 local ladies attended with 35 male hosts – one per table – to keep them entertained. 
There was a fashion show, a raffle and representatives of the Northern Ireland Children's Hospice came along and spoke about the important work which they do. The evening also included a band and was a memorable night for all.

Sexy in the City has been mainstay in the local calendar for some time now.
It has been staged eight times over the last 15 years and never fails to draw a huge crowd and great support for charity.

This year's event – which raised the fantastic sum of £10,002.65 – was the most successful yet.
Armagh Round Table have now handed over the proceeds of the event and would like to thank their main sponsors Shelbourne Motors and everyone who attended.
Pictured presenting Jenay Doyle, of the Northern Ireland Children's Hospice, with a cheque for £10,002.65 are Richard Clarke, Richard Patrick, Round Table Secretary, Paddy O'Hagan and Round Table Chairman Kieran Toal.
Well done to all involved!
Read more news:
Air quality safety breach: Armagh named one of UK & Ireland's most polluted
ETT pulls plug on Armagh leaving 38 apprentices seeking alternative training provider
Man (20) dies after road traffic collision in Portadown
Armagh woman who cut dog's tail has sentence increased upon appeal
Council no plans to buy Courthouse — despite newspaper claims
Staff and pupils' in cookery book fundraiser in memory of Lesley-Ann and John
Portadown man Willie loses cancer battle months after dream wedding
Designers outline why £240k Macha marionette is 'right for Armagh'
Borough to stage huge one-off 'Stars & Stripes' Independence Day spectacular
Sign Up To Our Newsletter