Up to 100 jobs will be created in Armagh with the opening of a new Home Bargains store.
Home Bargains has confirmed to Armagh I that it has acquired the entire Railway Retail Park in Armagh, which was previously earmarked for a 55,000 sq ft Tesco store, as it expands its offering in Northern Ireland.
The 'top brand, bottom price' retailer is investing millions of pounds in the new store on Alexander Road and will create up to 100 jobs in the park when it opens in late 2016/early 2017.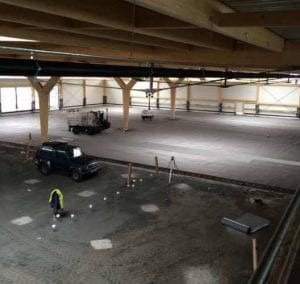 This will be Home Bargains' first outlet in Armagh, joining over 400 stores across the UK.
It is understood to be the biggest Home Bargains store in Northern Ireland.
Armagh I first linked the retailer to the development last November when we revealed approval for a Banbridge outlet.
It will sell a range of products, including homewares, health and beauty essentials, sweets, snacks and drinks, as well as fresh and frozen food.
Joe Morris, operations director at Home Bargains, told Armagh I: "We're thrilled to confirm the opening of a new store in Armagh and we're looking forward to welcoming new customers.
"We work hard to offer our customers exactly what they need from us, which is high-quality products for the home and garden at exceptionally low prices, and are confident that Railway Retail Park will be a great location for Home Bargains."
The discount retailer's launch in Armagh follows the recent opening of a 20,000 sq ft store in Strabane.
Northern Ireland is a key area of growth for Home Bargains, with the company making substantial investment in a number of new stores during 2016 and 2017.
With more than 3.5 million customers each week, Home Bargains opens approximately 50 stores each year and is one of the UK's best-loved discount retailers.
The site was divided into four units and a drive-thru and rebranded as the Railway Retail Park after Tesco shelved plans to open new stores in Armagh and Carryduff.
The retailer promised to work with the local council to try and find a new tenant.
There had been much speculation over the future development until now.
Home Bargains will be seen as a welcome addition to the local area and the jobs a great boost for the city when open.
For a taster of what to expect from the Armagh store – with more information about the product range – check out www.homebargains.co.uk.
Main picture: The Alexander Road site, by Patrick Hughes, Ireland From Above.
Read more news:
Northern Ireland fan dies after collapsing during historic victory against Ukraine
Armagh's Colin Morgan on 'battling his demons' in BBC One's chilling new drama
Increased security call as drinker exposed himself and urinated openly on Mall
Charity single released by Armagh group with chronic illnesses and conditions
Council plans second bid to add to £2m Armagh City regeneration pot
Milford to host 'big breakfast' fundraiser in memory of Lesley-ann McCarragher
Fantastic £1m redevelopment plans for Cathedral Road Recreation Centre
Sign Up To Our Newsletter