The wait is over for fans of Armagh actor Colin Morgan, as his eagerly-awaited futuristic sci-fi thriller 'Humans' gets its TV premiere this weekend.
The eight-part series will be screened by Channel 4 and the first episode begins at 9pm this Sunday, June 14.
The picture shows Colin as Leo, alongside 'Synth' Max, played by Ivanno Jeremiah.
Armagh I reported in October that Colin Morgan had signed up to star in the TV show, which has been co-produced by Channel 4 and the US cable network AMC.
The 28-year-old, who attended the Integrated College in Dungannon, is a young man on the run in the show, which revolves around 'Synths' – as they are 'integrated' into the family home and society.
And he admits that there is "a lot of ambiguity" around his character.
According to Channel 4, a 'Synth' is a "highly-developed robotic servant eerily similar to its live counterpart. In the hope of transforming the way they live, one strained suburban family purchases a refurbished Synth only to discover that sharing life with a machine has far-reaching and chilling consequences".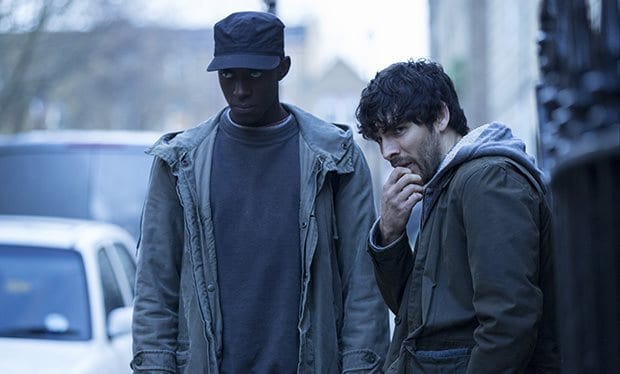 Colin – speaking ahead of the show going out – said: "My character comes into the story from a conflicted point of view.
"There's a lot of questions for himself that he has to answer and there's going to be a lot of questions from the audience that they are going to want answered – and none of which I can answer right now!
"But his journey is about finding answers, it's about finding things. He's a man on a mission. He's trying to reconcile parts of himself that are a mystery to himself."
Humans, which was filmed on location in London, also stars Katherine Parkinson, who played Jen in Channel 4 sitcom The IT Crowd, and William Hurt.
The TV series has been written by Jonathan Brackley and Sam Vincent, the pairing behind the hit Spooks.
This is the latest outing for Colin Morgan, with no let-up to his hectic schedule since the BBC flagship show Merlin, in which he played the eponymous hero, came to an end.
He has since starred in, among other things, the feature movie Testament of Youth and is due to appear in The Rising, which is due for release to coincide with the 100th anniversary of the Easter Rising next year.
https://www.youtube.com/watch?v=9zYQjR0wvxM
Picture: Channel 4
Read more news:
Police issue social media advice after death of 17-year-old boy tricked online
New Labour MP speaks of pride in his roots in maiden Parliamentary speech
Over 2000 sign petition demanding funding to save Firs Playgroup
Education Minister asked for St Brigid's High buildings update
Stolen vehicle involved in four-day crimewave across three counties
Sign Up To Our Newsletter