Prepare to be amazed and confounded by sensory and optical illusions in this demo-packed exploration of your brain, as we discover your senses aren't quite as simple as they seem…
Packed with memorable large-scale demos, you'll create a giant neuron live on stage to explore how nerve cells communicate. Then, watch as we hijack those signals to control someone's movements (preferably a teacher)!
Along the way we'll investigate what this tells us about how we learn, helping students to understand their brains better and how to make the most of them.
The first show is recommended for kids aged 4-6, and ages 7+ for the second show. The first show is a sensory show.
---
Bí réidh le bheith ionadh agus bunáite ag seachmaill céadfacha agus optúla san iniúchadh taispeánadh seo ar d'inchinn, agus muid ag fáil amach nach bhfuil do chéadfaí chomh simplí agus a fheictear dóibh…
Agus tú pacáilte le taispeántais mhórscála i gcuimhne, cruthóidh tú néaróin ollmhór beo ar an stáitse chun iniúchadh a dhéanamh ar an gcaoi a ndéanann néarchealla cumarsáid. Ansin, féach agus muid ag fuadach na comharthaí sin chun gluaiseachtaí duine a rialú (múinteoir de rogha)!
Ar an mbealach seo imscrúdóimid cad a insíonn sé seo dúinn faoin gcaoi a bhfoghlaimímid, ag cuidiú le daltaí a n-inchinn a thuiscint níos fearr agus conas an leas is fearr a bhaint astu.
Páistí 4-6 sa chéad sessiún, 7+ sa darna sessiún.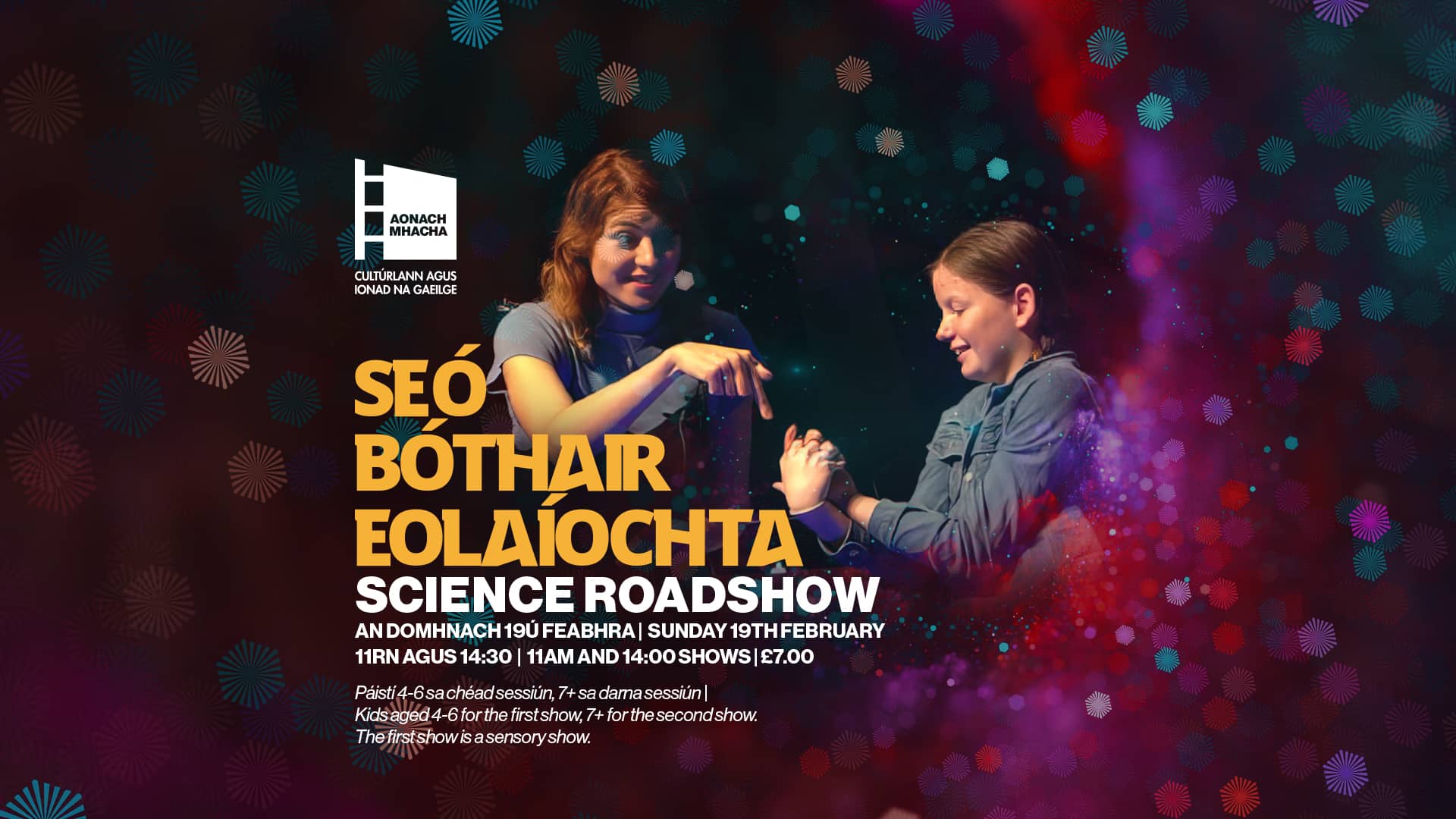 Aonach Mhacha
Sunday February 19, 2023
11am – 2pm | £7.00
Sign Up To Our Newsletter